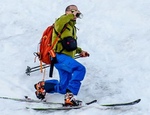 Posts: 35
Joined: Feb. 24, 2017
Posted by: earleb

I am a convert to the 29 x 2.6 for hardtailing, I can't see ever going back to anything smaller.
I agree. The larger tires just absorb all the small trail chatter and it ends up being way faster on the trail.
I liked the 2.6 Slaughters. They aren't the lightest but they were fine. My problem on race day became my dropper. It wouldn't stay up at all on NIMBY and so I wasn't really paying attention to the tires. At the top of Nimby it started only sagging down an inch and not all the way, so that was better, but I was destroyed mentally and physically by that point so I sort of gave up. I knew it was a problem a month ago, but it's seized in my frame and seemed to be working enough that I didn't want to mess with it (idiot).
The Slaughters were pretty good in Whistler and on the shore as well. I've hit rim to rock a few times and I haven't flatted them (knock on wood). The casing seems more durable than the Maxxis, but time will tell.