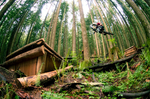 Posts: 2045
Joined: Jan. 5, 2010
small sample size admitedly, but the weight issue on fat bikes is overblown I think. i'm in pretty rough shape right now, and was half expecting the 1500g tires to kill me. but it wasn't nearly the chore to wind them up and keep them rolling that I was expectng. i imagine your talking from experience though garret. you getting some fat bike time on them thar icy plains?
I only rode three fatbikes in Regina, two aluminum Salsa Mukluks (one with 4.8's and the other with 4.0's), and an old steel Surly Pugsley. I think I put over 60km on each though.
The geometry and spec of the steel Surly was so much different than the two Mukluks that it's hard for me to make any comment on the material. It's just my general feeling that the benefits of the steel frame wouldn't be enough to choose it over another materiel. You're going to be sacrificing both weight and money (money would be relative to the On One frame you posted).
I'm not saying weight is super important. Geometry will probably be the biggest factor in how much fun you have on your fatbike, followed by tire choice, followed by other component choice, followed by overall weight. Also extremely important is the area you live in and whether or not your friends have them.
Regardless of its level of importance, a lighter weight should make the bike a little more maneuverable. A fatbike isn't agile by nature, but I think lightening it up might make it a little more playful. I'm not saying sink thousands into saving a few grams, but if the price was the same I'd go for the lighter weight over the more forgiving material on a fatbike. Especially since fatbikes have big squishy tires, hoards of grip, and are generally ridden less aggressively on softer soils (snow, sand, mud).