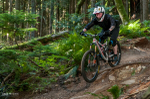 Posts: 2404
Joined: Sept. 5, 2012
Posted by: T-mack

Posted by: DemonMike

Is Pole forging their material prior to machining or are they using billet plate? A couple pallet changing horizontals , and probing in a well designed forging they could pump them out pretty quick. With the right equipment and programming they could run lights out.

Yeah that was going to be my next point lol. Wouldn't be hard to pump them out. I'm pretty sure they get them as plates and get the big chunks cut out then use those for linkage pieces.
True , they could water jet all the rough sizes and get the maximum out of the billet. I remember back in the day LOL , there was a mechanic at Blak Dawg. He was working on a full CNC designed frame. Wonder how far he got , He ended up working in a shop not far from Black Spire in Burnaby.