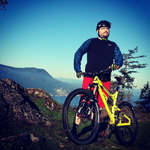 Posts: 9243
Joined: Nov. 19, 2002
i have a XR4 in 2.3 29er sitting on me deck right now. it's a nice tire. except the hole in the sidewall from my first ever tubeless pinch flat, this is after a few years of running specialized control casings!
you might have the SR and XR reversed though, as the SR is the thicker casing and the XR is the thinner.
Yeah, I had no idea what the XR and SR meant, thanks for the heads up. The Bontrager tire site is one of the worst I have ever seen, tires that are listed as the same name…but are different tires, multiple listings for the same tire…confusing
Yeah in my XR4 I have had a few flats in the last few months….not liking that. May look at the SR casing next.