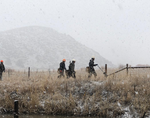 Posts: 32
Joined: Nov. 15, 2020
Posted by: kavurider

Sweet! I have a new one on order, should be here around the beginning of June. Looks good! And I am partial to the pink components.
Rad, which frame/build are you getting?
I had my first real ride on it this morning and it RIPS. Loved pushing it through berms and it's both playful and composed at speed, at least as much as a 120mm bike can be. Climbed really well for a heavy trail bike too.
Only complaints so far are weight (the alloy frame is over 9 pounds), pedal strikes (I'm using 175mm cranks in the low position) and Santa Cruz's nonsense suspension recommendations. I have 25 PSI more than they recommend and might add more.
Edit: pics. I do like the color
Last edited by:
Abies
on April 4, 2021, 4:16 p.m., edited 1 time in total.