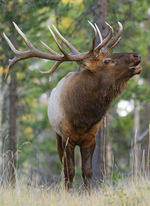 Posts: 108
Joined: Feb. 24, 2017
Posted by: Poz

That Trust. It's divisive looking but I like it. You thinking of switching it out?
Haha, I hear that a lot out on the trails.  Freaks people out.  I like the Shout a lot, once I adapted to how it handled.  Tracks like nobody's business and it actually encourages you to monster truck through stuff.  I was lucky, I snagged 2 of them for half the price of a new one (one brand new, the other only used a handful of times) right when the company's fate was up in the air.  Of course now I have no idea if there will be any support.  I think a shop in UT still works on them, but I haven't checked.
Is it better than a normal fork?  I wouldn't say that, just different.  Rebound range is a bit limited, damper has a pretty aggressive tune stock.  I need to throw some tokens in and play with air pressure a bit more,  but its a little more involved than most forks.  
The biggest downside is if you do land rear wheel first off a drop/jump, the fork is trying to move back, but it can't, so it feels super harsh.  But the solution is don't land rear wheel first.