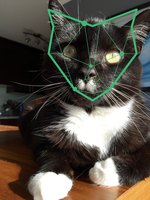 Posts: 992
Joined: Jan. 31, 2005
Posted by: Bushpilot

Posted by: craw

I knew they made medium Geometrons but I think this is the first time I've actually seen one that isn't L/XL/XXL. Which makes sense since they're really the only good option for XL+. Can you say more about how a M person chose a G1 over a more conventional option?

I'm 5"10 with short legs and a long torso. For suspension bikes I went from a large Hightower LT (443 reach) to a large SB130LR (about 476 reach). And on my hardtails I went from a M/L older Rootdown (457 reach) to a M/L new Doctahawk with a +5 mm reach adjust headset (about 480 reach). The longer the bikes got the more comfortable I got. I felt like there was too much overlap between my SB130LR and my Doctahawk, which were both sort of set up as trail bikes with 160mm forks. I wanted something with a coil, more travel, made of metal and have sort of lusted over the G1 for a couple of years. Something about the old school raw welded look I guess. I also wanted to keep trying longer and was attracted to the adjustability of this bike. It was a process getting here and I considered this build a bit of an experiment.

As far as fit goes, the M G1 is almost identical to the seated position on the Yeti I just sold and my Chromag. So the main difference for me is wheelbase (and head angle) and reach. Knowing how nimble my Doctahawk rides (and the Yeti I got rid of) I figured the extra length of the G1 would still be manageable but would be more stable in steeps, chunder and fast stuff. That's basically how I got here.

I have 10 rides on the G1 now, all at Fromme, Seymour and Eagle. Not once have I felt like the bike was a handful. I haven't found it difficult to wheelie or muscle around. I guess long story short I didn't (and still don't) buy into the whole "Geometrons are only for humongous people" thing. Interestingly the sizing / geo of the M G1 isn't that far off from the sizing of a large Commencal Meta AM 29 Team (495 reach), large Knolly Chilcotin 167 (490 reach) and S4 Spesh Enduro (487 reach).

Also interesting is that at 5'10" I could have gone M or L G1 according to Geometron's size chart. So far I'm glad I didn't go any bigger.
Those are all pretty good reasons! From my G16 to my G1 I gained 2' of ESTA which reduced the ETT by 2cm so in the end my G1 is actually a bit smaller than the G16 at the same reach. Looks like you had a similar effect. I much prefer this kind of weight distribution over a a longer wheelbase. I think objectively the trails around here get tight when the WB gets to 1330+ - that's when you have to be particularly precise on some berms and switchbacks. 
Glad it's working for you!