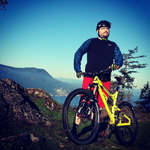 Posts: 9198
Joined: Nov. 19, 2002
Devinci Atlas 29er.. So up from 115mm travel to 140 but down in wheel size.

The Troy is waaaay stiffer and has a better ST angle than the Atlas (it had a 140mm fork) also a lot lighter. Jury is out on the climbing side of things. Seat angle is noticeable as is the weight but the smaller wheels aren't quite as good on the ups.

Troy has boatloads of traction but I need to work on setup on the fork / shock to dial in the really rough stuff.
The Atlas was the first 29er that I rode and fell in love when them….I ended up buying a Prime. I would love to see a newer Atlas with a bit more travel, beefier and with new geo….that would rock.