Ministry of Natural Resources announces new dooring quotas in annual cyclist cull
Posts: 1137
Joined: Nov. 6, 2006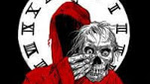 Posts: 2903
Joined: May 23, 2006
I doored a guy once. I blame it on my dear departed mother-in-law. She wasn't actually in the car at the time but had been long enough to account for my inattentive state of mind.
This happened n/b on Denman near Pendrell. The car was a two door Beretta, dude was booking right along and as I threw the door open it caught him right in the sternum and slammed him violently to the ground. 

I was duly mortified and got out to help but dude jumped up wild-eyed like, grabbed the bike \(which I noted was a junker mtn. bike with detached front brake\) by the handlebar and sprinted away dragging it down the street behind him until he could wrench it around to perform a flying mount and pedal frantically away. 
shrug.....