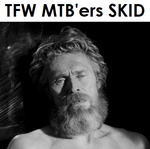 Posts: 2467
Joined: Nov. 23, 2002
Posted by: kavurider

Trying to figure out the logistics for a 91km round trip commute.

I absolutely loathe sitting in traffic, the freeways here are logjam mess and gas is through the roof.

But still...thats a long way. I bike commuted for many years but I'm not sure it was that far before.
That sounds like a good scenario for an ebike. You can still get some exercise in, use more "boost" on days that you don't feel great, still get it done in a reasonable time and save money on gas. I wouldn't necessarily mind a longer distance ride, but the time becomes a factor like Vik said. A goal for me has been to keep my commutes to 30 minutes if I'm driving  and 45 if I'm pedaling.