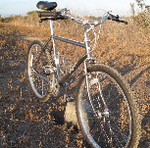 Posts: 1719
Joined: Nov. 8, 2003
Posted by: syncro

Consider that you'd have access to shower facilities and that the return trip would be in the evening around 9pm, how far/long would you be willing to ride for? Including in wet weather?
All I'd care about is how bad the climbs are. Used to commute 7km each way for work, which is a sad stones throw, but goddam that monster climb at the end going home in the dark was soul sucking. 
Buddy moved to the Netherlands last year and his weekly mileage rocketed to like 530km a week...with several hard millimeters of elevation gain.