Official Mt Washington thread
Posts: 109
Joined: Nov. 2, 2008
Rode Washington on weds. Super fun, nice to have lift access again on the island.
Trails weren't as rough as I remembered, and the trail crew were actively building another jump trail.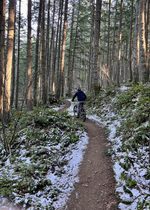 Posts: 246
Joined: Dec. 19, 2010
Was up there today in the awful weather. Still had fun. Trails are great and there was zero line. Props to the trail crew!
Heading to cumberland from squamish for the long weekend.
Is it worth taking my 8 year old to the Mt washington bike park. He can send jumps, and rips on technical trails (loves crank it up, and lower a-line). What's the park like for groms? He can't gap jump.
Thoughts?
Posts: 13211
Joined: Nov. 24, 2002
Have not been on the boards much lately, but this is good news. Looking forward to riding there if I make another trip to the island.
"You don't learn from experience. You learn from reflecting on the experience."
- Kristen Ulmer
Disregard - information request.
Rode the park today with the little man. They have one hell of a trail crew, and it is an amazing park.
Will probably hit it every time I come to Cumberland to visit family. You can tell it is in growth faze, but the future looks unbelievable. Reminds me of early years at Silver Star.
Posts: 3781
Joined: Aug. 22, 2005
Got my last laps for the season in today. Had an awesome time.
Posts: 609
Joined: Oct. 20, 2004
I got my last laps in today too. It was pretty awesome. I am definitely excited for next year.
total scam. he put food before beer.
Posts: 4
Joined: March 16, 2008
Mt. Washington kicks ass. I'll be heading over there this year to snag a few days of skiing in, just with island friends and such. I am super stoked about their bike park, which I think is going to be a major project ahead for their spring and summertime activities. I think Comox/Cumberland/Courtenay and surrounding areas are delightful. I like the fact it's not overrun with slack jaw boutique tourists and "in the scene" hipster yuppie dad-beard fucktards. It's got great terrain - hell, we were sessioning the mine shaft backside in the late 80s, early 90s and getting shuttled back up from the access road out. Those were the days. It was a "real" place to be. I'm still contemplating buying a house there (a "chalet") and calling in "home no.1" and buying another down south as "home no.2". It's removed, not as accessible, more serene, quieter even though its undergone tremendous development, yes, it still has "charm".
Mt. Washington is awesome.
"I'm addicted to surfing."