Val D'Isere Track Walk - This Is Peaty
Posts: 4300
Joined: June 24, 2010
Val D'Isere is going to break bikes and people.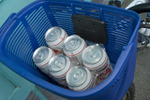 Posts: 7657
Joined: Feb. 15, 2005
Sometimes I watch WC race course footage and think "Ya - I could make it down that course…". This one - not so much!
I have 21,474,850 rep points...
My blog - read it!
Posts: 0
Joined: Aug. 4, 2003
I'm calling lots of carnage on this one, that track is wide open, super high speed, all about who's got the biggest cajones, easy to get in over your head on a track like that.
I'm watching this for sure.
Posts: 249
Joined: Jan. 6, 2009
and just as I suspected…that drop was shut down…i saw it and I have always being the guy against a drop that huge on a downhill track…without saying that in order to enter that drop it seemed very sketchy…
Posts: 170
Joined: March 2, 2010
Anyone else notice the dude in the background at 4:00?