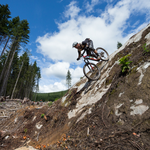 Posts: 2270
Joined: Nov. 22, 2002
Get the details here.
Shimano previewed it to the press a few weeks ago in Laguna Beach, and showed it off again last night during Sea Otter in Monterey.
We had to nuke the other threads because they were out before the embargo - sorry about that. There is a huge amount of information to digest. Please post questions in the article comment area and we'll provide more detail and answer questions as they come up.