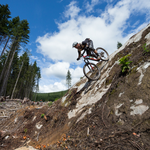 Posts: 2273
Joined: Nov. 22, 2002
I guess it was a good day for squash yesterday after all, eh, Cam? Then again, even icy conditions like that bring their own brand of fun.
All WC racers on 29ers may not quite be categorically true, however it's close.
Mudstud, marathon is a different story and that wasn't what he meant, although truth be told, most of the world cuppers not on 29ers last year were likely stuck due to bike choice rather than personal preference. And it was the world cup he was talking about, whether or not that's what you are referring to when you say 29ers are the exception - which XC race series are you referring to?
No one's talking about shortcomings of 26ers but the goal of a XC racer is to go as fast as possible and, I'm sorry, but it's not hype. For XC racing (particularly on what passes for a XC race course in Europe), 29 IS better by virtue of being faster.
Oh, also - it's a bit unfair to call marketers weasels as if they all are by default. We did also promote things in the past that were resisted by many, such as full suspension and disc brakes, which we can all agree did create better bikes.