Mike Hopkins: Loam Factory
Posts: 4300
Joined: June 24, 2010
When Peacock and Mullany get together with Hopkins, the product is always stellar.
Posts: 3801
Joined: April 13, 2003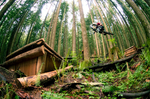 Posts: 2044
Joined: Jan. 5, 2010
Posts: 569
Joined: Feb. 14, 2006
Gotta be one of the best edits I have seen this year.
Posts: 0
Joined: June 30, 2011
Loved it! Nice work with the corner slays, Mike! I love trail riding videos, they're so great.
Twitter: Stephen_matthws
Instagram: stephen_matthews
Posts: 1696
Joined: May 12, 2009
best edit since… well…. the last Mike Hopkins video!
Posts: 4740
Joined: Nov. 20, 2002
So damn fast! Nice video.
Posts: 797
Joined: Feb. 16, 2010
KABLAMMO! Take that loam.
"You know what's wrong with Vancouver? You can't pee off of your own balcony without getting in trouble"
- Phil Gordon
Posts: 0
Joined: July 8, 2012
So much good in this. Stoke!
Posts: 2875
Joined: Nov. 27, 1986
Kickin up dirt like a moto. Loved the edit!
superheros
north shore bike shop