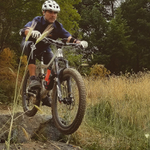 Posts: 2148
Joined: Sept. 10, 2012
Posted by: eriksg

That's basically how I felt about the old Cotic badge you brought up, above:  it was their choice, and I can lament it and think they could have increased their appeal with a change. But that's their choice.

The old badge was an eyesore to me and it was one strike against it in the aesthetics column of my buying spreadsheet. I was happy when they changed it. But I'm sure someone (maybe Cy) loved the old one. And if it represented something authentic to the makers and not just an attempt to appeal to the broadest audience, well small brands can do that and afford to offend some people.
100%. I was going to the buy the frame because I was interested to try the geo and the company had a good reputation for quality & CS. Cy and some customers loved the old logo. If my frame had come with it on the bike I would have just peeled off the headbadge and gone about my business. I happened to get the new logo which I liked better so that worked out.
Cy has a bunch of other design choices that don't really work for me, but if he's stoked on the bikes he makes more power to him. As long as he can sell enough of them to sustain his business that's all that matters. I wouldn't hesitate to recommend a Cotic to people if the situation was right.