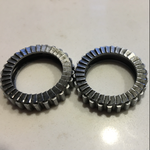 Posts: 81
Joined: Jan. 10, 2022
Thank you everyone for the Stem Purchasing Support (SPS) and for your patience with my SHO / ESL acronym confusion.
That Karate Monkey on the Meat Engines is pretty nice. It reminds me of the green 1x1 I had from the 71 degree HA ERA (edit- I meant to write 'era' here but was caught up in acronym production. I'll just say this means Epoch of Rolling Attitude.) , except the brakes look WAY more capable than what I was running. I need to find a photo to see if mine also looks like the front end was driven into a garage door. ;)
Last edited by:
Blofeld
on Oct. 20, 2022, 8:37 a.m., edited 1 time in total.