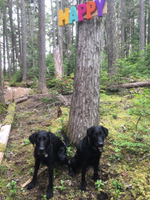 Posts: 437
Joined: Feb. 24, 2017
Posted by: AndrewMajor

Posted by: snowsnake

I just replaced one of those two weeks ago and it's already gone. Sigh.

First, you have to:

)

And then you have to:

)

And I'm not saying what's-what but this is a very common, well-known, issue so in the location that I was previously wrenching out of we were doing this to every new bike on the floor. The fact SRAM doesn't Loctite from the factory (which I believe they originally did) isn't great, but I think the fact that shops aren't fixing the problem as part of their bike builds is worse.
I have one or two of those which I found on the trail. Also have a small collection of various damper knobs and levers, a Speedplay road cleat aero cover thingy, pedal body. And once a single brake pad. Every now and then someone will post something about trying to find some bit they lost that the shops don't have and I do. Feels nice to give to someone in need. But not that brake pad.