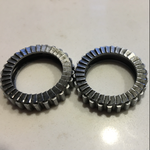 Posts: 278
Joined: Jan. 10, 2022
Posted by: Jeh

I put my spacers below the headtube ;)
That's a nice little build detail I missed in your post on the leaning thread. Did you get to pick the ano colour?
Since I admittedly don't really know what issue the 30mm limit is trying to solve, take this with a grain of salt. I think it is there to prevent bending in the unclamped length of steerer between the upper headset cup and the stem. Load that the headset and frame sees with a tall spacer stack shouldn't be any different than it would be with a high-rise bar, which tells me that the failure concern would be in the upper steerer tube itself. 
The under headset spacer is bit of a different case in that it makes the fork into a bigger lever. Like you said, the fit of that spacer is also tight and on the wider part of the steerer.