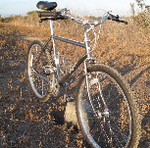 Posts: 1850
Joined: Nov. 8, 2003
Posted by: mrbrett

Funny, I'm short crank curious and the right age to think about preventing future knee issues. I like pedalling and the BB on my suspension bike (Specialized Status) is quite low, even in the high setting. 

I wish there was some way to borrow/rent some before committing to a purchase. Or, I suppose if I went for a set I could shift them over to one of my kids bikes if it's a disaster. 

Can't wait for dropper style adjustable telescopic cranks that are short when you need and long when you need.
Throwing a chainring on there that is 2 teeth bigger might give an approximation?
I dropped 2 teeth when going down 5mm in crank length, although I don't think it quite made up the difference.