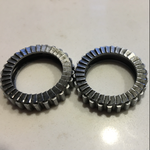 Posts: 128
Joined: Jan. 10, 2022
Posted by: AndrewMajor

I think any bike with a gearbox followed by the Marin Wolf Ridge still wins the prize for most BroPed looking meat-bikes. The future of gearboxes is integrated with motors - it makes all the sense - but I can't see the tech ever replacing the rear derailleur and appearance is just one reason.
Fair point on the gearbox bikes. I basically consider them performance art as opposed to a viable bicycle product, but it is a cool niche. I guess since gearbox bikes (or the Wolf Ridge, for that matter) have legitimate engineering reasons for looking like e-bikes I feel better about them. "Andrew…has anyone ever told you that you sound just like an EP8 motor when you breathe?"
I agree about the gearbox-motor integration making sense. Perhaps too much sense when one considers the replacement cost of an X01 cassette and AXS derailleur. Those must be so much fun to sell! It seems to be much less like stealth technology for e-bikes right now and more like camouflage - is the concept to make the rest of your line of bikes look terrible so the e-bikers don't feel bad? I half expect a manufacturer to come out with a card to go in the spokes of their bikes so they can claim the e-bikes aren't any louder.