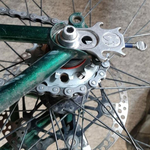 Posts: 621
Joined: Aug. 13, 2017
The 7 Steps To Custom
Andrew - It's and interesting read.  Can't wait for 7.  
I'm not sure I could go down the custom route - take bars / stem for example - 3-4 years after trying the SQ16 i'm still going between 12-16 degrees bars and playing around with stem lengths.  I think first I would need to get to a place where I really knew what I wanted and it couldn't be achieved by conventional means.  Like V2 for example - no one makes a bike that's close to this therefore I see how you got to it.  With my bikes (Murmur and Solaris Max) they both work prettty much how I want them to work - I guess it would be nice to have sliding dropouts* on both but it would be one more variable in a long list of variables but I'm glad you are trying these things tho.
* a Moxie would solve this problem...