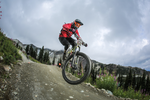 Posts: 150
Joined: Nov. 19, 2002
Article here: The Truth About 11-Speed
what you fail to account for in your argument, Morgan, and I know you love directing this argument at me, is that there is an overall loss of range in a 1x system because you have to basically choose to lose versatility on one end or the other. to match gear inches of a 24x36 on the climbing side you need to run 28x42, but then you lose all your top end speed and power as a 28x10 gives you significantly less gear inches than a 36x11….start bumping up your chainring size on a 1x to get a bit more top end and you lose your climbability, at least in places where steep tech climbing happens a lot. And no, having to change your chainring all the time for different places is not a solution, who wants to be swapping rings all the time? they make these handy things called derailleurs that work really well and give you a variety of gearing options, at your finger tips! I'd also argue that because people run such small chainrings, while the gear spread may be the same on the cogset, the gear inches are actually pretty close so you end up feeling like you need to shift more to get into a useable gear, double shift up/down, etc….
Why can't 1x apologists accept that it isn't a cure all for all riders? why the obsession with everyone getting on board the 1x train? why do you care so much that some people actually find 2x systems useful and appropriate in most situations?
edit to add… :) you knew I'd rise to this provocative article!