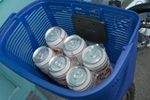 Posts: 0
Joined: Sept. 20, 2006
Dropping to the 34 is basically my sweet spot

most of the riding is done mid cassette for trail and descenting and I can climb Fromme in the 34-36 when I want to build power.

Still likely end up climbing most of the climb in a ratio achievable with a 1x system, but have the low when needed.

not have to drop to granny mid stage for the punchy climbs. All worked out great.
All I read is "I would be ok with 1x, gearing to the climbing spectrum". When is the last time you saw someone cranking out 36-11 mountain biking? Locally I mean, because I know of many places and types of rides that need more than a 36t ring up front.
Most riders would be just fine with a 1x. Its for the discerning riders where a 2x might be required. Basically the opposite way that most people view 1x and 2x systems.