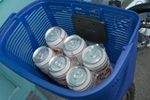 Posts: 0
Joined: Sept. 20, 2006
Just wanted to voice my thoughts on the recent (??) change to the comments system for front page articles.
I'm lazy, and both don't check the comments under the articles themselves and can't be bothered to scroll down to the bottom and insert my own comment. However, I'm quite diligent (surely to the detriment of my day to day activities) at checking the forum and participating in conversations there.
I feel that to appeal to everyone, both comment sections should be linked. That is, if one comments via the front page, it automatically generates that comment in the article discussion thread, and vice versa should one post a comment in the forum thread.
I'm sure there are reasons for moving the comments to the article itself, but as a daily visitor, I definitely noticed a decline in comment participation on past articles since the change.
Seems to me that generating more back and forth is surely more productive for NSMB.com