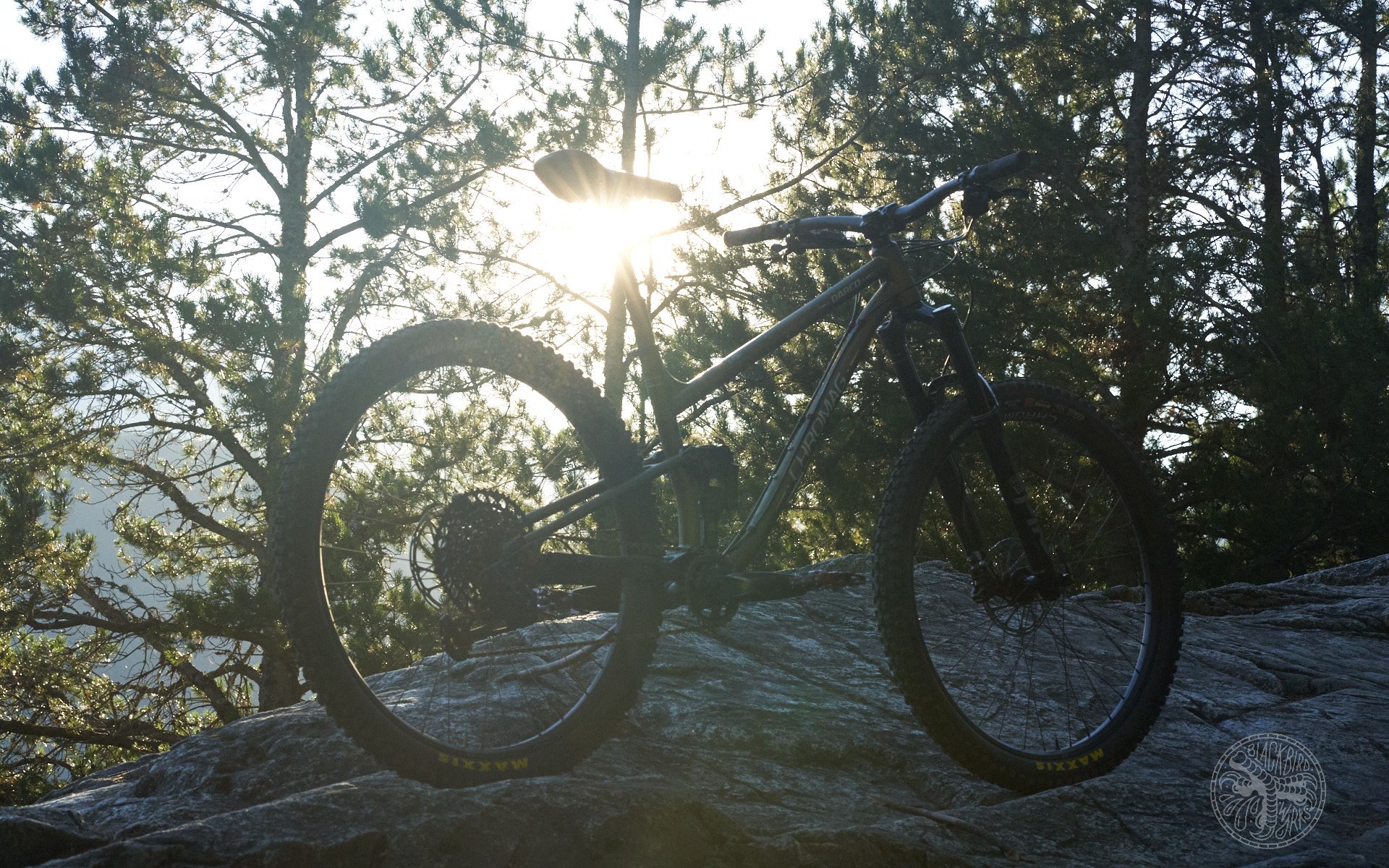 EDITORIAL
Zero Darco Thirty
ZERO
Chromag's first full-suspension-hardtail was long the worst kept secret in the Shore-to-Sky corridor other than, perhaps, the same brand's clip-in pedals. There was a period, months before the actual launch, when I couldn't go two days without being asked if I knew when the bike was going to be released, and what it looked like. Here I would like to issue a couple of apologies.
First, to the fellow at Bean Around The World who I convinced that the Darco was an idler-equipped version of the 1991 Cannondale SE1000 with a 140mm Pike up front, because it, and I quote, "provides the best combination of high pivot suspension and hardtail aesthetic," I'm sorry. In my defense, you were sort of pushy and I actually had zero idea what suspension system Darco was using. Second, to my friend who I convinced that the pending Darco was just modern geometry applied to a 1998 World Force VR-1. I'm sorry, but in my defense, I think it could have been really cool.
There are a bunch of others but I feel particularly bad about those two because the buy-in was hot and heavy. So yeah, if one of your riding buddies tried earnestly to convince you that the Darco was going to look like an early '90s Cannondale or a late '90s dual-link DH rig, that may have been my fault.
While I had no idea what the Darco looked like, I did have a solid answer to the second most asked question that I fielded about it. "How badly do you want to review it?" The answer surprised everyone from Publisher-Pete to strangers but frankly, my interest was absolute zero.
Don't hear me wrong, I was razor-keen to ride the Darco. I still am. What hardtail-lover wouldn't want to throw a leg over the hold-out brand's first full suspension rig? But reviewing it was a can't-win situation.
Navigating fanboys and haters aside, Chromag puts a ton of time and energy into their stuff and it's fair to assume that anything they make suits their terrain and riding very well. So any potentially unfavorable Darco review would essentially consist of explaining the differences between Whistler and North Shore riding or the peculiarities of my riding style.
DARCO
Reviewing the Darco instantly presents a challenge, which comes down to comparable bikes. By travel numbers, there's an argument that the Darco is an over-forked competitor for a Transition Spur, Canyon Lux Trail, or any number of what Cooper would call 'Shore Country' bikes which combine aggressive pedaling platforms with aggressive geometry. Or, I suppose it could be compared to longer travel bikes like the Trek Fuel EX or Santa Cruz High Tower with the rear suspension tuned to be very stiff.
But there's also an argument that the Darco should be compared against similarly aggressive hardtail frames. The purchaser chooses to accept more weight, more cost, and more complexity to enjoy a ride that's less harsh on their body but can still be ridden like it has a rigid backend. In his review, Cooper called it "the hardtail for people getting softer." How the front and rear suspension are 'balanced' doesn't matter if you think of the bike as a hardtail with some suspension in the back.

If I could change one thing about the Darco, it might be to give it less travel. Embrace the 'soft tail' nature, remove any questions and comparisons to true full suspension bikes, and possibly lighten it up by adding some flex stays and removing some pivots." - Cooper Quinn
The idea that the Darco is a hard bike to cross-shop is not original; Cooper brings it up clearly in his review. He also brings up the idea of a shorter travel Darco that Chromag's founder, Ian Ritz, has also mentioned. A simpler, shorter-travel bike may speak to the more forgiving hardtail potential.
Specifically, Cooper wrote, "if I could change one thing about the Darco, it might be to give it less travel. Embrace the 'soft tail' nature, remove any questions and comparisons to true full suspension bikes, and possibly lighten it up by adding some flex stays and removing some pivots."
This nicely toasted whole-grain introduction to Cooper's review, unfortunately, serves as a base for a bit of a shit sandwich that I've been rolling around since it went live (sorry, Cooper). Cooper has plenty of experience with aggressive shorter-travel bikes and he's a much better bike rider than I am, but I have the distinct feeling that getting the most out of the Darco comes down to attitude, just like riding a hardtail.
A couple of quotes from Cooper's review.
"Hardtails can be great fun"
"Chromag was founded on a bike built for the terrain and riding style of the founder Ian Ritz... the ever-present lineup of steel hardtails where you can pick your country of origin – Canada or Taiwan. They've carved a niche as the epitome of cool, even if most people don't actually want to ride a hardtail."
At this point, again without having ridden the Darco myself, I was thinking that asking Cooper to review a hardtail is like asking me to review an e-bike. If you haven't bought into the basic concept, then there's going to be a spark missing. By extension, asking Cooper to review a hardtail with rear suspension is like asking me to review an e-bike with the battery removed - it's a closer approximation to something I like, but it's unlikely to light my fire.
THIRTY
The Darco that NSMB had for review evaporated before I even saw the thing in person, so I never did throw a leg over it. I love climbing my full-suspension bike out of the saddle, and I love riding hardtails, and I don't really give two shakes about relative bike weights, so it seems like we could have matched up nicely.
Then one day I was working on my Marin Rift Zone, and I started wondering if I could approximate an experience close to the Darco. My large 2022 Rift Zone has 125mm rear travel and is designed around a 130mm fork. In the stock format, it sports a 65.5° head tube angle (HTA), a 76° seat tube angle (STA), and a 480mm Reach. But, with a -2° angleset and an extra 30mm of fork travel?
Here I will note that Marin's warranty covers an extra +10mm of fork travel. I am unconcerned about over-forking this frame but it is a personal decision that is covered by plain sense life rules such as:
If you modify then you can't cry
Drill the hole, pay the bill
Modification rejects are not manufacturing defects
Measure twice, cut the whining
<<Insert your own parentism here>>
How much travel is too much travel is an interesting question I can't yet answer. I did quite love my Honzo ST hardtail with a -2° angleset, 170mm Durolux, and 3" front tire, so I'm probably not the best person to answer questions about 'balance'.
Over-forking the Rift Zone changed a lot about how it rides. Previously it was very well balanced but with the addition of the longer travel Durolux EQ up front I found that I had to add quite a bit of air pressure to the rear shock. This wasn't just to maintain my current sag % with the taller front end - which I compensated for with a low-rise bar - but also to deal with a 'choppering' effect on rough sections of trail.
The net effect was that my previous rear sag range of 23-25% rear ended up being closer to 20% and my 5" travel Rifty felt less like a full suspension bike and more like a hardtail. Would designing a Darco around a 120mm fork have the opposite effect of making the rear suspension less soft-tail-like? Maybe.
In my notes, I had intended to now write about where the Rift Zone is better and where it is worse with my extra 30mm of fork travel. But my conclusion is that it's really just different. It's faster and more capable in some downhill situations compared to the stock Rift Zone or riding my hardtail. Other times, the rear suspension feels particularly harsh where it was smooth in conjunction with balanced fork travel.
It's not a rocket ship like the We Are One Arrival or a proper mini-sled like riding a Bronson or Stumpy Evo where you almost start to wonder why the companies make Nomads and Enduros. It's also not a Tallboy, Spur, or, well, even a Marin Rift Zone when it comes to being a 5" travel trail bike capable of bigger things.
In the end, my sentiments are surprisingly similar to Cooper's, though I love-love riding hardtails. I prefer my Rifty with the suspension balanced and while it's a perfectly fun and capable mountain bike in its 'Darczone' guise, I'd rather ride a hardtail or a longer travel rig, or my Rift Zone with the stock travel. I'd also be keen to try a simple 'soft-tail' design with closer to 80mm of travel and minimal if any, bearing pivots. There are some neat opportunities for leaf springs and flex stays for this application.
I've reviewed plenty of products for NSMB that were fantastic but not for me, and I'd hazard to say that a full-suspension-hardtail qualifies in that category for now. But, will there come a time when I can't regularly ride a hardtail that I'd take 80-120mm of efficient travel out back to get a hardtail-like experience? Absolutely.
In the meantime, would I still be keen to ride the Darco, Trunnion-shock mount and all? Indeed. I'd love to see how it compares to my mix-matched fork Rifty experiment if nothing else.