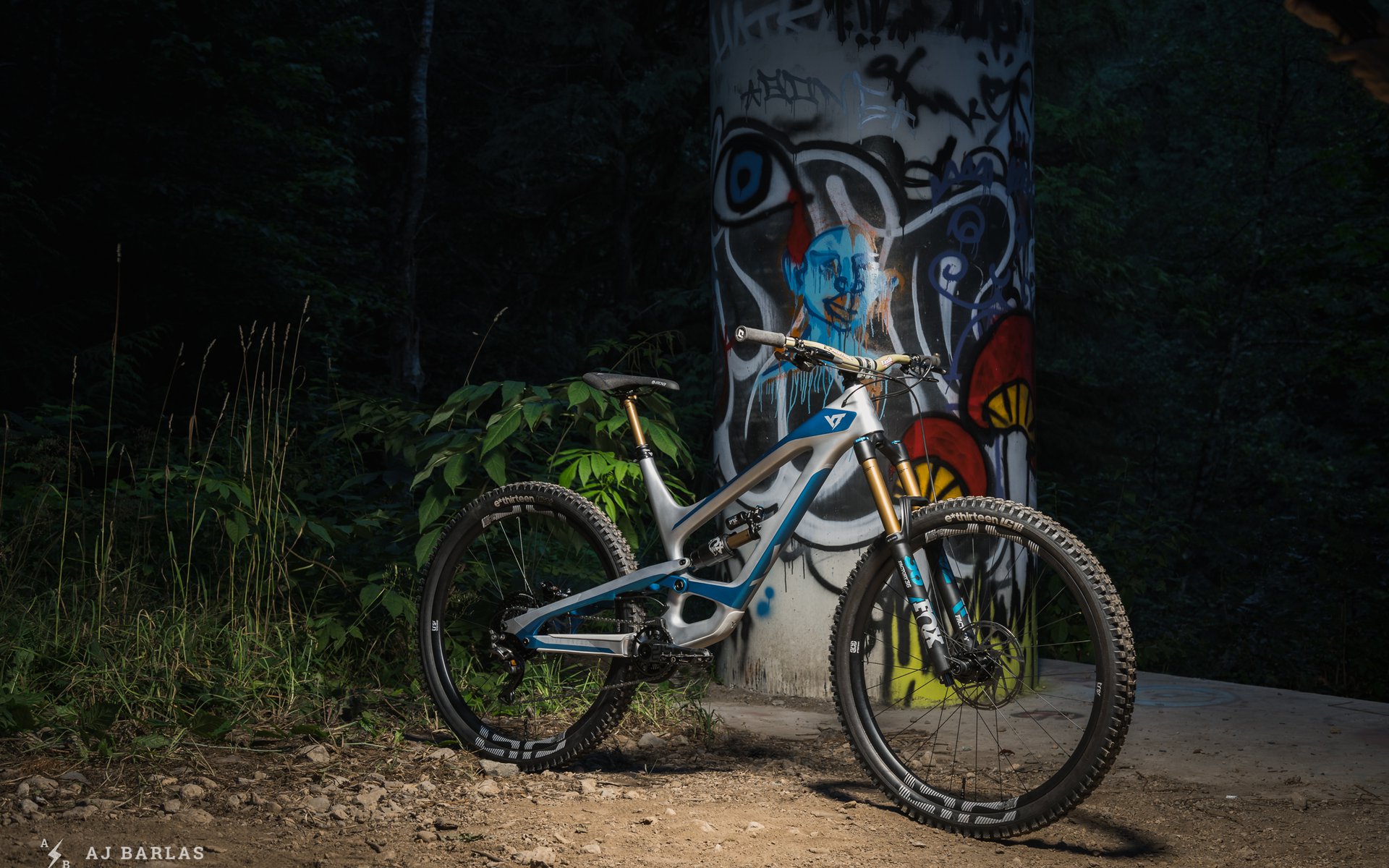 The Greedy Goat Reviewed
YT Capra 29 CF Pro Race Review
When it was first released in 2014, the YT Capra blew the doors off. At a time when all-mountain bikes – or enduro if you prefer – were improving quickly and carbon was still relatively new to the segment, the Capra arrived for thousands of dollars less. And it was dressed to kill with a full carbon frame, solid parts spec with reliable suspension. The Capra quickly attracted heaps of attention.
Early in 2018 YT released the current generation Capra and with it, a new bigger-wheeled option. The typical incremental geometry changes recently witnessed industry-wide were made but also included were tweaked suspension kinematics, which lowered the leverage ratio. Limited edition alloy models with coil-sprung rears were added to the line – in 29 only thus far – but otherwise nothing's changed outside of regular model year spec updates. YT does a great job of spec'ing models across the two-wheel sizes with the same builds. One model that has extra spice is the CF Pro Race model seen here, which bumps up the travel 10mm front and rear to go with its top end spec.
Highlights
Model: CF Pro Race 29
Travel: 170mm R, 170mm Front
Carbon front and rear triangle
Size-specific rear centre lengths: 435mm M–L / 440mm XL–XXL
Adjustable geometry via a flip-chip system
Fox 36 GRIP2 fork
Fox Float X2 – Metric 230x65 (230x60 on 160mm models)
200mm F/R rotors with Code RSC Brakes
Shimano XTR drivetrain
e*thirteen LG1 EN Race tires
150mm Fox Transfer dropper post on all sizes
Weight: 15.3kg (33.7lbs) XXL w/o pedals
MSRP: 7,399 CAD / 5,499 USD (Now 6,499 CAD / 5,099 USD)
A Closer Look
YT is unapologetic about the Capra's greedy intentions to devour rough terrain – it's in the name. But their delivery differs from many bikes currently available, which perfectly fits their M.O. Being consumer-direct has enabled YT to equip the bikes with impressive parts spec and still undercut the competition. There aren't any 'house brand' products to be found on the Capra or any of their other bikes to my knowledge. Instead, consumers are greeted with sought after and well-considered components.
Renthal or Race Face cockpits, e*thirteen's clever 1x11 cassettes that provide an impressive 511% gear range, and a mix of either Fox or RockShox suspension depending on the model make these hard to say no to, all things considered. The CF Pro Race comes equipped with carbon e*thirteen LG1r cranks and wheels, top of the line Fox suspension and dropper post, ODI grips and SRAM Code RSC brakes. There's little need to change anything when the box arrives at your door.

Frame finishes vary and it would be easy to assume YT's quality to be lower based on its (relatively) cheaper price. But the finish on the Capra is sensational. The bike is finished to a level that equals or improves on competitors charging considerably more. Frame protection is complete and finished to a high standard too. There's an additional metal plate by the chainring to protect the carbon chainstay from damage and moulded rubber runs the entirety of the chainstay – something heaps of brands struggle to cover completely. At the bottom bracket/downtube is plenty more protection with another moulded rubber protector running from the bottom bracket and up the downtube a few inches. However, there isn't a strip to protect the downtube from a shuttle pad and while it's not something many brands are doing, it's worth noting. There is a thick film of clear tape that runs the length of the down tube though, so some protection is offered.
You might wonder if suspension kinematic development or overall design aesthetics are less than optimal considering the lower price of the Capra. In fact the lines of the bike are sleek but tough, fitting its all-mountain thrasher persona perfectly and the suspension works very well. YT hasn't cut anything away from the bike itself. They've managed to price their bikes below other direct to consumer brands too, Canyon Bikes being one example without a better priced equivalent. For the money, the YT Capra is unbeatable.
The Direct to Consumer Experience
Working in bike stores since my teen years, unboxing and 'building' a bike is something I've experienced many times over. But with direct to consumer companies having to consider new riders or folks with fewer mechanical sensibilities, the process differs slightly. YT's done a great job of creating a system for people to follow along and while the media squid bike box I received differs slightly – we don't receive the tools and there was no manual or guide – I got a good idea of the process.
Opening the box, customers are met with a super well-packaged bike with numbered steps to follow along. My box didn't include it but a little research showed that consumers have an additional "Me First" box that houses the tools and manual. The tools look to be of decent quality too and there's even a torque wrench rather than simple, cheap Allen keys.
Building the bike took less time than usual thanks to its closer-to-fully-complete state out of the box. Mount the wheels, pump the tires up, mount the bars and you're close to ready. Surprisingly YT is vague in terms of suspension setup, which would be troubling for new riders and the only downside I've found for the cost savings. Experienced riders also benefit from a good baseline that gets them riding sooner, even if they end up a ways off the starting point. Making the bike quick and reasonably effortless to get set up in this regard is something I reckon YT could improve upon.
Geometry
I mentioned above that this new generation Capra has seen the incremental geometry update we've become accustomed to from most brands. They also added an XXL size for taller riders after only introducing their first XL carbon Capra the year previous. And while the reach and stack grew, the smaller-wheeled bike's chainstay shortened 3mm on the smaller sizes – small through large – but grew 2mm on the larger sizes.
But its new ground for the 29-inch wheeled Capra and something worth noting is YT's choice to maintain the angles across both wheel sizes. Both the 29er and 650b bikes feature a 65-degree head angle and ~76-degree seat tube angle. Where the two differ is with the added adjustability the 29er has. It makes use of a small flip chip at the rear shock eyelet to change the geometry a small but noticeable amount. In the high setting, the 29er sits with a 15mm BB drop, 65.5-degree HTA and 76-degree STA but flip it to the low setting and we have a 25mm BB drop, 65-degree HTA and 75.5-degree STA. It's a small change but it does provide a more 'in the bike' feel.
I found YT's sizing recommendations quite intriguing. At 191cm tall, they have me pegged for a size XL but I found the larger XXL I tested felt small. The size of the XXL is also similar to the XL bikes from some other brands and given the fit, I don't feel this warrants the double 'X.' YT's size chart claims the XXL is suitable for riders from 193cm (a hair over 6'3") through to 202cm tall (over 6'6"). But they add the disclaimer that the sizing chart is to be used as a suggestion and with the shorter seat tube lengths, riders can upsize to a longer frame, if there's one available…
While there are many variations in body shape and size, I struggle to imagine someone of the recommended height being comfortable standing and attacking the trail on the 500mm reach of the XXL but when seated it makes more sense. Despite the relatively modern and amply steep on paper seat tube angle, the actual STA is on the slack side. This opens up the seated position and it was noticeably longer than both of my bikes that overlapped this test. That said, when seated there's plenty of room on offer but with an obvious downside – rider weight is shifted further rearward.
On the Trail
All of the quality finish and bling parts mean nothing if the bike doesn't perform on the trail. I'd argue that unless the cost savings are going to meet the experience offered by a still affordable yet higher priced competitor, you're better off saving for longer until the more expensive bike is manageable. Thankfully that's not the case here and while I found a couple of shortcomings, heaps of riders will find the Capra an incredibly fun, capable bike that will push them to ride difficult terrain.
After initial testing, I found the Capra 29 CF Pro Race held a better shape with 27% sag rear and 17% front. YT recommends 25–30% sag for the rear but at 30% I found the first portion of the stroke vague and lacking any feedback or adequate stability. The combination of deeper sag and relatively slack actual seat tube angle placed my weight too far over the rear hub when going up as well. Bike shape with these settings made it difficult to adequately weight the front wheel on moderately steep and technical climbs and forced me to 'hump' the bike up the hill. I spent most of my time with the Capra in the low position and while the high produces a steeper seat tube angle, I wasn't a fan of how the bike felt in this position. It also wasn't enough to counter the front wheel lifting and wandering even after the saddle position was slammed forward.
With 27% sag, my final damper settings, and the seat slammed forward on its rails, the climbing position greatly improved and less aggressive weight shifts to muscle it up a climb were required. Also notable is that when seated with the seat post extended, rider position introduced considerable activation of the rear suspension, sucking away valuable watts thanks to where my mass was positioned between the wheels. This is a bike where the climb switch comes in handy, although I'd rather leave the shock open and allow the wheel to track the technical terrain found in the P.N.W.
The Capra CF Pro Race benefits from a light feeling ride that makes its less than ideal seated position more bearable. It's considerably lighter than the scales claim and before weighing it, I wouldn't have put it far beyond the ~13kg/30lb mark. It feels like quite the whippet when in a standing attack and it springs forward with relative enthusiasm, which is also a result of the suspension design.
On the trail, the bike had a dynamic demeanour. Despite its long 170mm travel front and rear, it at times moved like a 140–150mm travel bike and I often forgot how big it was. Quick and responsive, I found it to change direction on a dime and be an easy ride. This also added to the light feeling the bike had on the trail, as it's a relatively sporty yet comfortable ride. Grip was good when stable and with less than 30% sag there was good rider feel for what was happening at the wheels. Jumping was easy and despite the light trail feel, I found it stable off lips; it has a controlled pop.
A downside encountered was how the rear responded through harsh square edges. The bike tends to pitch rider weight forward in these situations and limiting this in favour of a more planted and composed ride was challenging. I found the rear wheel felt constricted, both by the geometry with someone 191cm aboard and the progressive suspension kinematics. Together, the two slowed the reaction time of the wheel to move away quickly enough, transferring that energy through the bike and eventually to the rider. Opening the rear shock's high-speed compression was limited by the bike's tendency to lose composure in deep compressions – especially drops to relatively flat and rough landings. Eventually, I settled on one click out on the HSC – a total of ten out – to balance the pitching and composure. To improve rear wheel recovery in rough terrain and deep compressions I opened the rebound circuits another click each. That adjustment landed me on 15 out for HSR and depending on the terrain, 13–15 out for LSR. I would have appreciated greater stability in rough terrain and where speeds were high but I had to settle for a happy medium. In the end, I accepted the occasional kick from the rear wheel in favour of maintaining the best stability I could get.
I never thought I'd find myself thinking of a 170mm travel 29er as a big-wheeled BMX but that's how the Capra feels. It was best when riding energetically and would reward the rider by coaxing another direction change out of me just for fun. I found it comfortable at casual, fun-having speeds but not surprisingly not as encouraging as a better fitting, longer wheelbase bike when trying to put down a good time or ride more relaxed in rough terrain. For this reason, I believe the bike has great potential with a shorter better fitting rider, where size isn't a constraining factor.
Component Check
YT specs their bikes well for the money, often using components that are sought after in the upgrade marketplace.
Fox 36 GRIP2 Fork & Float X2 Shock
Being the top spec'ed bike, the CF Pro Race comes equipped with the best suspension Fox offers. More wallet-friendly models offer the Performance level equivalents – which I was trying to get for review – but the top model has all the Kashima bling. I've been a fan of 36 GRIP2 forks since first riding one on the Bronson last year and the Float X2 works well too. Each provides heaps of adjustability via the air springs and dampers. Stock, the 170mm 36 comes without a volume spacer and I found this to provide a great, consistent feel throughout the entire 170mm of stroke. The rear is filled with all three spacers available for the 200x65 shock size.
Renthal Fatbar Carbon 35mm Bar and Apex Stem w/ ODI Elite Motion Grips
Before falling for the greater 9-degree sweep of some bars, the Renthal 31.8mm bars were my go-to and it took no time getting comfortable with them again. Having less sweep gave me more room on the Capra. I've also recently fallen for the new ODI Elite Motion grips on my bikes after years of testing too many others to remember. They're comfortable and I'm a fan of the slightly angled rubber flange at each outboard end.
SRAM Code RSC Brakes
Oodles of power at the touch of a finger. I didn't have any problems with the Codes on the Capra and despite finding them a bit too sharp in their delivery of that power, I enjoyed their stopping power. I had no issues with wandering levers or fade, even while riding in the Whistler Bike Park.
Shimano XTR (11-Speed) w/ e*thirteen Cassette
The Capra CF Pro Race's shifting duties are taken care of by Shimano's best, XTR. Shifting was great and the lever feel, excellent. I had to settle with less than optimal positioning of the lever, with the SRAM brakes and Shimano shifter not playing well together at all and I had to settle with more reach than I'd prefer. I also found the shifting below XTR quality on the e*thirteen cassette compared to a Shimano cassette. I'm nit-picking but when there's XTR involved, expectations skyrocket and the combination didn't shift as crisply as I'm accustomed to with a full XTR/XT groupo. Nevertheless, it still performed well, never missed a shift, and no chains were dropped.
e*thirteen LG1r Cranks
Responsive and lightweight in a set and forget item. I reviewed the LG1r cranks earlier this year and found them to be an excellent product. That experience remains unchanged after spending time on them again with the Capra.
150mm Fox Transfer Dropper
The Fox Transfer is a no-gimmicks dropper that gets the job done. YT did a great job in spec'ing a 150mm dropper across the smaller frame sizes but for the XL and XXL, I'd like to see more. For the first time in years, I found myself pulling out a multi-tool to lower the seat for bike park days. A 170mm option would be much appreciated in the largest sizes. I've also mentioned before that I'm not a fan of the Fox dropper post lever, it feels cheap and doesn't offer the best ergonomics.
e*thirteen LG1r Tires
The LG1r is e*thirteen's enduro race tire option and boasts dual-ply casing and soft, grippy rubber. These are the second version of the e*thirteen tire,* and I felt didn't improve on the initial tire from the brand. The side lugs are tall and create a square profile, causing it to be a slow-rolling affair. I've also found the lugs to lack support in hard terrain under aggressive cornering.
*The current e*thirteen tires are the third generation
e*thirteen TRS+ Chainguide
I'm a fan of the added security provided by a chainguide and the e*thirteen TRS+ fits the bill perfectly. It never caused any drag when pedalling, was quiet, and I didn't once lose a chain. When the bike is venturing into freeride territory, a guide is a good bit of kit to have and it was welcomed on the 170mm Capra.
Verdict
Don't be afraid of the travel or wheelsize of the Capra 29 CF Pro Race. On paper, it might look beastly with the big wheels and 170mm travel but it's relatively spry on the trail. It doesn't have the agility of a true short travel bike but for its size, it's surprisingly lively. It rewarded an energetic ride and often had me jibbing the trail as if it were a skatepark but when it came time to smash on, it would. I found it on the small side for someone my size and while a contributing factor to the playful ride of my test bike, I believe the suspension and relatively light dynamic weight had more to do with it.
It wasn't all kittens and rainbows though. The compact size when attacking the trail meant I had to search more often for an optimal position in the bike, and I never did really feel 'in' it. For example, the much smaller travel Norco Optic with its progressive geometry provided a more stable ride at speed than this brawler. I also had to settle for a suspension setup that danced between maintaining shape in aggressive riding situations and managing its tendency to pitch me forward. It was minor but it generated a more involved and unpredictable ride in certain situations.
Despite a couple of limitations, the Capra Pro CF Race was fun to ride and gorgeous to look at. If I was a few centimetres shorter and out to have a good time, it would be a really fun bike to own. It begged to be played with and provided a comfortable ride in most situations. Though I don't feel it's a true double XL, it's still among the bigger bikes available for tall riders, the suspension provides a comfortable, bump-eating ride and the cost is hard to argue with.
Click here for more info on the YT Capra, currently priced at 6,499 CAD / 5,099 USD.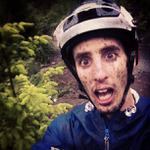 AJ Barlas
Age: 39
Height: 191cm/6'3"
Weight: 73kg/160lbs
Ape Index: 1.037
Inseam: 32"
Trail on Repeat: Changes as often as my mood.
Current Regular: Every test product spends time on Entrail