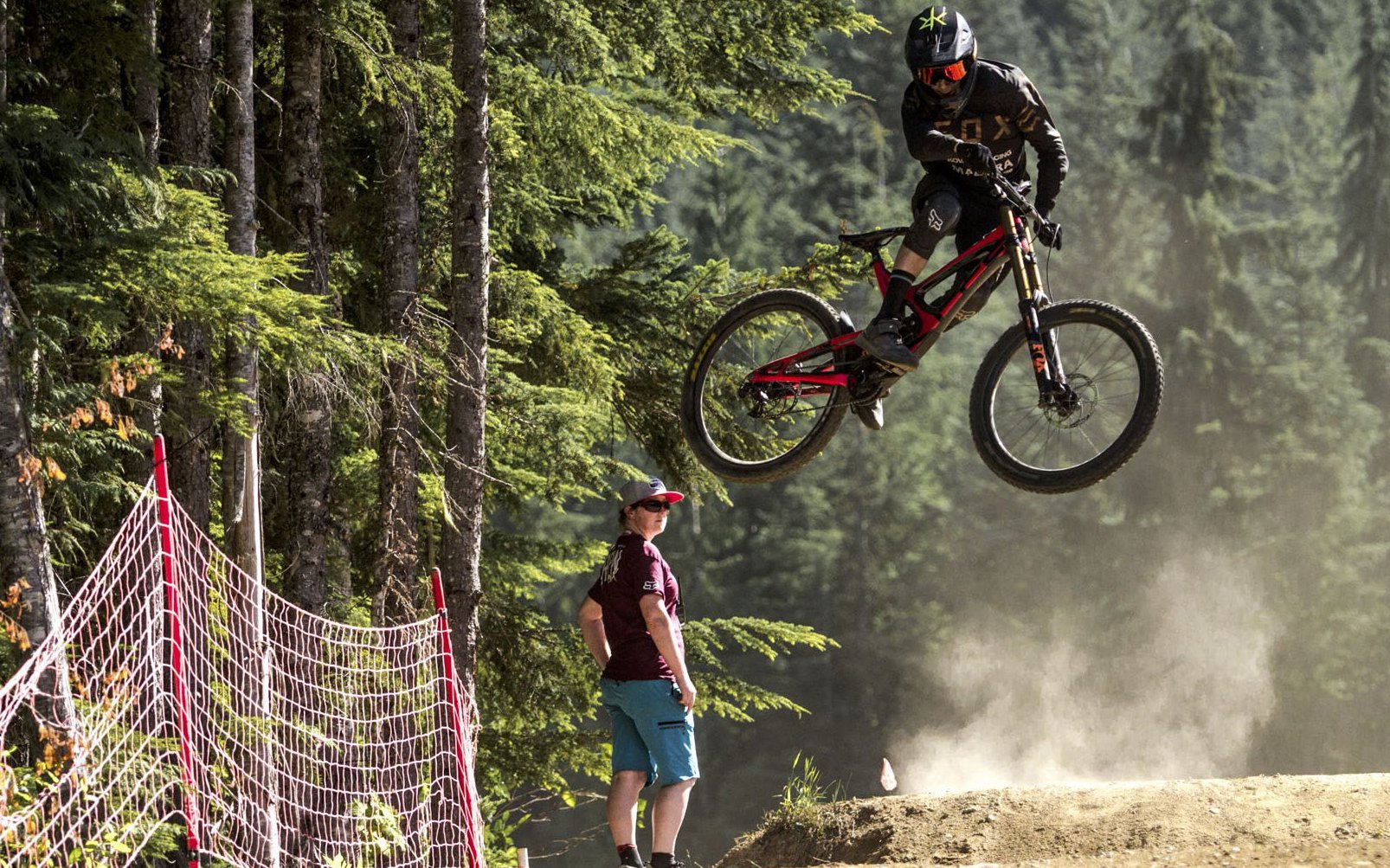 EDITORIAL
Is Your Riding Posture from 2006?
Sometimes I have an article written in my head only to be assaulted by discordant info, which ruins the narrative. As I was today. Ruin is too strong, but today's ride drained a steaming yellow stream in the eye of my epic revelations.
The thing is, these were no run of the mill revelations; I had solved mountain biking. I made a small change to my set up, which may or may not have helped, and made a more dramatic shift in my riding posture, which seemed to have shifted the universe. Consecutive days when rides that were difficult felt easy, and going fast (for me) seemed effortless had fooled me into thinking I had it all figured out.
*Cover image- Ben Wallace competing at Whip Off Worlds at Crankworx
Last week I angled my levers up significantly from their steeply pitched perches. I didn't go to flat like fast Frenchies Remi Metaillier and Yoann Barelli, but I split the difference between horizontal and their original angle. Now they are at about 20 degrees down. Nothing got worse, and I was riding well, but I didn't notice anything groundbreaking. I've got no desire to put them back though and that's partially related to another change I made at the suggestion of a friend, who in turn had the same suggestion from his son.
But I'm getting ahead of myself. Let's back up a little. Or a lot. To 2006 or so, when some friends and I did a private morning session with Shaums March. It was my first time getting any kind of instruction riding a mountain bike since I'd started riding in 1984,* and the last in fact.
*At the age of 6
I felt like I had a pretty good idea about what Shaums told us, considering that half day has influenced my riding every day since, but many of the details are lost. Fortunately my buddy Mike Wallace took notes, and he just happened to find them this week. Mike wrote down things like elbows out, shoulders wide, nose over stem and butt out. Much of the stuff he taught us was more subtle than that and tailored to each of us, but these were clearly emphasized.
As I've mentioned before, Mike's son has raced three seasons on the World Cup DH circuit, two as a junior and last year in the senior ranks. Occasionally Ben Wallace comes out to ride with us old hacks. It's spectacular watching him take lines we never knew existed and making everything look easy. He somehow manages to not make us feel like putzes as well.
Ben never shares any hints or tips on these rides but he'll drop a few learning points to his dad after the ride. The first point I heard was that we are all too stiff on the bike. Rather than flowing like water down the trail, we flow like furniture. I've been paying attention since that point and consciously trying to be more smooth and loose at the contact points and with the rest of my bones as well and I think it's made a difference in terms of control, traction and general awareness of what's happening on the trail.
A few months later Mike dropped another gem from Ben's youthful book of wisdom. Ben told Mike the riding position we old bastards all seemed to cling to, our elbows out, ass back, chest down posture, wasn't doing us any favours. When I first heard this I was skeptical. I thought low was fast. Low gives you control and the ability to react to whatever is happening. Don't World Cup racers get low?
As related by Mike, Ben said that while there are times to get low and aggressive, for most situations it's more effective, on several levels, to adopt a more upright posture, toward the middle of the bike, with head and shoulders more front facing and open. This seemed wrong to me, and counter to what I'd learned earlier, but I'm open to anything that will make me a better downhiller.
Talking about it later, Mike and I realized that what we'd learned from Shaums, while effective in many ways, no longer meshed with the bikes we currently ride. Or at least not according to one school of thought. Clearly the bikes of 15 years ago were nothing like those we ride now. We were on 26" wheels, tiny frames by today's standards, steep head angles, short stays and high bottom brackets. In comparison, it seems like those bikes were designed to fling you over the bars regularly, and the riding position we learned helped compensate for flawed design that was cutting edge for the time. I'm pretty sure I was still squeezing my 6' frame into size medium mountain bike frames
It doesn't take a genius to realize what worked then no longer applies, and our riding position hadn't kept with the times. Not to mention the fact that Ben's tips were obviously working for him. Which led to me thinking about riding with my legs more extended, my head up, and my shoulders up and a little bit back. This all felt pretty good for the first couple of rides, and I noticed I was interpreting the ground differently. Jumps or gaps that seemed unheard of previously started to make sense and steep bits appeared less so, but the change wasn't monumental.
And then maybe something started to click. We rode a line I'd only ridden once, on a dry summer day. I don't remember liking it very much or finding it very difficult. Last Friday however, it was a slimy porcelain waterslide and there seemed to be one narrow slit of a line which had no regard for our safety.

Do our postural choices lead to an increase or decrease in the amplitude or strength of the automatic postural responses that are encoded in our spinal "circuits" and brain stem? - Chris Kilmurray
Mike was leading and going fast and I was second, and we just kind of slithered down the entire trail. It seemed like it should have been terrifying, but I felt uncommonly at ease. My bike was working great but there was something fundamentally different about the quality of my experience. Some of my other compadres didn't fare so well, and were not tickled by the trail even a little bit.
A couple of days later on a different trail and a different bike, I rode a steep, multi-pitched line that is long and very intimidating. I'd ridden it a week earlier in better conditions, and at a certain point it was as if all traction had disappeared and I ended up tripoding down the final pitch. When I returned recently, that slippery section went unnoticed by me while my companions both had problems, and I found myself releasing my brakes on pitch 2, feeling perfectly in control.
I'm sure my posture is still a mess and the odds that I'm doing anything correctly are very slim, and yet already I've felt like a completely new mountain biker. Or I did until today when things were not clicking. I had some close calls but I rode all the difficult moves I'd wanted to. It's just that I felt stiff and awkward and was struggling with my body shape on the bike. The gains I'd made were nowhere to be found which makes it clear that professional help is in order.
Despite today's exception, my recent experiences have lit a fire under me to rehabilitate my riding posture and make it mesh better with the long, low, and slack bikes we've been piloting. I have a lot of research to do and hope to get some one-on-one time with Ben's coach in Squamish and talk to people like posture guru Chris Kilmurray, to help refine the process, and hopefully bottle some of that magic I tapped into last week. I'm particularly interested in how our body position can alter the way our body interprets risk and makes decisions, as mentioned by Chris in this article on his blog. In the meantime, see how a more upright posture feels to you and let me know if you have any revelations.