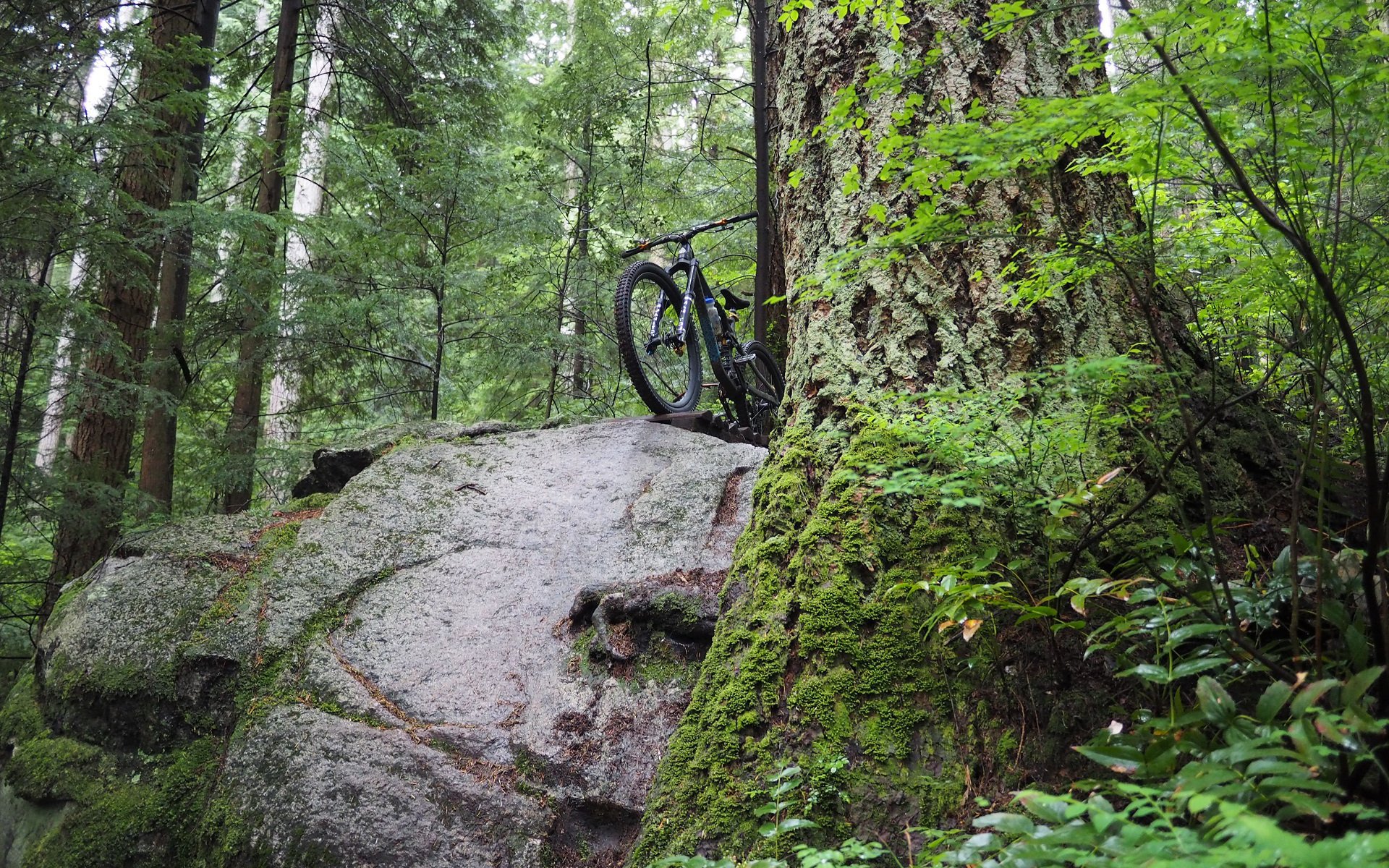 EDITORIAL
Your Next Bike: 2023 Edition
The One Bike: 2023
Here on the North Shore, we have a beautiful, timeless, mythology around the ONE BIKE. Certainly, it's a perpetually swinging pendulum back and forth between slightly shorter travel platforms that shred and long travel platforms that pedal. This is further localized by what zone a rider spends the most time riding. You're going to choose differently depending on whether your main choice is Cypress DH or Seymour Shore-XC or something in between. I'd argue the general ridership around here is always small bike, and hardtail, curious and often big bike hungry, and most riders settle on a 140mm-170mm travel rig which in simpler times we just called a 6" travel bike or a 6-and-6.
The interest of many locals is piqued by a Transition Spur while some lust for an Intense M29, or both, and many own two ready-to-ride mountain bikes. And yet it's a safe bet that a couple of model-years from now the majority of local riders are going to still be getting it all done on a bike that's massively more capable and at the same time not that far removed from a noughties Stinky Deluxe, a 2005+ Specialized Enduro, Knolly's Delirium-T, Transition's 2007 Bottlerocket, Rocky's 2006+ Switch... And the list could go on ad nauseam.
The fun here is trying to guess how that 6" bike will evolve. In this case, it's a short term prediction as the year 2023 isn't very far away when it comes to bikes. Most bike shops have already had to sign up for their 2022 commitments, as the industry attempts to guess how much mountain bike sales will drop off once folks are allowed to go back to bowling, yoga and squash. Local shops are all oversold on 2021 models, many of which haven't even shipped yet. It seems like the perfect time to chill those product development cycles a little bit since bikes are amazing and selling them isn't exactly a current challenge that requires constant 'innovation.' but this is the bike industry and fixing what ain't broke is fifty percent of what we do.
I haven't seen any 2022 catalogues, never mind 2023, and I'll admit that folks a lot more knowledgeable than I am have already shot a bunch of this down, but let's not let facts get in the way too much.
Mullet Mania
There are a lot of reasons why riders on the Shore initially hated 29'ers. The first tire options weren't Shore-appropriate beyond "Tech-C" riding and the early geometry was trying too hard to mimic how a 26" bike rode instead of amplifying the advantages of the bigger wheel. The development came from outside the BC riding community which was used to having an outsized influence on mountain bike trends and designs at the time.
But perhaps more than anything, big hoops complicated the mountain bike story. Suddenly there were small wheels for some applications and big wheels for other applications. Small wheels for short riders and big wheels for tall riders. This is out of equilibrium with the simple story of mountain biking that we want to hear and the industry wants to sell.
The mullet bike is the next big trend in simplifying every brands' bike lineup and packaging a single story. It doesn't matter that dual 29" wheels may still be better for taller riders and dual 27" wheels may still be better for shorter riders, whether you're 5' tall or 7' tall a mullet is going to work for you.
Mullet bikes are already going from optional linkage upgrades to full factory models for 2021 and are showing similar momentum to when 27" wheels brutally retired their slightly smaller 26" cousins in short order. Having every model mulleted in a best-of-both-worlds package simplifies everything from purchasing wheels and tires to telling an individual bike's story. Okay, not every model. XC race bikes and 120mm trail bikes and maybe even race-bred Enduro bikes could stay dual 29" but when it comes to that one bike for North Shore riding I think by 2023 the mullets per capita will be higher here than anywhere.
I was surprised to see the newest Nomad isn't a stock mullet - or MX in their branding nomenclature. The bike to watch in this category is probably the 2021 Specialized Status, despite its rather short chainstays. Its success with mixed wheel sizes across all five frame sizes will certainly influence the future of the Stumpjumper, Stumpy EVO, and Enduro, not to mention the direction of other large mountain bike manufacturers.
I'm also surprised that Trek hasn't dropped a mullet yet after the effort they put in with 69'er mullets a little over a decade ago. Trek was producing both hardtail and full-suspension mullets - like the Top Fuel 69'er - before 27" wheels made their comeback for mountain biking. Given their past efforts at mixing up wheel sizes, I'd expect Trek to be back pushing the mixed setup, with the slightly larger rear wheel, very shortly.
Dual Crown Forks
Count me among the folks who were surprised that the new Fox 38 single crown wasn't a Fox 36 dual crown and likewise for the RockShox Zeb. Even aside from the fact that everyone is f***ing exhausted with dealing with creaking press-fit CSU interfaces, and the weights climbing closer and closer to dual crown territories, there are real advantages to be gained from going with a dual crown fork.
First off, I love direct mount stems and bikes are so long now that the real negative of dual crown forks - smoking my knees on the top crown climbing - is gone. Speaking of crowns, the quick and easy offset changes that would be possible thanks to swapping crowns would let any interested rider experience different offsets back-to-back for significantly less investment than buying multiple forks. The massive increase in air volume can't be discounted either, which was my first thought looking at 320 USD Secus external air volume add-on kit from Vorsprung . It seems to be a a great argument for more volume to play with inside the fork.
An added benefit of a dual crown Fox 36 or Rock Shox Lyrik would have been cross-over parts, especially in RockShox's case, to help bring cost more in line with single crown forks. This is something that DVO, unfortunately, failed to do with their Onyx lineup, with the DC version costing almost twice as much as the SC version at least in part due to the fact that they don't share lowers. It's too bad because otherwise, I know a few folks who would own an Onyx DC fork.
Weight is arguably an issue, but I suspect a Fox 36 dual crown could split the 1.5-pound weight difference between a Fox 38 and a Fox 40 or the even smaller difference between a Zeb and a Boxxer. We do seem to be coming into another wave of weight-weenie-ism locally as folks go gaga over saving 100 grams off their tire inserts, but I still maintain that dual crown forks would catch on quickly.
Long(er) Chainstays
Will there be a Revenge Of The Nerd Brands? If there is then I think increased user adjustments will be one key and in particular a wide adjustment of chainstay lengths. Now, I've been beating the longer chainstay drum for a while and I'm also already used to a long back end running approximately 460mm stays on my Waltworks and I have to say since ride one on the Banshee Titan I'm testing I've not had a single ride where I wished the rear end was shorter.
There are moments when it is harder to maneuver, or a little extra body English is required, or I have to carry just a touch more speed to make it happen but all in all the extra stability is awesome. I'm working on the first look of the Titan currently so I won't go too deep here but suffice it to say I doubt I'll be bothered to mount the shorter-length dropout option.
Everyone I know who has tried both wheelbase settings on their fresh rig with adjustable chainstay length, regardless of their frame size, prefers the long setting. At this point I'm mainly referencing the Rocky Mountain Altitude and the Santa Cruz Megatower but with bikes like the Stumpy Evo and Kona Process X bring flip chips as well my guess is that trend will be nearly universal. It stands to reason that if the majority of riders prefer the long setting, it would make sense to nix the short and to add an even longer option.
Boost Only
I like that Super Boost Plus 157 Trail was based on an existing standard, I accept that it is stiffer than Boost 148, and I haven't experienced heel clearance issues with any Super Boost bike I've ridden so I don't hate it. If the industry had gone 157mm instead of 148mm I think that would have been fine, or even made more sense to most folks. But personally, I think a narrower backend is better, and if I was Bicycle President we would have never ditched 142x12 and could have had all the tire clearance we needed with longer chainstays but then really, what do I know.
At this point though, when the vast majority of mountain bikes use the same 148x12 rear hubs and with any advantages of 157x12 being academic, it seems to me that one of two things will happen. Either a big(ger) bike brand - Trek, Specialized, Giant*, Cannondale, Kona, etc - will get on board, which seems increasingly unlikely, or one of the Super Boost Triumverate (SBT) will make a move towards the 148mm industry standard.
The SBT doesn't include all the bike companies using Super Boost but rather the three that give the standard its legitimacy. Pivot Bicycles introduced the standard with their Switchblade to blend massive rubber, short stays, and their suspension design. With the trends towards 2.6" max-sized tires and longer stays those initial reasons for adoption are passé. Knolly bikes haveinvested the most energy to explain why Super Boost, or rather 157 Trail, is better than 148x12. Cycles Devinci is the biggest manufacturer currently using 157x12. Their bikes are already damn stiff, and the only benefit they note in their own literature is added tire clearance.
*It won't be Giant. They're still on probation after their Overdrive 1-1/4" standard.
Whether it's Pivot or Devinci that gives in first, I don't see a trail version of 157x12 surviving another couple of model years. Actually, looking at Specialized's latest Demo DH bike I wonder if more brands won't jump on board with ditching 157x12 DH as well in favour of just going with Boost 148 spec on all their bikes. Being able to share wheels between multiple bikes is a nice goal especially if a 148x12 rear wheel could be nearly universally used between most bikes for most applications, depending, for now at least, on wheel size.
Bigger Brakes & Bigger Rotors
Maybe somewhere in the world, there's a place where saving a few grams for a pair of SRAM G2 or even Level brakes makes sense, but around here I think it's safe to say that SRAM's Code brakes are the standard for trail bikes. Personally, I'll take a pair of Magura MT 5/7, Formula Cura 4, or Hayes Dominion brakes but the thing about the Code is they deliver a similarly excellent amount of power and they're everywhere stock on bikes.
Despite the power, and as well as it's delivered, I've seen all the above brakes being run with massive 220mm rotors up-front and have yet to meet anyone who ended up going back to a smaller rotor after trying the massive pie plate. In keeping with the mullet theme, I could see most riders running their 6" bikes with a 220mm rotor up front stopping a 29" wheel and a more tucked-in 180mm rear rotor stopping a 27" at the back.
Even then, I can't help thinking that, in the same vein as the 38mm Zeb v. the 35mm Lyrik, that SRAM will release a new more powerful system, at least for the front wheel, to sit on top of the Code and deliver that much more rotor-smacking goodness.
Will the next generation of brakes feature six-piston calipers, or floating calipers, or bigger pistons driving pads with more surface area? A counterpoint is that if brakes are powerful enough for current DH and Enduro racers then maybe rotor size and pad compounds are where development will continue and a rider a decade from now will be experiencing an only somewhat refined Magura MT7 or SRAM Code compared to today.
It will be interesting to look back and see how these predictions line up with what average folks are riding on the Shore in just a couple of years. Where mullets seem destined to eat up more and more market share my other predictions are maybe long shots at best.
It's a question for riders who will be buying a new bike within the next couple of model years. Do you see yourself on a dual crown-forked mullet with a long rear center, pulling on bigger brakes, and pedaling up climbs on a rear wheel that's interchangeable with everyone else who recently purchased a mountain bike that same year? If not, what changes do you think we'll see, and what changes do you hope we'll see, compared to the bikes for sale today?