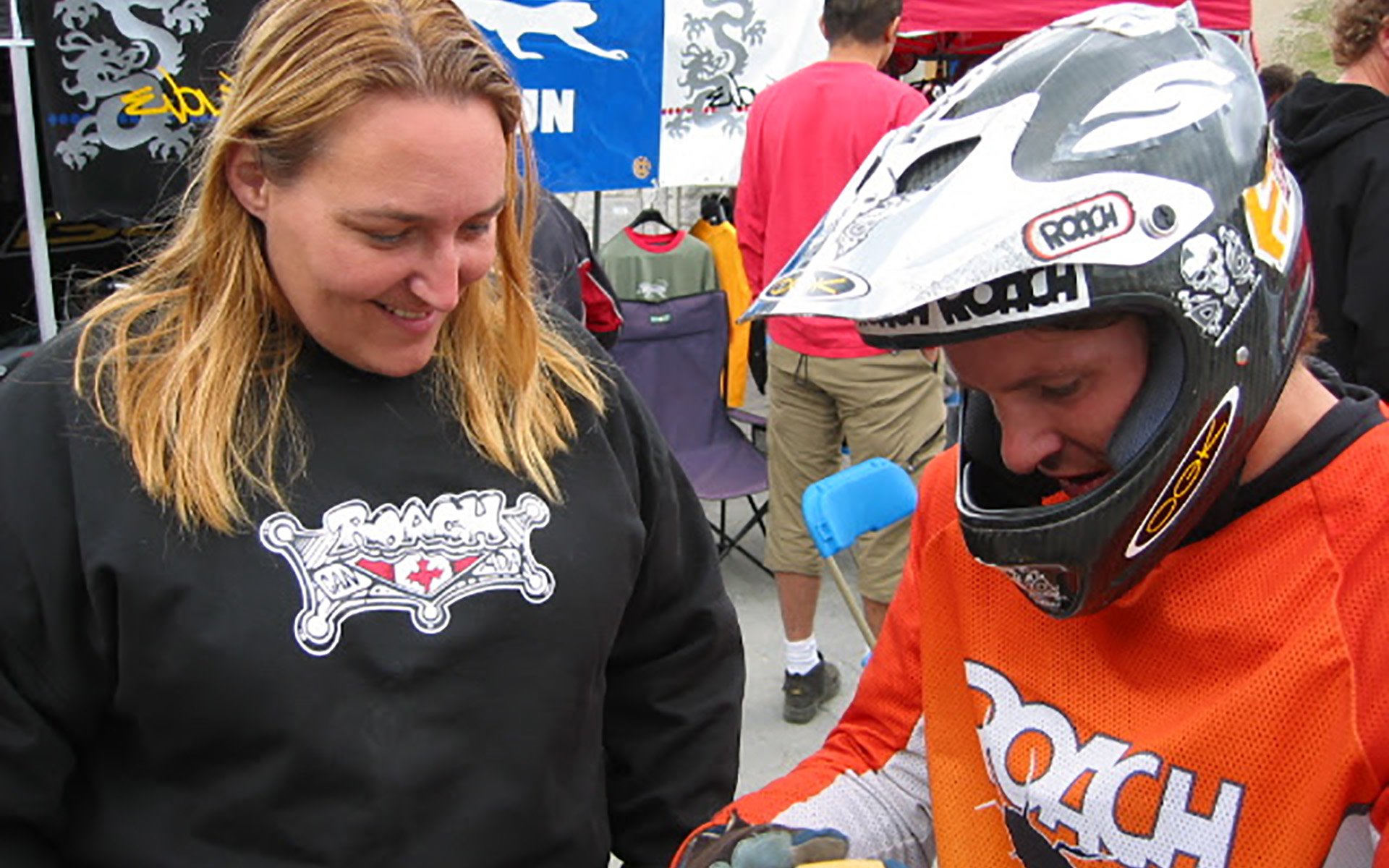 In Memoriam
You Can't Kill A Roach - A Tribute to Ingrid Doerr
Where would any of us be without Ingrid? That is a question that rings through the history of modern mountain biking.
She was the den mother to a never ending wolfpack of young hungry riders. She provided a safe haven for so many of us. This extended far beyond her contributions within the mountain bike product scene. No matter what Ingrid had time for everyone. No one went to Vancouver without a visit to see the ROACH HQ. Well no one cool anyway.
Ingrid WAS the scene. She always had the pits, the booth, the warehouse, or even the barn. Always ready to throw down her personal cash for pizza and beer. Who could ever forget the endless supply of shitty vans filled with stinky dogs? How about the legendary Halloween parties? With Ingrid around there was always a place to meet up. A safe place to stash your bike and backpack. We were always met with a laugh and usually a push in the right direction. She was a true friend and seemed to always know what to say. She took care of so many people. Providing jobs or cash work when people were down on their luck. Her connection was not only with the bike scene, she was a part of Vancouver.
We invented things together. She made everyone's ideas into a reality. One day it would be custom gear for a SWAT team or a movie set, the next we were building a boxing ring to be assembled in the ROACH booth in Vegas. She funded video projects and helped us to live our dreams. She loved the athletes and the racing. Always ready to make us feel like rock stars.
There will be endless talk of her product contributions. How ROACH enabled the true pioneers of freeride to safely push the boundaries of riding. This was at a time when almost everything was built wrong. The bikes, the gear, the jumps, and stunts- all fucking wrong. Bikes and humans were exploding all over the world. Ingrid listened and often worked all night to create something that would work better. Try and name a well known pro from the Northwest that never owned a piece of custom gear built by Ingrid. I don't say ROACH in many cases as people see that as a brand. It wasn't a brand- it was a woman that after a 12 hr day would breathe in her second wind and sew 'til the wee hours and then fall asleep at her desk writing a business plan.
I don't know if that neverending business plan ever got finished. You see Ingrid had no plan. Over the years she had more advisors, partners, employees including myself tell her how to do it all better. She would listen genuinely and try and work on that damn business plan. I think her plan was to please people. Nothing made her happier than presenting us with her latest creation and seeing us head out to ride our bikes. Plan or no plan she was always moving forward.
Ingrid had a heart the size of the moon and a set of brass balls to match. She was leader for women in business long before it was in the spotlight. Often featured in business articles and highly respected by her peers, it seemed she could tackle anything. She was understated with her opinions, but if you pushed her too far she pushed back. The amount that she accomplished was staggering. Always scheming and looking at what the next plan was going to be. I loved it. She taught me that I could do anything I set my mind to it. Even if I did not know how.
The downside to all of this is that at the end of the day there was often nothing left for Ingrid to give to herself. At times I would see her late at night exhausted and asleep at her desk. She took care of us, but we did not take enough care of her in return. I know that we have lost her much too soon. Her health let her down and she was as strong as they are made. I know she loved to ride, but as the years rolled on, she did so less and less. I don't know of all those late nights and skipped dinners contributed to her health problems.
What I do know is that we all need to look out for ourselves. There has been a lot of talk lately about mental health and watching out for others. So yeah we could all learn a lot from Ingrid's life. The way she cared about everyone and worked to make their lives better. We can all take a moment and learn from her once again. Take care of yourselves, ride your bikes, and don't skip those healthy dinners. Laugh, love, live or something like that.
These days it seems I do not know much. One thing I know for certain is that without your support and friendship I would not have the life I have today.
Thanks Ingrid.
This ROACH is still here thanks to you.
Cory Leclerc.
---
Ingrid's Obituary
Ingrid Ursula Doerr, of Calgary and Vancouver, Canada, born on October 15, 1967, passed away at the young age of 50 on September 21, 2018 at 1:11 am in North Vancouver, B.C. Ingrid is survived by her Mom, Rosemary Musgrave & her Dad, Hans Doerr, sisters, Monika McLachlan and Karin Macoun and brother, Alexander Doerr and many other family & friends whose lives she touched. She also leaves behind her adored dogs, Axel and Molly. Ingrid was one of the top couriers in Vancouver in the 80's which led to the creation of Roach Apparel & Armour. She started a graphic design & printing business & a cantina called Five & Dime. Then her largest undertaking was creating the Shipyards Night Market for the past 8 years in North Vancouver. Ingrid loved horseback riding, mountain biking, hiking, and skiing. Friends and family can join us for her celebration of life on Friday, September 28 from 2:00 to 10:00 p.m. at the Shipyards Night Market located in the Pipe Shop at the Shipyards. In lieu of flowers please donate to your favorite animal rescue in her memory.