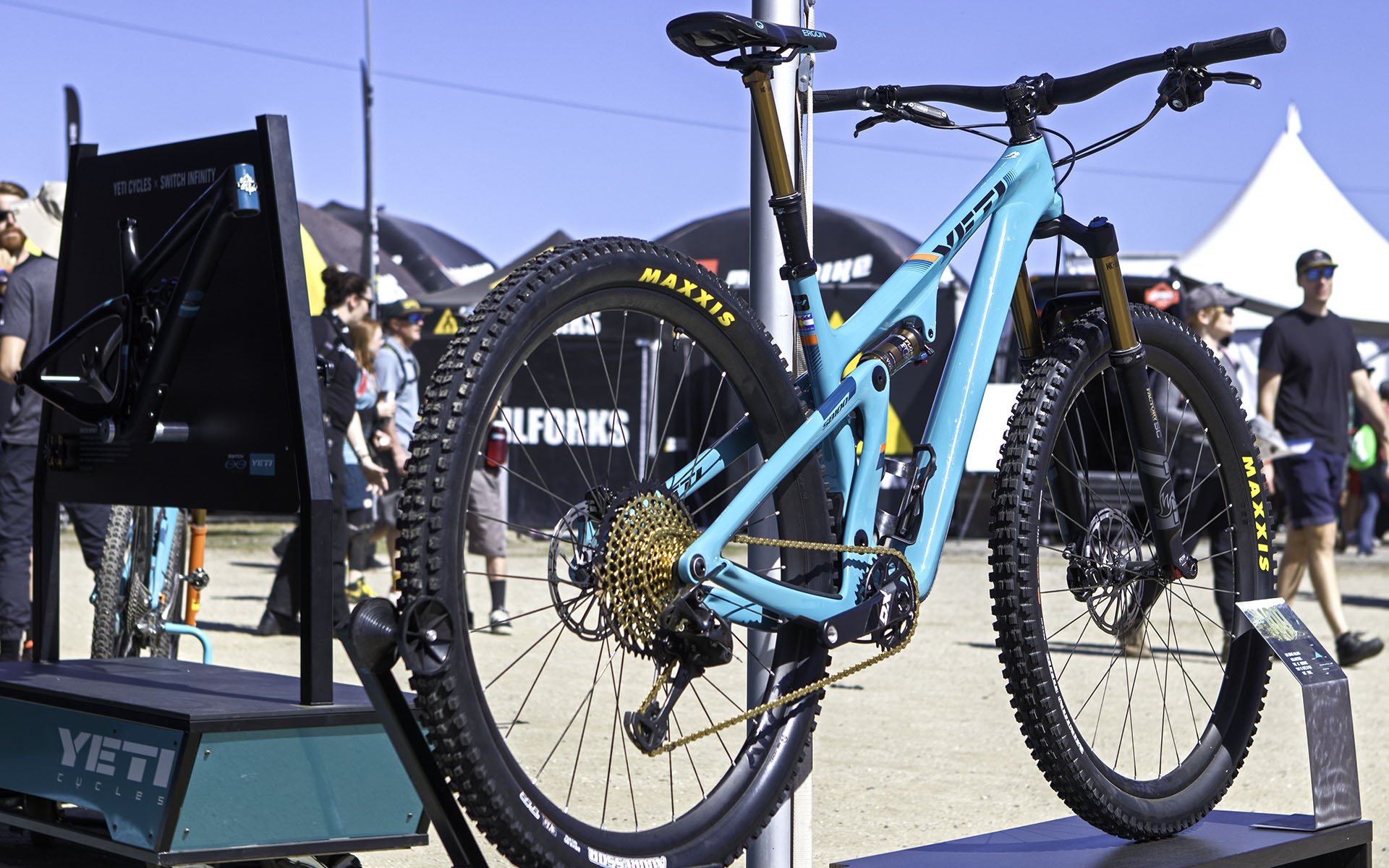 Touch and Feel
Yeti's SB100 In The Flesh
XC bikes aren't normally on our radar but recently shorter travel bikes have been surprising us. A recent example was the Santa Cruz Tallboy, with only 110mm of rear travel and 29" wheels (or 27 Plus). The bike wrestled several weight classes up and I enjoyed riding it in virtually every circumstance. The things Yeti has been saying about the SB100 suggest it's another short travel bike with the heart of a trail bike. But that's not all that makes this bike interesting for fans of longer travel bikes.
Yeti reconfigured the Switch Infinity platform to allow the shock to reside directly below the top tube, while preserving the desired kinematics. This change was undoubtedly made to accommodate a full size water bottle where it is protected and within reach. More riders than ever are trying to get water off their backs and Yeti sales will certainly benefit from this change. 
The tidy and concealed realigned Switch Infinity link now resides behind the seat tube which seems to be in direct response to another criticism of recent Yetis like the SB 5.5 and SB 6; an incredibly long seat mast. If like me you have long legs for your height, you may not be troubled by this, but for others it may be impossible to use a long travel dropper post. Some riders also like to lower their dropper for particularly heinous descents and the long mast removes that option for many. I know of two riders who chose to cut their precious carbon Yetis to lower seat masts. (note - this isn't recommended and will likely void your warranty).
The much smaller Switch Infinity has also been turned 90 degrees and pushed back toward the rear wheel allowing for an uninterrupted seat tube. This in turn allowed Yeti to decrease the length of the seat mast. They cut that sucker way back to the point that I can't imagine anyone bitching about it. If it still looks a little long that is likely a reflection of the ample standover. 
Why does this matter if you know you'll never buy a bike with less than 130mm of travel? Yeti's not saying but I'd bet a year's supply of sealant that versions of current models like the SB5, 5.5, 4.5 and 6 that are able to accommodate water bottles and long travel droppers are in the works. If you've been holding off buying a Yeti because you hate wearing a pack, your dreams may soon come true. 
Lower your saddle, buy a 170mm dropper, fill your boots (and your bottle cage) on this Yeti. We'll have a tester soon and so we'll be able to tell you how the SB100 handles the trails on the North Shore and in the Sea to Sky corridor. 
To hear what the people at Yeti think about their new bike click here...