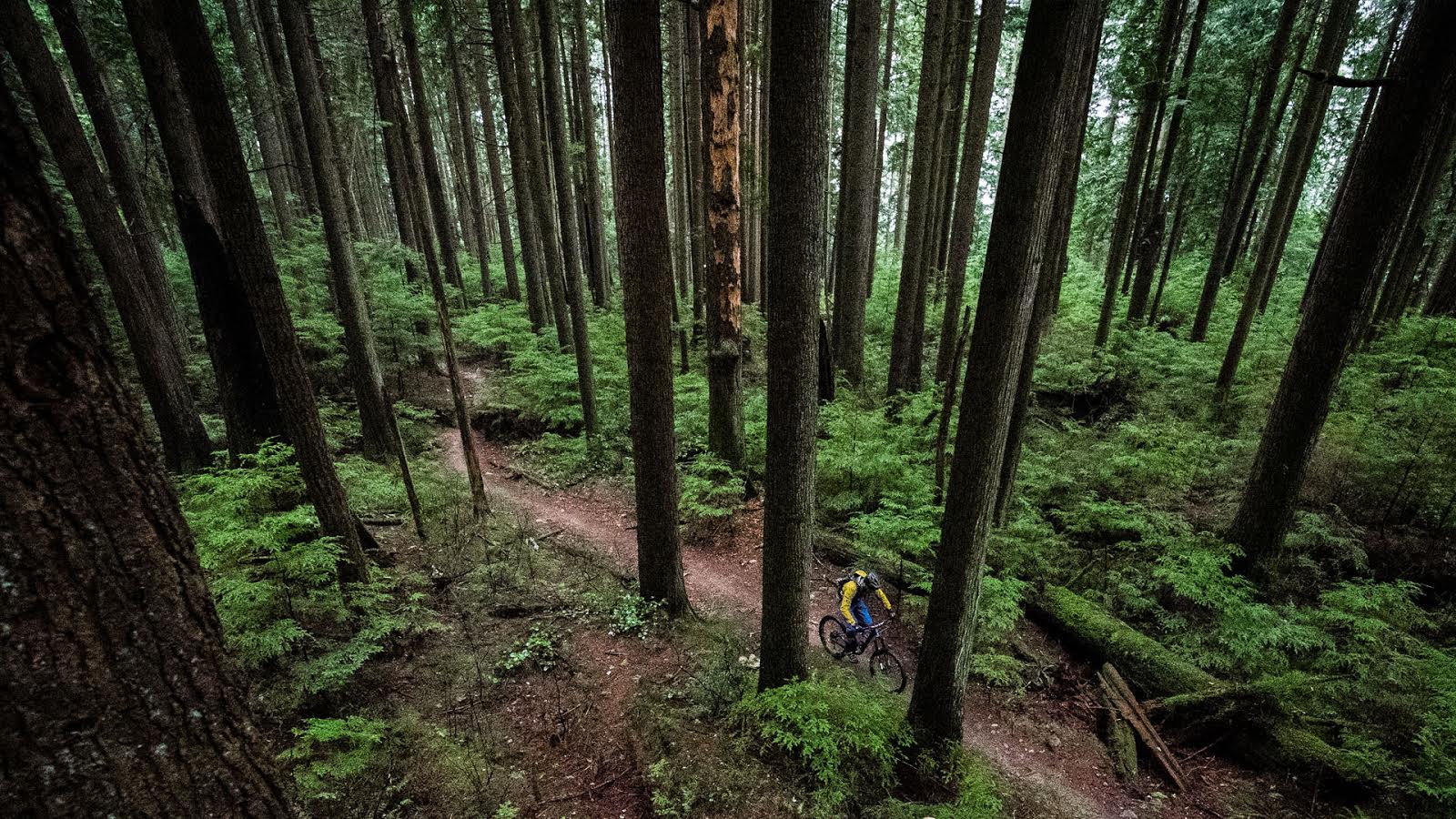 Yeti SB6c: Reviewed
Sports analysts like to talk about draft years and try to figure out which classes produced the greatest number of standout athletes. In the NFL, the draft of '83 is often touted as the best ever, and it is hard to refute: Elway, Marino, Green, Dickerson, Kelly – just some of the names picked in that year that even non-believers will recognize. Our sport may not monopolize 20 million TVs every Sunday afternoon like the mighty NFL, but I believe we're going to look back for a long time on 2014 as a year that produced an unusually high number of great bikes.
And that's a mixed blessing for a company like Yeti. Long known for their successful race heritage and knack for producing bikes aimed at skilled and demanding riders, this was a year when they made a big move, releasing a couple of Trail/AM bikes that revolve around a reiterated suspension platform called the Switch Infinity Link. First the SB5c which I wrote about in May, and then the SB6c which was an obvious extension of the line, and at least as anticipated as its 5″ cousin.
True, they have released their EWS killer into an arena of rabid fans eager to snap it up, but that arena is full of contenders, so no matter how the bike performs on shop floors, there is a lot of competition to contend with (make no mistake, though – I'd bet on them to cover the spread and sell out this year). The NFL can claim more parity between its teams than the other major sports, and I'm declaring 2014 as the year of parity for AM bikes. There are key differences between them all, but the fact remains that the MTB League of 6ers is stacked. Speaking of competition, this is the bike that won the EWS. Well, Graves won, but this was the bike he used for much of the season, and that can't be taken away from Yeti.
SB6c Details
Like the SB5c (aka SuperBike5″carbon), the 6 is a carbon bike, front to back. The head tube and down tube are some of the thickest I've seen and forgive me while I gush for a moment, but there's something bordering on sensuality dripping off the curves of the frame when you fondle see it in person. I've always been a fan of seat tube/top tube junctions that don't require a brace, and that's also a sign of solid carbon tech and construction. The rear triangle has flowing, continuous lines, too – this bike is a study in design. Many people think the beating heart of the SB6c – the Switch Infinity Link – looks foreign and therefore is hard to love. I think it's appealing because it's indicative of the fact that the Yeti culture is a bit different and they like it that way. You have to be looking to notice it, though, because it's been tucked away neatly.
For a run down on the bike's finer details, have a gander at the first impressions article from October. Similarly you can learn more about the Switch Infinity Link here which we dealt with during the SB5c intro.
SB6c By the Numbers
It's natural to want to compare numbers when bike talk gets nerdy, and obviously they can be informative. However we've been poring over them while riding, as well as while talking about these bikes, and the SB6c in particular, and it has reinforced more than ever that numbers can be deceptive. To illustrate that, I put together a chart with some key numbers from some of the bikes we've reviewed in the last several months (or are in the process of reviewing):
All bikes are a size 'Large' and to be sure, that doesn't mean the same thing to all companies. Put a different way, all of these bikes fit three of us who measure 6′ – 6′ 1″, so they're all in the same ballpark. One key takeaway is that the Yeti and the Giant Reign in particular are good examples of bikes that don't ride exactly like their numbers might lead you to believe. The Yeti's slightly steeper head angle (and we're only talking a half degree) and shorter TT makes a pronounced difference when climbing or picking lines at moderate to high speeds.
It's the wheelbase that's the kicker, though and Yeti's is the second longest. At only a tenth of an inch shorter than the Reign, it is more nimble and feels better ridden from over the center or front of neutral, whereas the Giant is the opposite and can be ridden a bit more from the back seat. Neither of these traits should be taken as a negative, they're merely different. You might love both bikes, but without riding them both, you might also think they felt similar (even before you get into how the suspension works) but that would be far from accurate.
Otherwise the numbers dictate that the Yeti should feel a bit more lively and indeed it does – especially while climbing. This may make it sound like the Giant feels sluggish but that isn't true at all. The point is that on paper the two bikes are eerily similar but they're as different as any two bikes in this category that we've ridden all year. To make things more interesting, by the numbers the Nomad looks comparatively short but that's in large part due to the steep seat tube (not to mention the fact that Santa Cruz TTs are usually on the short side) so it pedals competently but feels very planted and stable when descending.
Don't let this be confusing, just take it as a lesson that you can't tell how a bike rides by the numbers alone, and speculating about that fact is as useful as diagnosing a head cold by picking through the lint in your belly button. In case this isn't obvious yet, listen up: geometry is at least as significant as the suspension platform it's riding on. Everyone's doing at least a competent job with suspension technology these days, and many brands are doing it really well. We're finding more and more lately that the thing that sticks out in a review is geometry. Suspension performance is obviously super critical – even more so when you start moving fast and riding aggressively – but if your bike's geo doesn't work for you, you're definitely not going to get the most out of your bike, whereas sometimes you can fake your way through a suspension setup that isn't quite up to snuff.
Riding the SB6c
I only got to ride the SB5c one time, but it was an eye-opener. Rare is a bike that pedals that well and also has that x-factor on the descents: the "I saved your ass once, and it'll probably happen again" feeling was palpable. The SB6c has the same pedigree, obviously, and the word balanced is apt. Here, though, is where the geo vs. suspension issue comes into play, although the issue stemmed more from the front of the bike than the back.
The latest Fox 36 has garnered a lot of acclaim, but we have had mixed results. Our tester that came back from the launch in April certainly got to the point where it performed well but it never felt as good as we presume it could. After some fiddling I felt like it was riding at a nice point in its travel, provided good traction, and did what it's supposed to do, but I wasn't smitten. So when the fork on the SB6c felt similar, it just seemed to me that that's the way the 36 was tuned. It performs though and honestly I was riding well and felt confident with it, but the love ended there. Then Cam got on the bike for a while and he was not loving the fork in the least and that might be putting it charitably. We took it for service but it was no better – clearly something bigger was afoot. This is as good a time as any to share Cam's impressions of the bike.
Ride Impressions – Cam McRae
I was pretty excited to get my hands on the SB6c. I never had the chance to ride the SB66 but every rider I know who tried one gushed. And the 6c seemed to balance simplicity and innovation with a rare elegance. At least in person. Many who first see the bike online – or hanging on a wall even – aren't pleased by the aesthetic, but in person most agree that it's a smooth, syrupy sculpture.
I noticed the smooth and active rear travel as soon as I put rubber down here on the Shore. Both up and down. In fact the climbing prowess of the 6c is of particular note. Pete and I selected some tough technical singletrack climbs and did some back to back testing with a Giant Reign Advanced, a solid climber to be sure. While the Reign digs in really well, the Yeti's rear end is more supple when power is applied and it transfers juice like few other bikes I've ridden.
My first impressions of the Yeti descending were coloured by the Fox 36 fork and how it was performing. We eventually discovered that early versions of the fork were judged to be valved too firmly for most riders. Somehow the fork on our test bike was shipped with that early valving. With the fork like this I felt that I had to have my chin ahead of the handlebar to get the bike to perform. And there was no middle spring rate that would have adequate support and still get into the meat of the travel. This was compounded at times by a known issue on the 36. Under certain conditions, perhaps influenced by altitude, the lowers can get pressurized making it underperform (a fix involves sliding some 35mm negative film between the dust seal and the lower leg and then cycling the fork to allow air to escape).
We stopped in with the bike at the Fox office in Scotts Valley and Jordi Cortes installed the correct cartridge with the final valving. And the bike started to shine – in most situations. Since the beginning the bike hasn't felt amazing to me at speed – particularly when presented with high-frequency, square-edged impacts. It has been solid in almost every other situation but, even after the fork was dialled and feeling great, this persisted for me. I double-checked the sag, adjusted pressure up and down, tried descending with the Fox Float X CTD rear shock in Trail mode, but I never got there. Braking bumps and chatter were a particular challenge. It felt more like a shock issue (set up or otherwise) than anything to do with the configuration or the geometry, but without another shock to swap in I can't be sure. Unfortunately I didn't figure out that things weren't as they should be with the rear suspension until the fork was sorted out – and I was only able to ride the bike a couple of times after that.
In truth I'd like more time on the bike, because I feel like there are stones unturned – but it appears that it's time to get the SB6c back. If we manage to hold onto it longer I'll keep trying to sort it out and get back to you.
---
So the banjos dueled a bit and one seemed to be missing a string. One thing the guys at Fox told us is that the 36 we had was tuned more like Graves and other pros like it, so it suits heavier and more aggressive riders. I am one of those things when compared to Cam, sometimes maybe both on a good day, whereas he rides more smoothly. So, the extra 15 pounds I carry may have made the fork work a bit better for me – particularly in high speed sections, because I never felt like the fork was holding me back there. With that said, we'll be spending more time on Fox 36s over the next while and will be sure to update our thoughts on it, because it seems certain that so far we haven't been on one that was running at 100%.
During the test period, we've ridden the Yeti SB6c on the the Shore, with its varied terrain – steep and slowish as usual but also lower grade and fast if you pick your spots – as well as in Penticton, where we rode some of the most sustained steeps anyone had ever seen anywhere, and then in and around Santa Cruz and in Ashland, Oregon – two places where speed mixes well with flat corners as well as nicely sculpted berms. Partly due to the fork, Cam didn't ever feel like the bike sang for him at speed, but I felt comfortable on it within 2-3 rides. It never was as burly feeling as the Reign or Nomad, but that didn't hold me back either, and I remember remarking that it felt at least as fast as those two bikes, but you sure as hell had to be actively riding it and picking lines. If I felt good the Yeti would reflect it, but on a bad day, it wasn't as rewarding. Livelier for sure, though, and if you like seeking out hits and doubling things not everyone sees, this is a bike that caters to that attitude.
I don't recall ever bottoming it hard, but it also isn't as plush feeling as the more active Reign Advanced or the Nomad – rather the back end felt fairly balanced with the front for me, meaning it felt tuned to go fast, and when I did, I found it would skip nicely over high speed bumps. When push came to smash, it never hung me up and sent my chin racing toward the stem, nor have I felt the dreaded wallow from a g-out in a turn or a missed weight shift in a depression. Safe to say then that I was pretty happy to endure a slightly firm overall feel in exchange for performance that really feels designed to go fast. Given that that's how Yeti is marketing this bike (i.e.. with a lot of race-inspired verbiage), the only surprise was that in their case the marketing isn't hyperbolic; it's lively and responsive but you do need to mind the leash.
Climbing on the Sb6c was almost good enough to fool me into thinking I wasn't on a 6″ bike. In fact this bike climbs better than any other 6-inch bike I've ridden, whether that was on smooth sections that emphasized a good pedal stroke, or steep technical climbs where its traction and sure-footedness rewarded patience and good handling. This is something I felt on the SB5c as well, even with the shock wide open in Descend mode. Switch Infinity, according to Yeti, is designed to provide anti-squat in the first portion of travel in order to climb well, and then after the inflection point of the link, it flips (in its way) into descend characteristics, trading pedaling platform for big hit compliance.
It's usually hard to claim something feels exactly like a company claims it will, but I can't deny that the SB6c pedals surprisingly well, and also descends with confidence and precision. And if we can get that fork fully dialed, well, we just might have an MVP candidate on our hands.
Odds and Ends
I questioned whether the Switch Infinity Link's placement and configuration would be a mud-catcher and it is somewhat, however it also rinses out easily and hasn't proven to be tough to clean. Different it may be, but not much worse for attracting debris than any number of other linkages.
The XT brakes on the Yeti felt particularly sharp – almost too sharp at times – but that was testament to the Guide RSCs I've been riding on the Nomad of late. They are very different brakes, and I like them both, but switching back and forth was an adjustment.
The Thomson Elite Covert dropper post is a winner. The bar-mounted lever tucks away nicely and is easy to operate, and the only trouble we had with it was due to a frozen line – something that can happen to any cable-activated post or shifter that is hosed down and then subjected to freezing temps before it has a chance to dry. Happens quite a bit at this time of year, so watch out for that.
The High Roller II's continue to work better for me than some others here on the shore, but I do find the rear wears out more quickly than other tires I've run the last few years. After 10-12 rides the grip starts to decrease noticeably.
The Yeti SB6 Carbon we tested came with the X01 build kit, which weighed in at 29.5 lbs (incl. XTR trail pedals) and retails for $7,399 USD / $7,699 CAD. They're available in stores now and damn would one ever look sexy under a tree.
---
Is 2014 the best MTB grad class we've ever seen? And is the SB6c your vote for valedictorian?