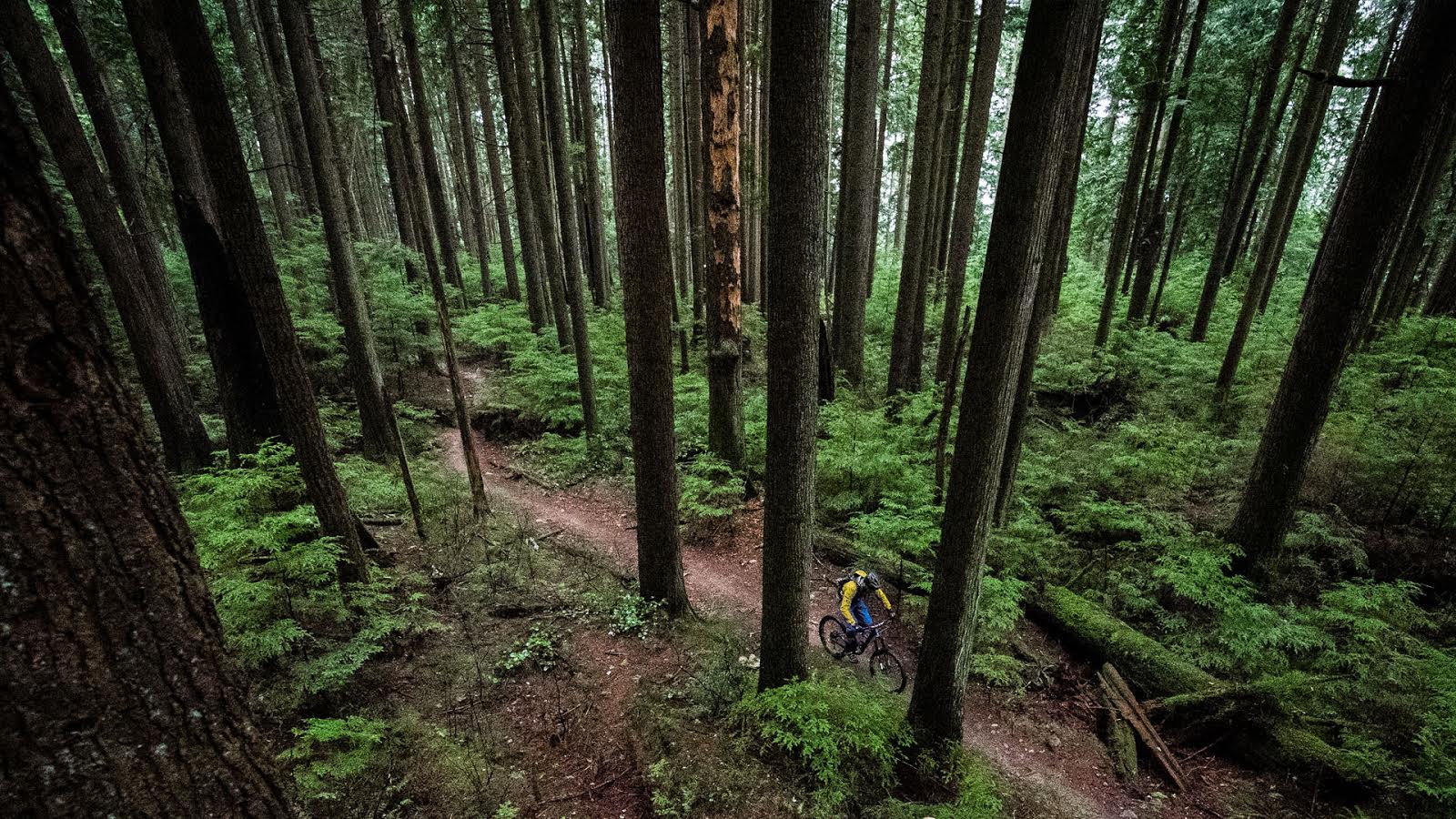 Yeti SB5c Previewed and Ridden
Rumors had been swirling for months, but the breeze blew softly and it wasn't carrying anything you could sink your teeth into. We knew Yeti was cooking something up, but the menu wasn't to be posted before it was time to feed. Earlier this Spring, the Coloradans invited a handful of journalists down to their new offices in Golden to learn more about what they were up to.
They've been busy.
Yeti is unique and its success is well charted, but it remains as much a cult-led brand as a boutique one, and they seem to like it that way. Longevity in the business and an incredible racing heritage? They have that, but other companies do, too (although Yeti's runs seriously DEEP). Owners and staff who shred? Yep. Also not unique, but the percentage of their staff that have won national championships might lead the industry – in any country. Ironically their office ping pong matches are at least as competitive as their lunch rides. They also boast the most fanatical brand fans in the business – the Yeti Tribe – who are about to gather this weekend by the hundreds, to ride bikes and howl at the moon over Durango.
These checks and balances give the sense that it all starts and ends with their love of riding, and the bikes they design and sell are for themselves and the Tribe to shred on, and they feel a sense of responsibility to all of them to not put a bike out unless they think it flat out rules.
The Yeti SB5c
The Yeti SB5c is the descendant of the previous generation of SuperBikes, including the SB-66 which must be the first bike ever to be so universally loved, only to be discontinued the following year, and the SB-75 which it directly replaces. The wheel size battle has been cruel, indeed. When breaking down their naming convention, SB = Superbike, 5 = inches of travel, and c = carbon (the only material Yeti will work with for new designs, though some existing alloy models will remain). Wheel size not included in the name, but you don't get a prize for guessing that its shoe size is 650b.
Switch Infinity Link
The beating heart of the SB5c is the Switch Infinity Link, which is a translating pivot, and an evolution of the Switch Link found on the prior generation SBs, married with the 303 Rail system that was introduced over a decade ago. The goal of the Switch Infinity, as with the Switch, was twofold: a firm pedaling platform that didn't sacrifice small bump compliance; and a firm mid stroke that doesn't compromise square-edged compliance.
In the early stages of its travel, the main pivot moves upward, translating to good anti-squat and pedaling performance, while linear leverage and movement deliver small bump compliance and control over (or tunability of) the system's kinematics. At this point the wheel's path is rearward.
Once it reaches its 'inflection point', the main pivot switches direction and starts moving downward. We're getting deeper into the travel now, and the linear movement has a different effect: now Yeti says it disallows chain force from having an adverse affect on suspension performance, and gives that (**hotword alert**) bottomless feel we all want. Wheel path has also changed at this point and it is now moving up and forward.
Square-edged bump performance and that linear path are why Yeti tapped their Rail technology that characterized the 303 DH bike. That system was heavy and expensive to manufacture, but they've solved the cost issue using clever design and with Fox's manufacturing expertise, and despite looking robust, they also report that Switch Infinity weighs 100 grams less than the Switch Link.
Check out the Switch Infinity Link in action:
We've all heard this language before: this without sacrificing that, pedals well but with excellent bump compliance. And while a true 'no compromise' system doesn't exist, Yeti feels that combining Switch technology with the tunability offered by the linear motion of the Infinity Link has brought them as close as you can get to the best of both worlds. Why? Allowing for a metaphysical journey for a moment, the Infinity Link is so named because to reproduce its theoretical capability would require an infinitely long linkage (it's ok, my head exploded at this point, too). Instead, Yeti claims that the Infinity Link helped them figure out how to tune anti-squat independently of compliance and damping.
You have questions, you say? Good, you're listening – I probably had a few of the same ones.
1. If the original Switch Link worked so well, why did development on Switch Infinity start as soon as Switch was released?
As far as I can tell, Yeti simply felt they could do better. For three years they've been working on it, starting with cobbled together pieces of Fox DOSS seat posts (the component parts were roughly the right size to play around with for this purpose). Eventually Fox got involved, helping out with machining and prototyping and later, testing.
2. What about the Switch Link were they looking to improve upon?
On the original Switch, the inflection point on the SB-66 came at about the 100mm travel mark, which meant the link was moving in the opposite direction of the hit during the part of the travel when it needed to deal with more aggressive, deeper hits. Most riders didn't detect this, but successive hard hits could cause the suspension to stiffen – not ideal. Switch Link is also not as tunable as Infinity, which Yeti says can be quite easily adapted to longer travel applications. Again, the Infinity Link is theoretically infinitely long and linear – Switch was a short link and therefore not able to be adapted to as many applications.
3. Chain growth – what's the deal?
With the Infinity Link, chain growth is most prevalent in the initial portion of travel (helping with pedaling performance) but that rate of growth decreases as you get deeper into the bike's travel.
4. If we were nerding out on the Infinity Link's rate curve, what would it look like?
The SB-66 had a linear and flat rate curve, whereas the SB5c is linear and slightly rising (aka slightly progressive).
5. What about durability and reliability?
The parts that make up the Infinity Link are manufactured by Fox, and are subject to their Off-Road tolerances (even tighter than for MTB) and go through tons of testing, including their famous 'slurry' test, during which they dunk the parts in a slurry of different types of soil, sand, mud, and liquid, and cycle the shit out of it. No issues. Apparently one or two prototype bikes have been in use for three years and the original Infinity Links are still going strong. So, that's pretty good.
After hearing this presentation and asking  a few questions, rubbing my chin, getting a little closer to understanding it all, and more chin-rubbing, I was frankly not totally convinced. It sounds impressive. It looks impressive. But claims like these are nothing new, and rarely do they work out to be as impressive as they sound. Except Yeti aren't known to wallop you over the head with marketing.
And there was one more thing. We were about to go and ride it.
 Riding the Yeti SB5c
Yeti gave a small number of journalists the chance to ride their new baby in advance of the launch – that's normal. But less conventional was their decision to bring us down only two at a time, so we could spend good quality time with owner Chris Conroy and some of the other staff that make things happen down there. That's a big commitment, because Chris spent all day with us, and while entertaining journalists from out of town for the day as well as going for a ride and then a long lunch sounds good, it also means he did that three other times when other groups of two were visiting. Respect.
We got our bikes sorted and fitted and headed out towards the Front Range's Apex Trail zone, which is only 5 minutes by bike from Yeti's (new) offices. Chris suggested we start the ride with our Fox (of course) 34s and RP23s in Descend mode so we could see how well the bike climbs even with the suspension left wide open. We hit the climb and I was reminded that 24 hours earlier I was at sea level, and now we were starting a ride a mile high, and about to go higher, in 30º heat. Suffering aside, the bike did not take long to get used to.
Yeti's geometric philosophy is progressive and they like it "long, low & slack", so the 67º head angle, 17.4″ chain stays and 13.4″ BB height were adding up to a planted feeling on technical climbing sections and switchbacks, some reinforced with rock armoring. And…the thing pedaled and climbed incredibly well, in Descend mode. The suspension was active (and yes, compliant on small bumps) and provided amazing traction on the dusty surfaces, but I wasn't wallowing or pogoing. Quick jumps out of the saddle saw the power hit the tire, and not melt away – and well they should because this is a 5″ trail bike after all – but without stiffening or producing pedal feedback over square bumps or compressions in the trail.
Up we went, along with the mercury. Finally it was time to let the saddles down and get a bit more wind flowing past us. It was at this point that I became aware of the Ardent/Ikon combination which was fast but definitely not knobby, and the 70mm stem and 750mm bar. I was even offered a shorter stem and declined, but I shouldn't have. My new minimum is 780 wide and I was instantly wishing for a 50mm stem, too. But for those nitpicks, the SB5c railed. It danced around flat, low angle corners (good traction despite the pinner rubber) and though I had the fork set up a bit too stiff as we pointed down into some rocks, the bike held things together nicely.
As we made our way into the rowdiest section of the day, the canopy thickened and I was wearing dark glasses. Too dark. I tried to hold a wheel, lost contact in the shade, missed a line, then another – my mistakes were compounding and I was about to have my control bankrupted, but I stubbornly smashed a few holes and rocks, and came out the other side with credit intact. Then it happened again. I was riding like a tool (does this not happen to all of us on the first day out on trails and surfaces we don't know well?) but the bike was bailing me out. Given how hard and at the speeds I was compressing into things, it should have been a full scale ejection.
The rest of the ride saw more technical rock on flatter, faster terrain, and here I was wishing I could tweak the fork more to my liking, but the back end was providing lots of support while giving way nicely when asked. It didn't feel plush, but it performed at speed, and wanted more than I was frankly willing to give it at that point. The SB5c is predictable, balanced, and deceptively capable when pushed hard. It hits above its weight when railing and ploughing, but it also climbed exceedingly well.
It was only one ride, and I want to get some time on one on trails I'm more familiar with, and spend some time getting it fully dialed in, but the early impression was extremely favorable.
Yeti SB5c Spec Sheet: X01 Build Kit
Fork:                    Fox Float 34 140 Factory Custom Yeti Decals
Headset:             Cane Creek 40
Crankset:           SRAM X1 (32T)
Rear Der:           SRAM X01 11spd
Shifter:               SRAM X01 11spd
Cassette:            SRAM XG1195 11spd
Chain:                 SRAM XX1 11spd
Wheels:              Custom DT Swiss 350 Hub w/ XM 401 Rim (Option: Enve M60/240)
Tires:                      F: Maxxis Ardent 2.4 / R: Maxxis Ikon 2.2
Brakes/Levers:  Shimano XT
Rotors:                   Shimano IceTech 180 F / 160 R
Handlebar:           Easton Haven Carbon 740mm
Stem:                   Thomson Elite 70mm
Grips:                  Yeti Lock-on
Saddle:               Yeti WTB Volt Custom
Seatpost:           Thomson Elite (Thomson Elite Covert Dropper +$350)
Weight:              25.5 lbs with Thomson Elite post / 26.2 lbs with Thomson Elite dropper post
SB5c with SRAM XO1 and Enve M60 wheels: US $8999 / CA $10,205
SB5c with SRAM XO1: US $6,599 / CA $7,483
SB5c with SRAM XX1: US $tbd / CA $12,019
---
Roggey has a solid crush on Yeti's newest SuperBike. Are you an aspiring Tribe member?