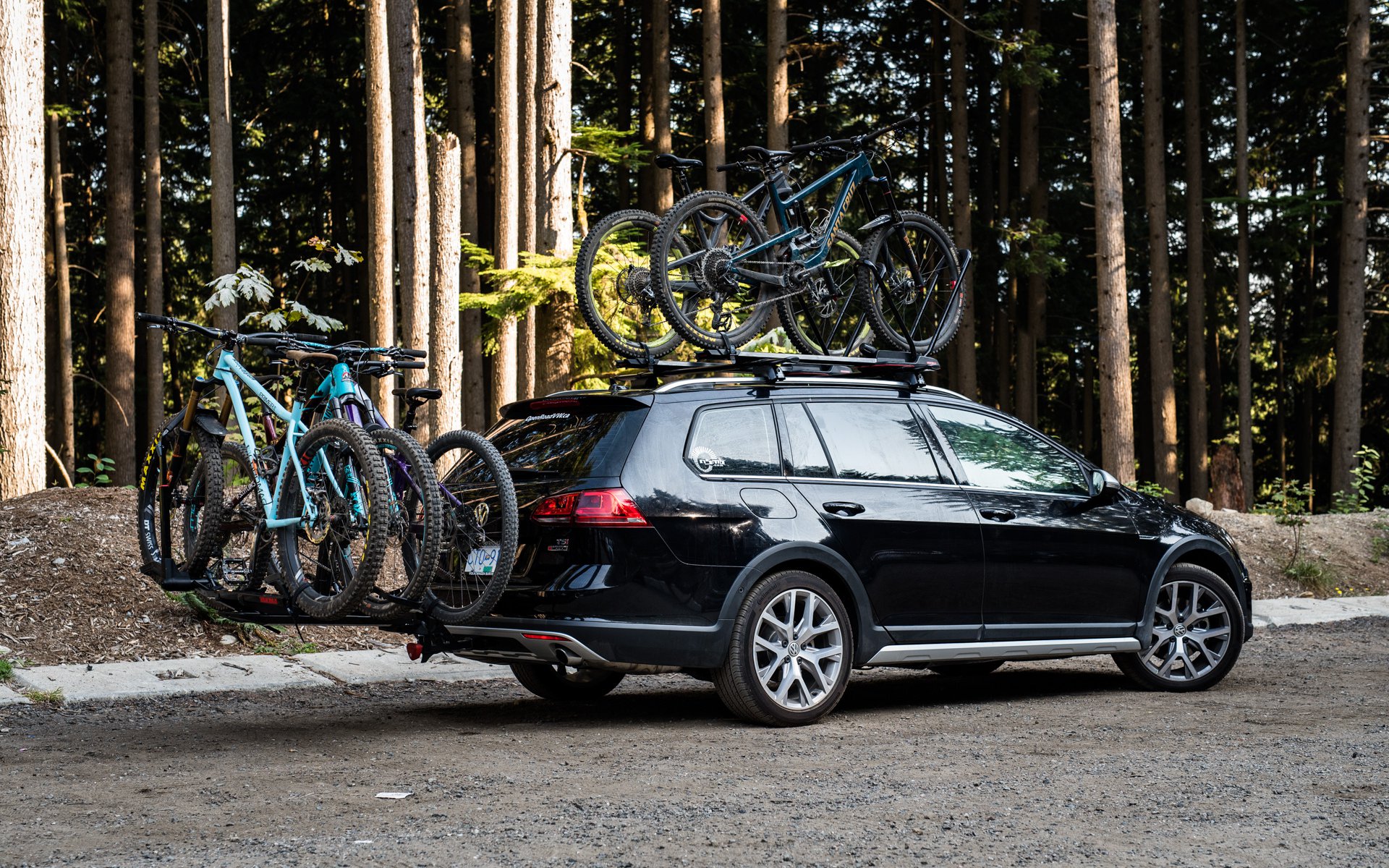 REVIEW
Yakima Racks Dr. Tray and High Road
If you're a serious rider, it's likely that your choice of vehicle is dictated to some extent by your riding conditions: driving to the trails, road trips, group size, whether you shuttle, do you off-road to get to your trails...the list of factors is long. For many riders, a pickup truck is often the best solution. NSMB's Toyota Tacomas have been faithful partners since 2006 and are still going strong, but you don't have to take our word for it - just check out any trailhead in BC and the popularity of Tacomas is almost comical.
But.
Sometimes a pickup isn't the right answer, for just as many reasons. And if you don't own a pickup, that means you can't just toss your bikes over the tailgate, so you're faced with figuring out how to transport them, which means your decision-making is far from over. Roof racks? Hitch mount? One of each? What kind and style? Do you also ski, kayak, etc? Do you park underground? Do you need to access your trunk frequently?
Thankfully, once you do sort out how you want to go about it, there are plenty of good options on the market now. Quite a bit better than even a few years ago, actually. I've been running a bunch of hardware from Yakima this summer and it's time I shared my thoughts.
No matter what vehicle you use, the fundamental question you have to answer is: "roof racks, hitch mount, or both?" Here's a general pro/con list for both:
Roof Racks
| PRO | CON |
| --- | --- |
| Less attractive to thieves | Poor(er) fuel economy, and wind noise |
| Bars are cross-compatible with box / ski / kayak racks + anything else you want to lash to your roof | Harder to use if you're short |
| No sight line or vehicle length issues | Not compatible with parkades |
| Aesthetics (matter of taste but many prefer them) | Require cross bars and other hardware |
Hitch Racks
| PRO | CON |
| --- | --- |
| Easier to mount bikes (and usually faster) | Access to trunk is affected |
| Easy to fold out of the way or remove altogether | Vision out back and rear sensors / cameras will be affected |
| Don't require additional hardware (assuming you have a hitch mount installed) | Easier target for thieves |
| Easy to install/remove or swap between vehicles (w/ a hitch) | Require a hitch mount |
Yakima has been a solid contender for both roof racks and hitch-mounted racks for years, but their new releases in both categories represented significant advances in design and performance. Let's start with the Yakima Dr. Tray, their latest tray-style hitch mount rack.
Yakima Dr. Tray
One major limitation of hitch-mount racks is that cars usually don't permit a 2" hitch receiver due to towing capacity limitations. That matters because a 1 1/4" hitch receiver generally restricts you to two bikes plus a rack - after that the leverage and weight can be too much - a major consideration for biking families that have a car instead of a truck or SUV. 
Dr. Tray's first trick is that it's constructed from alloy so the rack's weight is low (41 lbs. 18.6 kg. for the 1 /14" version, 34 lbs. / 15.4 kg. for the 2" version). That light weight makes it easier to install and remove the rack but, even better, it means that even the 1 1/4" version can be fitted with Yakima's EZ + 1 addition, allowing you to carry a third bike on the same tray. The downside here is that after shelling out $719 CAD ($579 USD) for the Dr. Tray, it's another $299 CAD ($219 USD) for the EZ + 1. Don't forget to include the cost of installing a hitch receiver, if your car doesn't already have one (that'll run you another $2-300).
Dr. Tray has more tricks up its sleeve, though. The two bike trays can easily be slid fore/aft and side to side, which makes it easy to accommodate wide handlebars or other bike design anomalies that make for awkward mounting. With the EZ + 1 installed*, there is still plenty of room to accommodate three MTBs with wide handlebars, and the trays are made to jive with fat bike tires and wheelsizes from 26 - 29 inches. I didn't have a fat bike on hand to test, but meaty 27.5 x 2.8" plus tires on my Chromag Primer are gobbled up easily, which hasn't been the case with every rack I've mounted them on.
*The EZ + 1 is mounted using four bolts, so its position cannot be adjusted.
So, Dr. Tray is light and easy to install and remove - that matters because when you use a rack on the back of a car or truck, it's nice to be able to remove it for road trips that don't involve bikes, or winter if you're not a 4-season rider. If you have a hatchback, you want to be able to get in and out of that trunk without dropping the rack every time. SKS cable locks and cores are included and, like most tray racks, just long enough to work, but you always wish they gave you a bit more slack. That said, if you plan to leave bikes on the back of your car (for a ferry ride, for example, or beers at a pub with parking out of sight), you're going to want a more robust chain and lock system.
On the minus side, Dr. Tray isn't perfect. 
The wheel trays don't retract, so the rack is wide and looks huge on the back of a car when not in use (and will appear prominently in your rearview mirror). 
I also found the release buttons on the wheel latches to be awkward - you have to push the latch down while pulling the hook up. Two-handed, it's a snap, but I've gotten used to being able to do it one-handed with a Küat NV 2.0 I've been using (that review's coming shortly). Why does that matter? Because I've also mastered the art of releasing the front wheel with one hand while undoing the rear wheel with the other - usually with a bag slung over one shoulder. Like the rack release handle, this issue has also been addressed for 2018 with a re-designed button that is more intuitive to use.
Like with any rack system, the Yakima Dr. Tray has its benefits and its disadvantages. It is especially worth consideration if you're committed to a hitch mount system, may want to carry more than two bikes, and don't want a vertically-oriented solution like a North Shore Rack. I have a few quibbles with the design of the rack, but overall its innovative features outweigh those reservations - especially if you have a 1 1/4" hitch and want to carry three bikes on the back of your car.
So you have a hitch mount rack but you're part of a shuttle posse, or you simply want to mount bikes on top of the car instead of the back? Let's talk about what I've been using.
Yakima Core Bars
As far as racks/bike portability goes, the VW Golf Alltrack I'm driving right now* comes equipped with factory installed rails, which is excellent because they allow the use of towers and bars without using c-clips inside the door frames. Yes, you still have to buy the bars and towers* but if you want to run ski racks or a box on top of the car, you can consider the investment to be spread across those. But let's say you need some? I'm using Yakima's new-ish Core bars, which are teardrop-shaped steel bars designed to reduce wind noise, and hold up to 220 lbs (10 kg).
*If you're in the lower mainland and shopping cars, Open Road VW has a special deal on right now for NSMB readers. Check it here.
On the wind noise front, I can confirm that these bars are quieter than a traditional square (Thule) or round (older Yakima) cross bar. It's hard for me to quantify it for you, but it is noticeable above about 70 km/h**. Fuel economy savings are basically nil. If you're running roof racks, your mileage will suffer, whether you have bikes up there or not. With bikes, it goes down by ~1.5-2 liters / 100 km. at average speeds of 110 kph. Without bikes, it's about half that (the racks themselves cause quite a bit of drag - bars on their own are less noticeable). On a road trip you'll notice it, in the city you will not.
**Yakima can sent me some noise data and the spreads aren't as wide as I expected between round bars and aero ones. Suffice to say that if you're buying bars, buy an aero bar, but if you already have round ones in decent shape, I advise you to keep 'em unless you need to upgrade for some reason.
Yakima Timberline Towers
Bike --> rack --> bars --> towers --> rails. Towers, like bars, are not that sexy, nor are they inexpensive, but once again, they start to make more sense if your roof rack system will also be used for skis, a box, a combination of both, or if you just want to be able to lash lumber to the roof. The Yakima Timberline Towers shown here are $249 CAD / $199 USD. That isn't cheap. What I can say, though, is that they are very easy to work with - far more solid and frustration-free than any others I've used. I can get the entire rack assembly on or off the car in 5 minutes.
Yakima High Road
So, you've opted for a roof rack (or you're supplementing your hitch rack). The main protagonist is the rack itself. The new High Road will grab both wheels (of all sizes) quickly and easily, without any frame contact. At $325 CAD, this is a premium rack, but the design and construction are serious business, and it's also seriously fast and easy to install or remove one from your cross bars.
Roof racks in the past wanted to grab things: a pedal, or a down tube. Varying frame designs made this problematic and thankfully now most racks just grab your wheels. Yakima's High Road is no exception. Its precursor, the Front Loader, required the front wheel's size to be set - it was easy but still an extra step. Now you can load anything from a road bike to 4.0" tire in there and it'll just grab it and hold it under tension.
The only downsides to this rack are the same downsides you get with any roof rack: parkades are an ever-present minefield, just waiting to can opener your racks and bikes right off your roof; if you're not that high, they're a pain to use; and they add wind noise at speed and hurt fuel economy. If you park on the street, mainly drive at slower speeds or don't commute long distances every day, and can load your bike on top without needing an Olympic powerlifter's best clean-and-jerk form, a roof rack may be for you. And if that's the case, the Yakima High Road is as good an option as you'll find.
A cable lock is included, but you'll have to buy additional lock cores to lock the rack to the bars. Up to you if you feel that's necessary (I do). Shorter-roofed vehicles are something to be careful of - a roof rack can also interfere with your hatchback when it lifts up. This was an issue with my Subaru Impreza and the Yakima Front Loader, but is not an issue with the longer VW Alltrack and the High Road (which also works a little better on shorter roofs). One caution is that the wheelbase of a size Large Nomad is as much as the rack can take as far as the rear wheel strap. So if you have a really long bike, watch out for that.