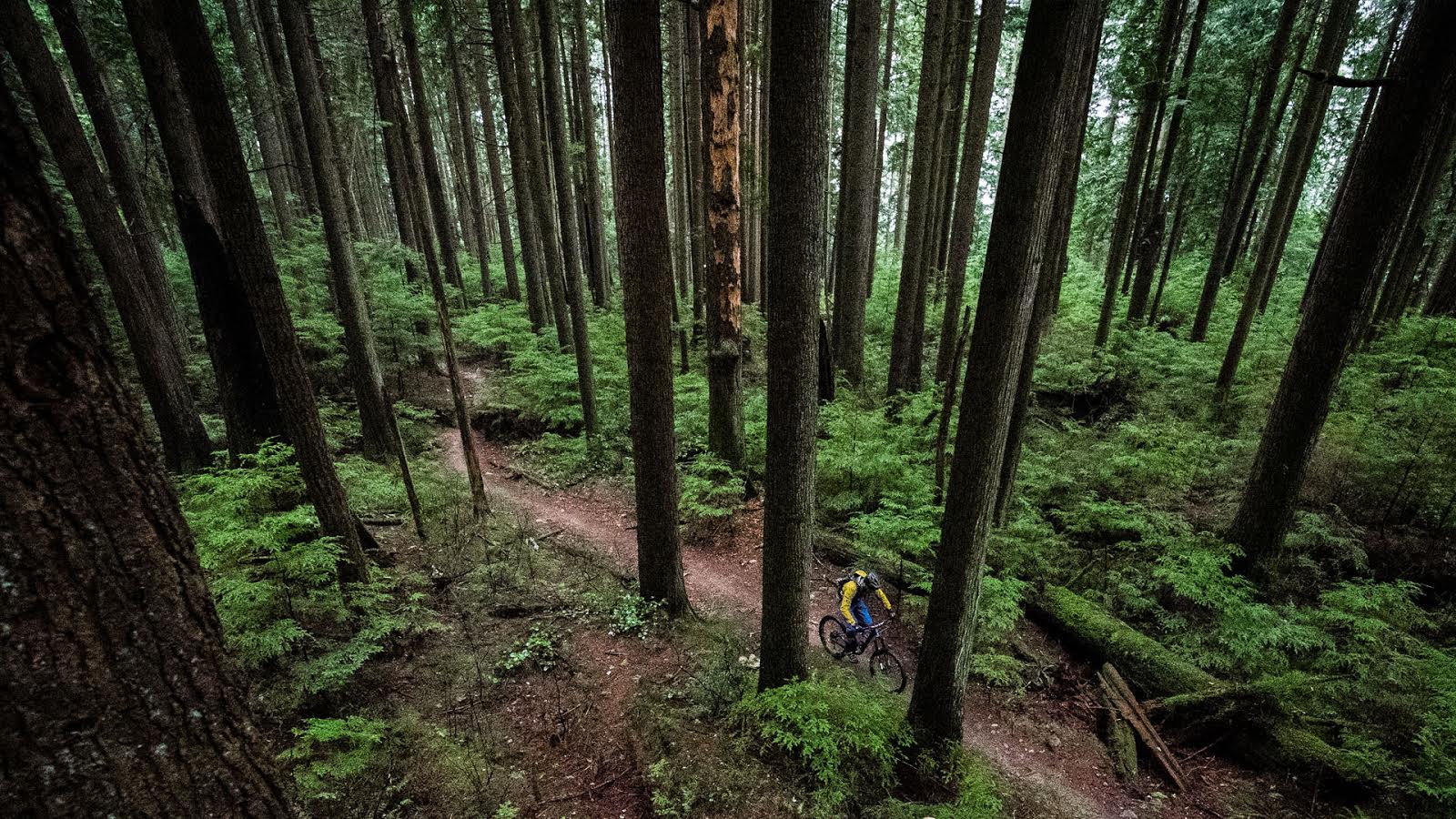 X-Fusion Trace HLR – Teardown
Shortly before this 140mm X-Fusion Trace Roughcut HLR fork arrived for testing, I found myself in a three-way conversation about what constitutes value for high performance mountain bike products. I'll save you the details but the general sentiment was that, once we are talking about forks in the $1000+ range, a couple of Benjamins (that's a handful of Elizabeths for us Canucks) only becomes a factor if two products are relatively equal in every other category.
Many consider X-Fusion the leader in terms of features and ride quality per dollar. Because this is a premium all mountain fork I plan to focus on the features, quality, build, and performance against other top caliber forks, independent of price.
X-Fusion Trace HLR : high speed compression, low speed compression, and rebound adjustable air fork. The poet in me wishes it was an X-Fusion Sweep so I could have titled the article "Deep In The Sweep." The Trace is reported to weigh in at 1930 grams (4.25 lbs)
Most high performance suspension forks are damn impressive these days so when I start digging into them it's always about finding details that set a product apart. In the case of the Trace it was when my friend James at SuspensionWerx removed bolt number two that we had to pause and geek out a little bit. You don't have to be a bike nerd to appreciate the little o-ring on the foot nut that seals dirt out of the rebound knob. If you live anywhere with a bit of muck you can appreciate how much crap finds its way into your rebound knob. If you aren't going to cap it then I say seal it.
Yes, it is a very small detail, but to me using an o-ring to seal the rebound knob shows that the guys at X-Fusion ride, work on forks, listen to folks that do, or all of the above.
Over the last few years most manufacturers have significantly improved their out-of-the-box assembly quality, but if you push on enough new forks you'll still come across some dry ones. You've probably heard "oh, it just needs to break-in" but there is a big difference between tight bushings and dry seals.
The build quality of this Trace is excellent. Easily on par with the Ohlins RXF 34 I reviewed previously. And it is one of the best built forks I have seen. The foam rings are soaked in oil and all the internal components are well lubricated/greased.
Foam rings, seals, and bushings all well lubricated.
The heart of X-Fusion's top performance forks, or at the very least their most talked about feature, is the Roughcut HLR bled damper. Part of the Tao of X-Fusion is their focus on all metal construction and the HLR damper is made of very nicely machined aluminum components. Like many companies' highest performance forks, the Trace is using an expanding bladder system that is fully purged of air.
X-Fusion's much talked about Roughcut HLR bled damper.
Quality construction.
The range of adjustment on the HLR damper is huge with multiple usable settings regardless of how much air pressure you run. Even with over 100psi I am nowhere near the end of the rebound adjustment range. I am still playing with the LSC and HSC adjustments as there is a great usable range. The detents are exceedingly positive and the shimmed damper offers notable variations in performance every couple of clicks.
Nicely machined aluminum adjusters.
Roughcut all laid out at SuspensionWerx.
Finished with a bleed.
The Trace uses a fairly standard air system with a large coil negative spring to help initialized the air system and a smaller coil top-out spring to keep things smooth and quiet. As with the damper their focus on all metal construction instead of the plastic parts found in many competing products extends to the air system (air piston aside).
Well greased coil negative spring and coil top-out spring.
Well lubricated air seal.
Another interesting feature of the Trace's air system is the large bottom out bumper. Rubber bumpers like this generally compress ~50% of their height at full compression which, much like the bumper on a coil shock, will keep the fork's internals from being damaged or the rider from experiencing harsh mechanical bottom outs.
Quality manufacturing and a large bottom out bumper.
I'm trying not to go on a mini rant here, but many companies now print base settings on their forks; despite this measuring your sag is the best way to determine your air pressure. Not only does the accuracy of a pressure gauge vary from one pump to another (often wildly) but many companies seem to err towards comfort with their recommended settings resulting in setups that are too soft for riding aggressive terrain. In the case of the Trace my air pressure to achieve ~20% sag translates to going up two weight classes on their recommendation.
Many companies now print base settings on their forks; however, as always measuring your sag is the best way to determine air pressure.
As I am writing this I already have my first ride on the Trace Roughcut HLR and, while I am definitely still playing around with settings, my general impressions are very good. It is confidence inspiring to see how well put-together the fork is out of the box and it feels great – although it is definitely still tight and in need of more break in. I'm looking forward to sharing my first impressions shortly.
MSRP £550/ CDN$1000/US$800
Click here for more on the Trace…
Thanks James at Suspensionwerx!
---
Have you ridden an X-Fusion lately?