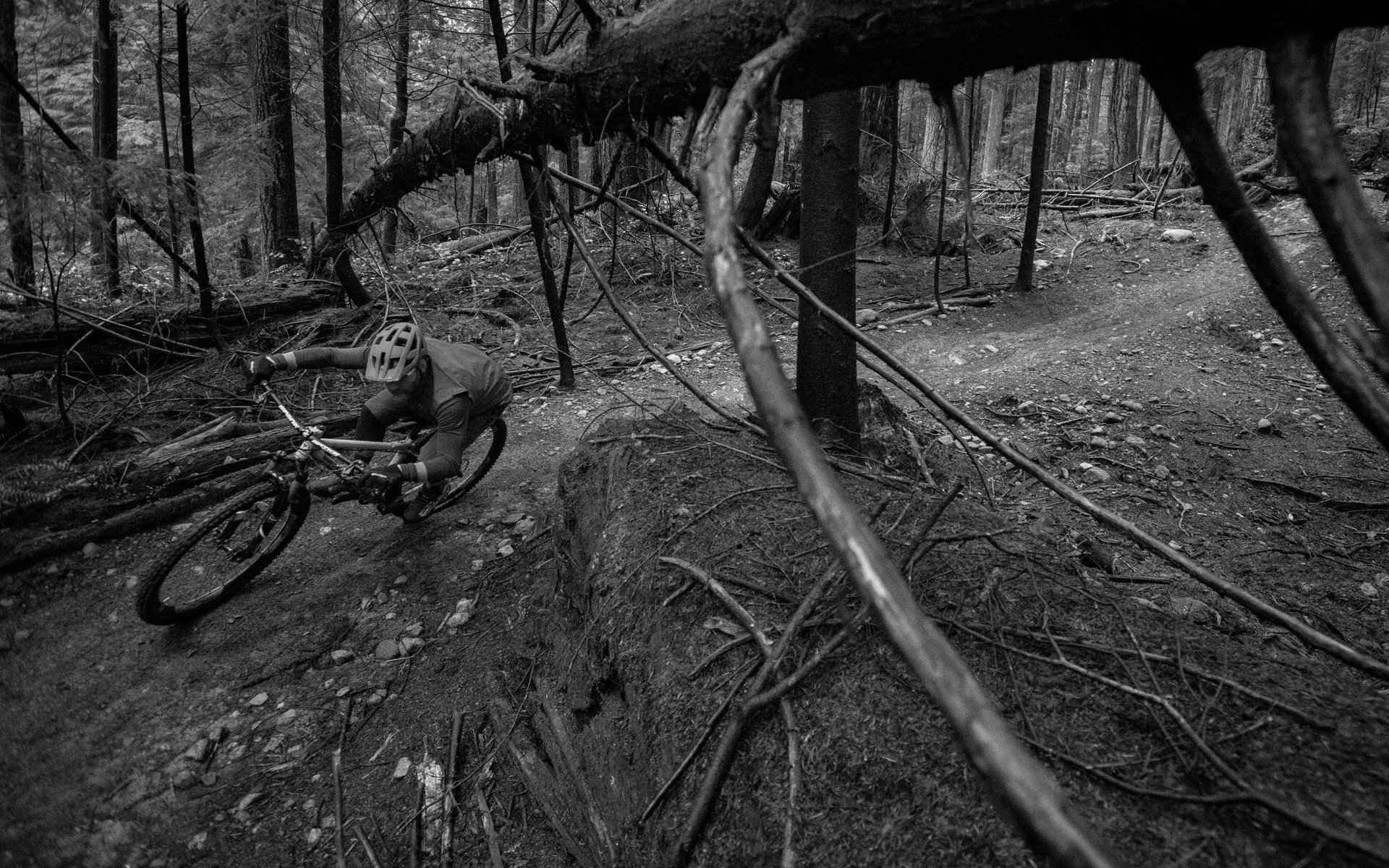 LONG TERM REVIEW
X-Fusion Trace HLR
X-Fusion Trace HLR
For 11 months the X-Fusion Trace has served up 140mm of suspension travel on my Kona Honzo, an Intense Carbine 29 and a 2016 Cannondale Jekyll. 
Over that time it's received a full tear down from SuspensionWerx and a couple of 15 minute basic services of the lowers where I cleaned and re-lubed the fork seals and foam rings. The bled Roughcut HLR damper still has a broad range of adjustment and the air system is working as new but realistically I'm at the point where a full rebuild, and fork seals, are in order. 
Price aside, the Trace is an excellent fork that goes toe-to-toe with its direct competition on the trail. Those would be forks like the Fox 34 Float FIT4, RockShox Pike RCT3 and DVO's Diamond. 
After a long break in period, which I consider a positive reflection of the build quality, the Trace initializes more freely than my initial experience but I would definitely stand by my previous statement that it has an 'old school' feel that is firmer off the top compared to showroom-supple forks like the Pike. On the trail this is not an issue. 
Once I factor in the $800 (USD) | $1000 (CAD) price tag it's a fork that I've recommend to a number of my friends over the review period. The out-of-the-box build quality is as good as anyone's, the adjustments are extensive, it's designed to last for years and the performance is excellent.
Full Metal Fourchette
The X-Fusion Trace is not the best 'budget' fork on the market. That's because it is not a budget fork.
 As an aside, that trophy belongs to the RockShox Recon Silver RL Solo Air at $350 CAD. The Recon is stiff enough thanks to a thru-axle and the portly steel stanchions. It is smooth enough, with the seals well lubed, and supportive enough to help me survive some pretty nasty trails. It's a surprisingly capable fork that will leave any serious mountain biker considering a sooner-than-later upgrade. 
What's my point? I've heard the Trace HLR mention in conversations about budget suspension when in reality it is a full featured trail fork at a lower price than a lot of its competitors. There is a big difference between value and budget and the X-Fusion is simply a lower priced fork with full-throttled performance. 
In terms of long-term ownership, X-Fusion takes pride in a no-corners-cut "metal beats plastic" design philosophy. 
The fork is still nice and tight after 11 months and for a full break down on the internals, please check out the teardown from several months ago.
Fork Settings - Full Suspension
My settings varied depending on which bike the Trace was mounted on. I also tended to back off the high-speed compression a bit when trails became faster and smoother. I've been hovering around 185-lbs for the test period. 
As with any fork I've ridden, when the temperature dropped the rebound damping had to be sped up a bit to keep to maintain optimal traction. 
I ran a similar setup on both the Jekyll and Carbine 29. Air pressure at 100psi for ~20% sag. From closed (maximum) I ran the low speed compression at 5 clicks and the high speed compression at 6 clicks. Rebound to preference. 
Setup this way the fork would ride high in its travel while still absorbing a decent amount of light trail chatter and maintaining excellent traction. Both the Jekyll and Carbine need to run ~30% sag rear - much more than I run with most full suspension bikes - but as a system the suspension felt balanced in both cases. 
The fork is not as stiff as a Fox 36, RockShox Lyrik or the similar-in-stature Öhlins RXF 34. I found this was noticeable but negligible on stiff carbon bikes but riders particularly concerned with fork stiffness on 29'ers or long travel 27" bikes may prefer to look to at one of the aforementioned models.  
Fork Settings - Hardtail
I tried running the X-Fusion Trace on my hardtail set at 120mm, since it rides quite high in its travel, but ended up settling on 140mm travel for the Honzo as well.
On the Honzo I ran the air pressure at 90psi for about 24% sag. Again my damper settings are from full closed (maximum). I ran the LSC at -6 clicks and the HSC at -3 clicks which actually adds quite a bit of support starting around the mid-stroke. 
On the HSC there were exceptions for faster and smoother trails, like Squid Line at Sumas, John Deer on Seymour and Expresso on Fromme, where I would run -6 clicks for a more linear use of the travel. 
Improvements
I don't mind the look of the stanchions as they are but a few riders have pointed out that it looks dated in a sea of forks with black-anodized stanchions. X-Fusion was showing their longer travel Metric fork with black stanchions at Interbike and it seems to me to be a no-brainer to change over. 
It seems there are two types of riders: those that don't care and those that prefer black. Might as well accomodate both of them. 
At Interbike, X-Fusion was also showing a very sweet, unique, textured paint finish on their Metric that is said to be significantly more durable than regular paint, in addition to a unique matte finish. I didn't have any issues with the finish durability on the Trace but the rough-to-the-touch finish on the Metric was awesome. 
I hope it makes production on all their forks intended for aggressive uses. 
Conclusions
The X-Fusion Trace HLR is a top end fork that has to be ridden on trail to be appreciated. It uses a simple coil negative spring air system with a bleed damper featuring high and low-speed compression and rebound adjustment. 
It represents a design philosophy that focuses on machining parts from aluminum instead of plastic and the quality of manufacturing is on par with anything on the market.
It is not a budget fork. It is a high-performance fork at a lower price than many competing products that have significant OE spec and large marketing budgets. In short, I think it is a great option for anyone trying to keep pace with their friends' champagne bikes on a craft beer budget.