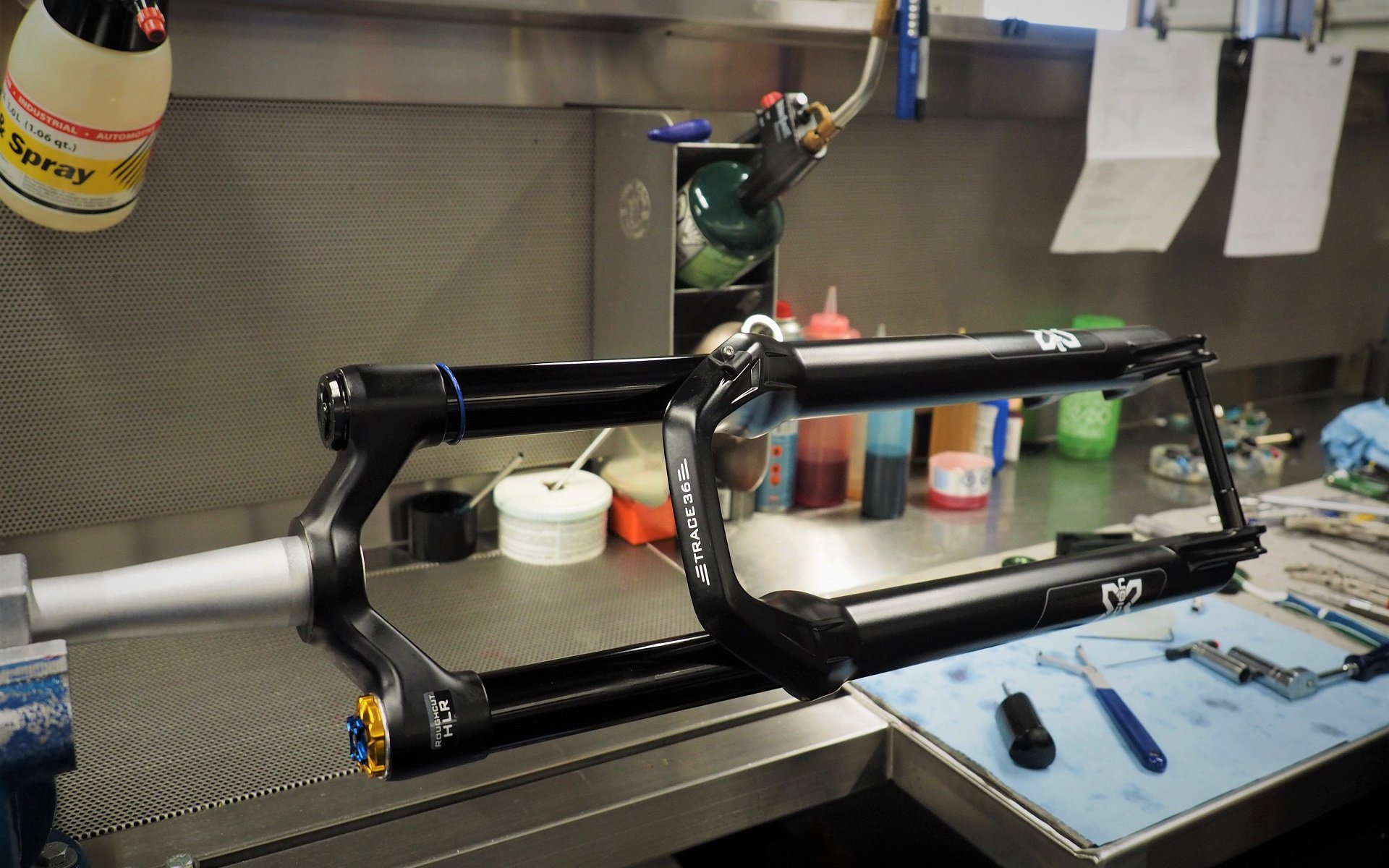 First Impressions/Teardown
X-Fusion Trace 36 HLR Teardown
Trace 36 HLR
When you reflect on how impressive bikes are these days, it's easy to lose sight of how great they have been for some time. I'm a fan of the geometry evolution and, as an aggregate, components are better, but there have been powerful brakes, superb suspension forks, and sticky tires for years. With the 2019 models arriving I'm reminded that it's been seven years since my first Kona Honzo changed 29'ers and hardtails for me.
My Honzo was equipped with a 2012 Fox 34 RLC. It delivered 140mm travel from a FIT damper and Float air system with the same basic architecture Fox had used since the original 36 Float was released in 2005. It was a great fork and in various ways it's better than a lot of products Fox has released since.
The 170mm, 160mm, or 140mm travel 29'er X-Fusion Trace 36 HLR bears an uncanny resemblance to those excellent forks of yesteryear. It combines high manufacturing quality, a bladder-style damper, a basic air system with a coil negative spring* and a crown steerer assembly with a strong reputation for creak-free performance.
*As opposed to the self-adjusting negative air spring with a transfer port that many companies now use
My expectations are high thanks to my outstanding experience with the Trace 34. X-Fusion has been perfecting this stout-chassised fork since I first saw it at Interbike 2016. I'll be riding it on multiple bikes starting with the travel set at 160mm but also experimenting with the and feel of the air system in both the 170mm and 140mm travel settings. Having run the Trace 34 at 140mm, I'm curious to evaluate the relative stiffness of the two platforms.
For the sake of comparison, with an SRP of 900 USD the Trace 36 punches in a couple hundred (USD) less than the equivalent Fox 36 or RockShox Lyrik. At 2150 grams (my scale | uncut steerer | includes axle), the Trace 36 weighs under 100 grams heavier than the 29" versions of either of those forks.
X-Fusion has positioned the Trace HLR as a high-performance long-travel 29'er fork and there are a lot of great horses in this race ranging from the 750 USD Suntour Durlox RC2 I've been testing to more expensive, and excellent, fork options from DVO, Ohlins, and Formula. It's an exciting time to be in the market for a long-term fork purchase and I'm thrilled to see where the Trace 36 ranks.
Air System
A big thank you to my friend James at Suspensionwerx for this teardown in between packing the truck for Crankworx and keeping up with service work. James did the Trace 34 teardown as well, so we have consistency.
As with the smaller Trace, the assembly quality of the Trace 36 is as good as any fork I've seen. The seals are well lubricated, everything is tight, and the fork is smooth right out of the box.
I like the simplicity (design, service, travel adjust) of the coil negative spring and X-Fusion's rate works excellently for my weight (185 lbs) but I would like to see multiple spring rates offered. Negative springs are cheap those in the Trace 36 are very easy to replace.
This is one place I give props to Suntour. While they need additional rates for heavier riders, they sell replacement springs for 10 USD and they take less than ten minutes to change, including finding my tools, opening a beer, and putting on a little Gordon Lightfoot.
Travel adjust on the Trace is accomplished by removing the lower air system assembly, tapping out a pin, repositioning a Delrin spacer and then reinserting the pin either with a vice or by tapping it back in with a punch.It's a job that's easily accomplished without any special tools and it doesn't require sourcing and purchasing any other parts, be they clip-on spacers, thread-on spacers, negative plates, bumpers, or air system shafts.
With the help of a bike stand, travel can be adjusted without removing the fork from and with minimal loss of fluids. Remove the front wheel and brake, pivot the bike so the fork is horizontal, let out the air, remove the lowers, and voila - access to the lower air system.
Damper
The HLR damper architecture has not changed significantly since X-Fusion switched over to a bladder-style damper for top-end forks. At the top of the fork, on rider's right, there's a gold adjuster for high-speed compression and a blue adjuster for low-speed compression. At the bottom, there is a red adjuster that controls rebound damping. All the adjusters have obvious detents, offer good grip with a bare or gloved hand, and feel solidly manufactured. The high-speed and low-speed adjusters are individually bolted into place.
For initial setup, I plan to match the settings I ran with the Trace 34. I ran the low-speed compression at 5 clicks (from closed) and the high-speed compression at 6 clicks (from closed) with 20% sag - but the compression circuit on the 36 feels much firmer out of the box. Once the fork breaks in I'll follow up with updated settings.
Service
Wherever you service the Trace 36, one of the true beauties of the air system is how simple it is to clean, lube and reinstall. There are no transfer ports to clog with grease, no issues with oil volume in the negative air chamber, and the components are all high quality and easy to replace. Likewise, the damper is either purged of air, or it isn't, and it's easy to test by hand when it's out of the fork.
The seal configuration consists of the most commonly used combo oil-seal and dust-wiper sitting above a foam ring that's soaked in oil. Pack the seal in a light grease - Slickoeluem or equivalent - soak the foam rings and the fork feels buttery off the top.
The Trace 36 details aren't up on X-Fusion's service site yet; however, historically they are excellent about supplying tech guides and service videos. Speaking particularly about basic service, this is a fork that anyone with an interest, some patience, and access to a flush 28mm socket and a Shimano cassette tool should feel encouraged to tackle.
Spare parts are widely distributed in North America and while it may pay off to keep a spare set of seals handy, any shop can acquire the parts and knowledge to service these forks. In Canada, there us factory service and parts support covered through SuspensionWerx and S4 Suspension.
First Impressions
Out of the box, the X-Fusion Trace 36 has a firmer suspension feel compared to the Trace 34 but it's well within the range of other top end forks. I have it all ready to mount up and I'm excited to get a tonne of hours on the new platform soon. I'll jump into the comments with an update on base settings as soon as I'm through the break-in period.
This is a premium product, despite costing less than the average suspension fork in the full-featured long-travel 29'er category, and I have premium expectations. On the basis of the design, manufacturing, assembly and my past experience with the smaller chassis Trace 34 29'er I'm keen to see what X-Fusion brings to the trail.
For more information please talk to your local dealer or check out X-Fusion's site here.