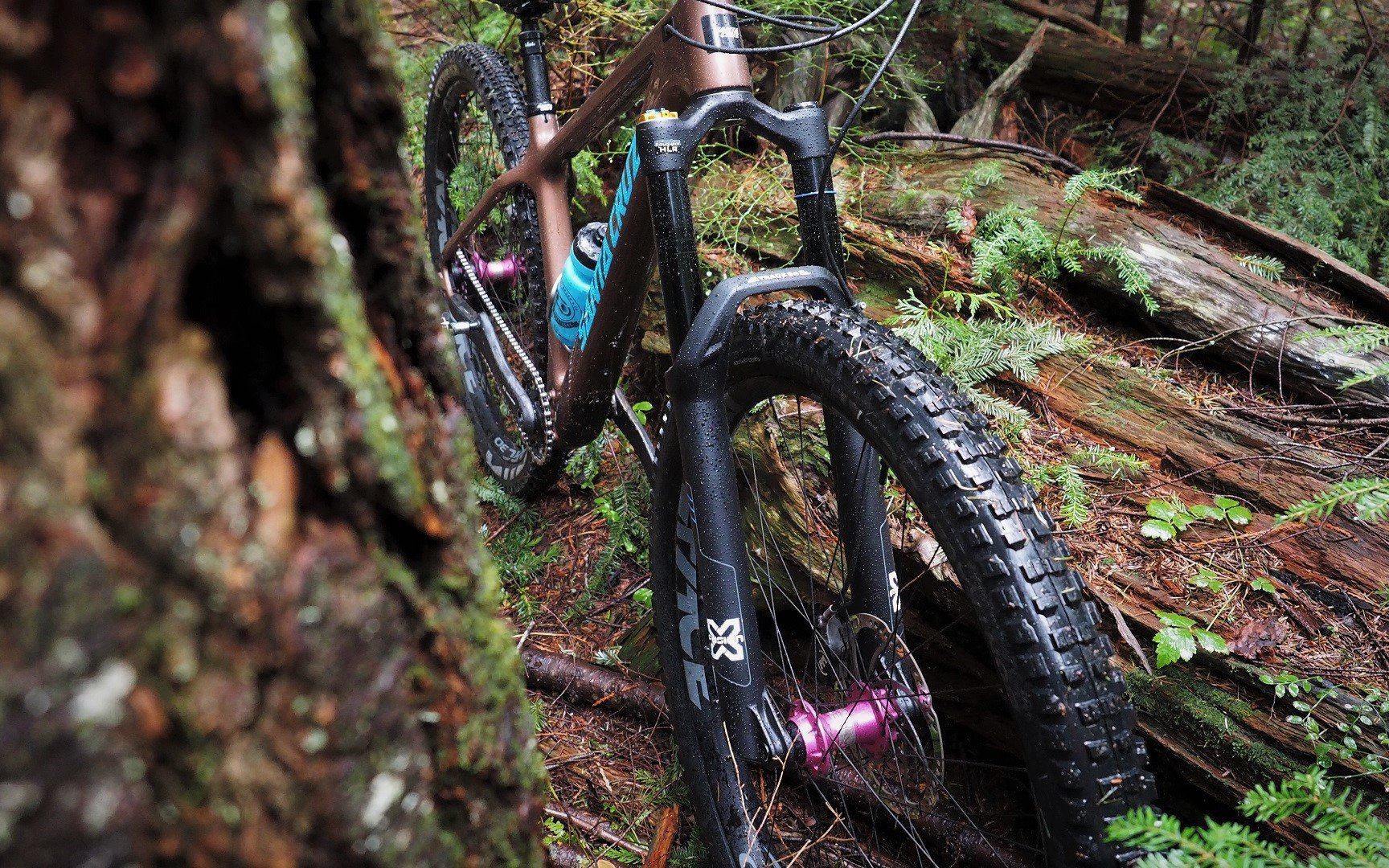 REVIEW
X-Fusion Trace 36 HLR Fork
Tracing Riders
My X-Fusion Trace 36 HLR review started as expected. The teardown at SuspensionWerx revealed an internal level of manufacturing that is easily the best in its price range and much nicer than most forks that cost more.
Coupled with a well-earned reputation for crown steerer units (CSUs) that don't creak,* chassis stiffness is excellent. I thought the Trace 34 chassis was plenty rigid, but the Boosted Trace 36 is more in line with the modern carbon Enduro bike riders' expectations.
Over the course of this review I've ridden the Trace 36 HLR as a 140mm, 160mm, and 170mm 29" platform on both hardtails and full suspension bikes.
*Or at the very least go comparatively longer without creaking when dueled against competitors.
Out on the trail, unfortunately, all was not roses. I struggled from ride one to get the Trace 36 set up so that I wasn't thinking about it every ride. A 185lbs+ rider who likes a lot of mid-stroke progression from their suspension fork probably won't love the Trace 36 HLR.
Fortunately there are plenty of forks at each price point that work great for me and where I'll buy a Suntour Durolux or a Manitou Magnum Pro IRT, I can think of a couple categories of rider that are going to prefer a fork like the Ohlins RXF or this Trace HLR.
First up, riders who really love a coil-like-feel, not just the idea of a coil-like-feel, but don't want to lose the end stroke progression of an air fork* will probably also love the Trace. The bled-cartridge HLR Roughcut damper has a wide degree of tune-ability and I never managed to bottom the fork with two tokens but I never felt like I was losing a lot of travel.
In this case, the Trace will pair best with a bike designed to run in the 30%+ sag range out back either with a coil shock or a high-volume air shock. Setting up the HLR damper is very similar to a Fox FIT fork where the optimum settings will feel 'slow' on the shop floor and then open up nicely on the trail.
*Or can't spring the $$$ for a tunable coil system like the PUSH ACS3
Lighter riders are also potential Trace customers. With modern air systems, even with their self-adjusting negative springs, many light riders find it difficult to ever come close to full travel because of the amount the forks ramp and find themselves pushing through a 'shelf' around the mid point of the fork travel at the pressure they need to run.
Take a Trace 36, remove the volume spacers, and be welcomed to a fork that works very well at lower pressures, will use most its travel in bottom-out situations, and does all that without requiring any custom valving or other tuning tricks. Light riders take note, this one's for you.
It's quite possible that this would be worth revisiting if X-Fusion would offer a wide range of negative spring rates but at this time I'd target the fork to those two groups.
Trace Teardown
Build quality of the Trace HLR is as good as anything on market, as you can see in the teardown piece. The seals and internals are all well lubricated right out of the box.
There was a surprising issue with my original damper that didn't seem to affect performance but resulted in an annoying squeak during some compression events. The folks at X-Fusion in Taiwan were flabbergasted and wanted the damper back right away - SuspensionWerx is a warranty center for Canada so they took care of the process.
I've had no issues with the new damper and I continued to run the same settings - hence my thinking that the annoying noise was not actually affecting fork performance. I haven't been able to find anyone with a similar issue and in my experience if anyone experienced a similar issues X-Fusion would take care of it ASAP but it of course bears noting all the same.
The one little detail internally that impresses me the most is independent movement of the air seal head vs the chassis thanks to the decoupling effect of a ball joint on the comp rod. I don't pretend to be an engineer but I can't comprehend why every brand isn't doing this to prevent internal wear issues that are common with some makes.
I opened the fork multiple times to change travel, which is accomplished by tapping out a pin to adjust the comp rod length. Even pulling the lowers off horizontally there was a bit of spillage and I had to top the bath oil up. All in all, thanks to the quality of the parts anodizing maybe, the bath oil stays surprisingly clean in the Trace lowers.
The HLR cartridge damper is still working great and has not been serviced to date.
Trace On Trail
I rode the Trace 36 HLR setup at 140mm, 160mm, and 170mm travel. Of those configurations, it worked best for me set up at 170mm travel when paired with a bike that can handle that travel. Running a bit more sag thean I'd normally go with, the 36 HLR demonstrated its potential for a lighter rider or possibly for a rider my size with a heavier negative spring.
My favourite setups combined a Works Angleset with my Marin Rift Zone and Kona Honzo ST. I rode the fork in all travel settings on the Rifty, at 170mm and 160mm on the Honzo, and at 160mm on the front of the carbon Chameleon and Rocky Mountain Growler.
In addition to the chassis, the bled HLR Roughcut damper is great. It offers a very broad usable range of rebound, low speed, and high speed adjustment and performance is as new. I'd still love to see adjustable hydraulic bottom out systems, a la Manitou, on all high-end forks but I'll file that under 'a person can dream right?'
My past Trace 34 experiences, tested at 140mm travel on my older model Honzo and a Cannondale Jekyll, were so good it's hard not to be a bit disappointed by my months on the Trace 36. It's not that the fork held me back on any of the trails I regularly ride, but I never had a magic ride where I wasn't thinking about it.

I'm positive it comes down to air volumes. I'd love to ride the fork with the air spring from my Suntour Durolux or, even better, a Manitou IRT system. Barring swapping out the spring, or at least a much heavier rate negative spring option, it's not a fork I can recommend for heavier riders unless they like to run a lot of sag and a very linear setup.
As mentioned earlier however, lighter riders will be in their happy place on the 900 USD X-Fusion Trace 36.