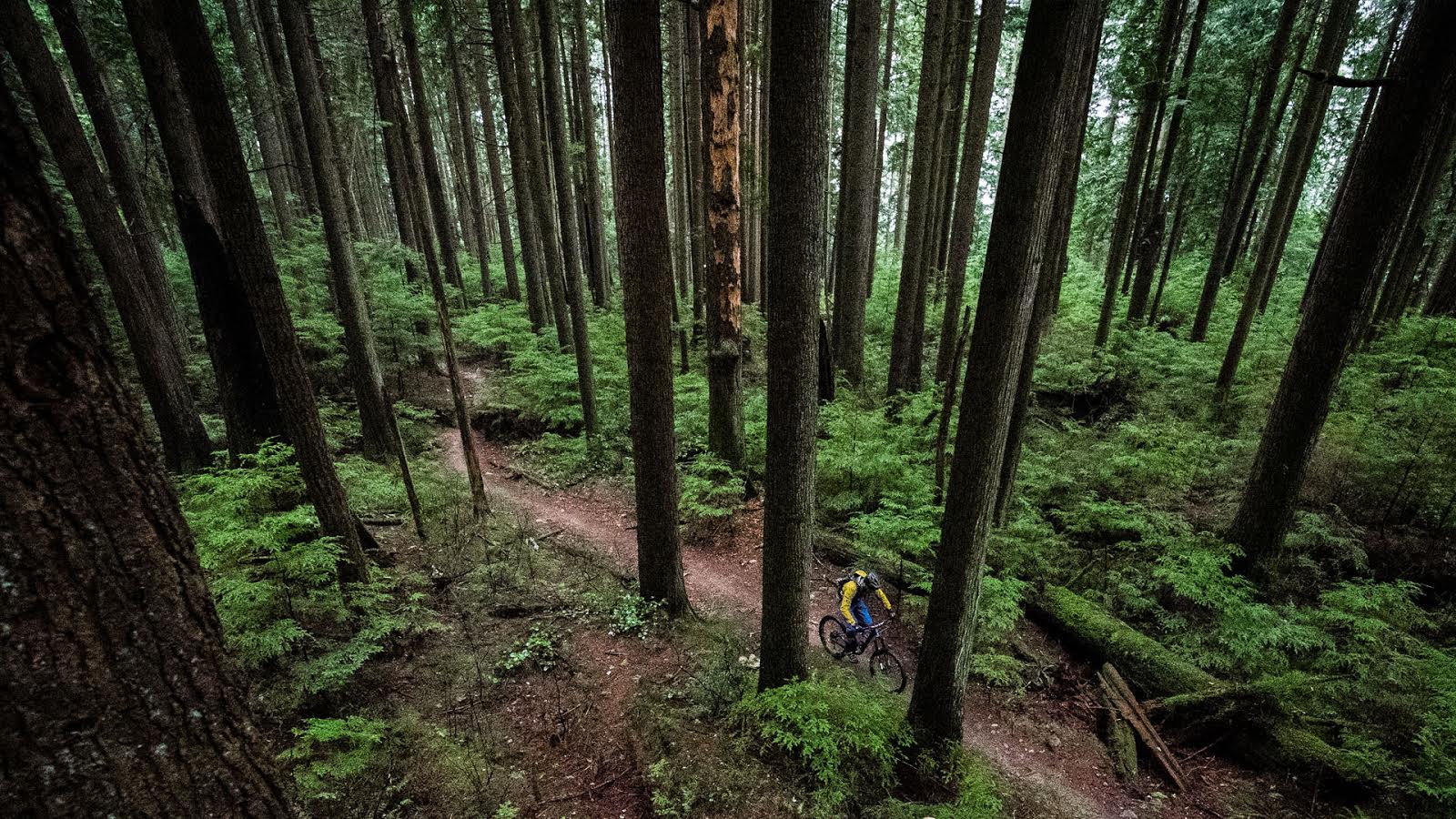 WTF is a Plus Bike?
Screw the capitalist bloodsuckers who run the bike industry! Actually I'm just kidding. This time. This isn't a diatribe on how 'The Man' is trying to break you down with confusing new standards and erode your retirement fund. That's been written. A few times. But let's get a few things out of the way shall we? The bike industry wants you to buy more stuff. Just like the grocery store does. Shocking but true. In fact the members of The Ancient Order of Bike Masons talk about little else at their secret weekly meetings. When they take a break from talking about the E-Bike takeover that is.
Scott is sold on the Plus category and they have built plus versions of their popular Genius platform – including the LT. If you think Plus bikes have to be heavy this 28 lb/6.3″ travel (12.7kg/160mm) machine may change your mind. Photo – Dave Tolnai
Sarcasm aside, Plus is the perfect example of a category crafted to pry money from your wallet, because (so far) it seems most people wouldn't want a Plus bike as their only bike. You'll need to put up another hook in your bike room. But listen up you cynical bastards (a label I too wear proudly), because that doesn't mean they aren't fun. Nor does it mean you need to buy one.
Most Plus Bikes look relatively normal – until you roll a conventional tire up to one. The Specialized Stumpjumper FSR 6Fattie Comp retails for US$3500 – with a carbon main frame.
I'm currently testing a Specialized Stumpjumer 6Fattie Comp – a bike with Plus size tires and wheels –  and I was surprised to find out many riders don't have a clue about this new genre within a genre. I climbed up to Seventh Secret on Mount Fromme with the 6Fattie and a group of six riders arrived behind our group. They had lots of questions and none seemed to know Plus Bikes are a thing, which made me realize some info could be helpful.
On your left a Specialized Purgatory Comp 650b x 3.0 compared to a Maxxis Minion DHF 27.5 x 2.4.
Google may bring up an article on larger athletes and cycling but that's not what we're talking about here. Plus in MTB refers to a size between conventional tires (up to 2.6" width) and fat bike tires (3.8" and wider). Most Plus tires we saw at Interbike this year were either labelled 2.8" or 3.0" – but to the naked eye it was tough to tell the difference. They look different from what you are used to, but not vastly so like a fat bike tire. Rims are generally between 40 and 50mm wide and most Plus bikes are based on 27.5″/650b rims, but a few are 29ers – like Trek's Stache.
Plus Bikes love this sort of bony and unforgiving terrain. Photo – Pete Roggeman
At Sea Otter 2014, Rocky Mountain showed what was the first Plus bike I had seen; the Sherpa. It was billed as an adventure bike, one that you could take places you wouldn't want to take your regular mountain bike. The idea was that that large volume, low pressure tires allow you to access terrain that might otherwise be unrideable on your skinny little treads. The astute among you might ask whether a fat bike could accomplish the same goal.
No need to shy away from challenging terrain, as Pete Roggeman demonstrates on Ladies Only. Photo – Cam McRae
Fat bikes are heavier and slower and, because they run even lower pressures, they don't have as much sidewall support. That means you can't rally a fat bike around corners as well as a Plus Bike. In fact, based on my admittedly brief experience on the 6Fattie, you can do pretty much everything you'd do on a conventional bike on a Plus Bike. I've been doing the same climbs and the same descents, and there's no question about capability.
As mentioned above… Photo – Cam McRae
I can hear you asking why you'd want to do this. What is the point exactly? Plus Bikes are sold on providing more grip, a more compliant ride, and having the ability to smash through terrain that would normally put you on your ass – without giving up much performance compared to a conventional set up. You can get yourself into a lot of trouble on a Plus Bike and the big tires will save your bacon. It's happened to me a few times already. I did a small launch yesterday and realized I had misjudged the proximity of the next corner. I thought I was heading straight for the rhubarb, but the tires allowed me to rein it all in and smoothly execute the next move.
It's been pointed out that the outside diameter of a 27.5 Plus tire is approximately the same size as a 29er with a conventional tire. Some people are squeezing more out their Plus bikes by adding a set of 29″ wheels to swap out. Don't count on using those wheels you've got in the garage though; most Plus bikes run on Boost axles which will likely not be compatible with what you've got now. Photo – Dave Tolnai
Before you think I'm the sort who loves anything new, and is keen to talk you into buying whatever the business is selling, I should tell you that I have yet to like a 29er that wasn't aimed at XC. I've ridden many, including some that have converted naysayers, and so far I'm not sold. I'm not as much of a neo-luddite curmudgeon as Uncle Dave though, and even he has a warm spot for Plus.
Trek's Stache might be the monster truck of Plus bikes, with 29 x 3.0 tires. But its short chainstays are said to give it snappy handling. You can also run standard 29er wheels or even 27.5 Plus.
For many the question might be, 'why are we making it easier?' It's a valid question, and you certainly don't need to make it easier. Riding a hardtail is a blast. Particularly if you're under 40. And why not ride a full rigid if you want to stay core? But there's a counterpoint to that line of thought.
Devinci's Hendrix RS has 120mm of travel, a 67.3 degree head angle and it retails for $3399 in Canada.
If you are a skier and/or snowboarder I wonder if you like riding in fluffy dry powder? Once you figure it out there's no condition that's easier or more forgiving, and it's tough to find anything that matches pow for fun. And yes – I've found riding the 6Fattie to be a little like riding pow; you can bounce off things that would normally take you down, carry speed where you otherwise couldn't and charge into unknown situations with a little more confidence. The powder analogy might be a clue that I'm enjoying meatier rubber, and I suspect this will end up being more than a fad.
Marin's Pine Mountain 2 is a mix of old and new, with 27+ wheels mated to a chromoly frame. Photo – Kaz Yamamura
Will you be able to hold your head high and still enjoy mountain biking if you don't buy into Plus? If you can't I wouldn't blame the bike. You can have a great time and still call yourself a mountain biker if you never ride anything but a fully rigid 26" bike. But for those who get jazzed by new technology and unique interpretations of our sport, Plus is certainly worth checking out. I also think it'll be a great opportunity for beginner or developing riders to learn some skills with a safety buffer. Is it for you? It's early yet, and clearly our industry is going through something of a reset, which makes this a reasonable time for consumers to be wary. Tires will improve, carbon rims will come down in price and reduce the weight penalty – and the gap between Plus and…  – non Plus? – will shrink. For me, based on my first few rides, I'd say I'd consider picking up one of these mid-fat rides to complement my main steed.
Which means Plus might be the perfect name for these bikes.
---
26 for life? Who needs it? Or are you maybe a little intrigued…