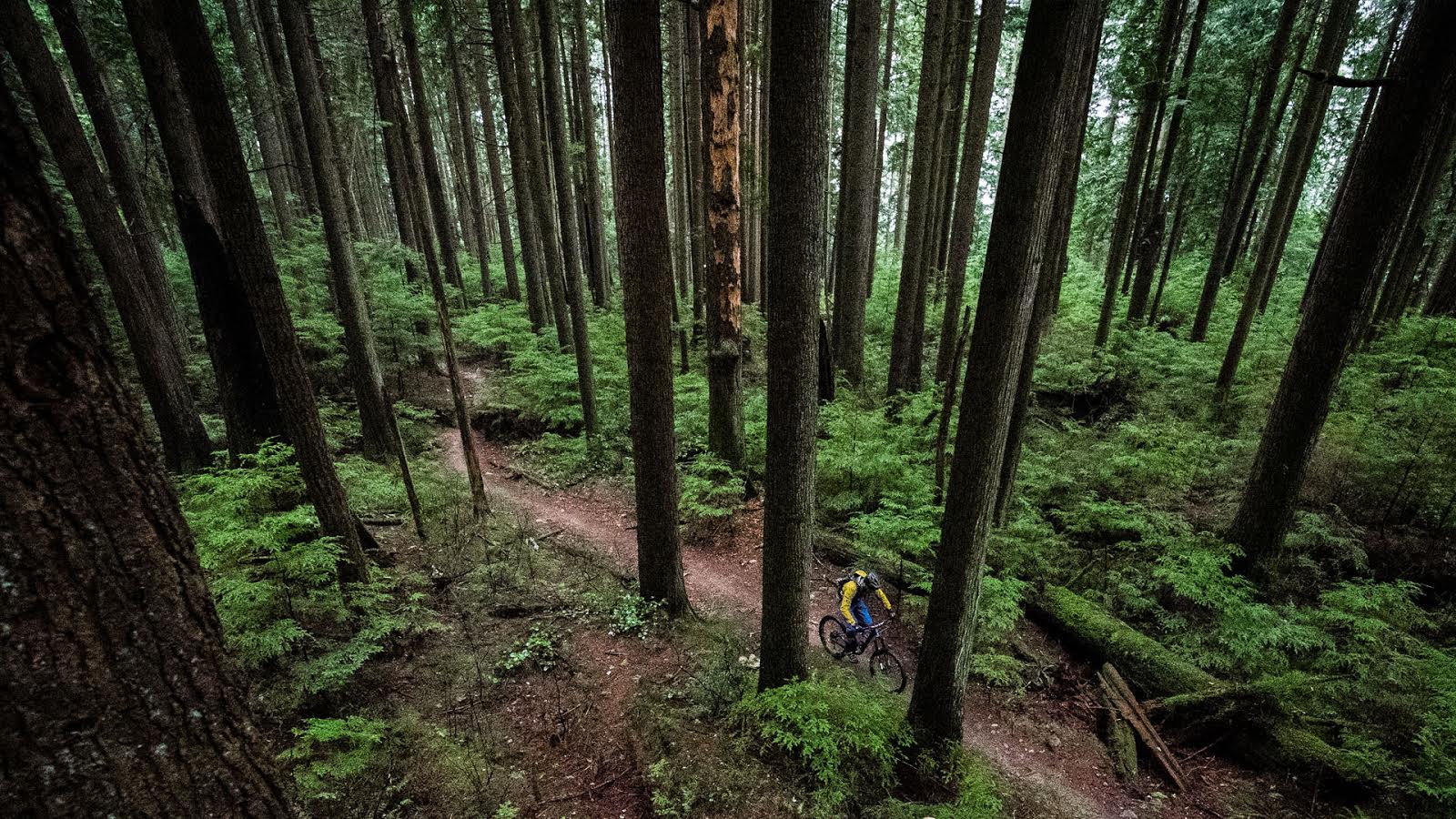 WTB PadLoc Grips: Reviewed
WTB showed me their crazy new grip idea at Interbike. I was intrigued, as they claimed to solve a problem that I have encountered before – twisting grips (albeit only on carbon bars). The PadLoc system, as they call it, was derived when a WTB employee/racer Jason Moeschler broke his back in a fall caused by a twisting grip, as well as Jérome Clementz losing time during an EWS race due to the same issue. I've had a few weeks on the WTB Padlock Grip and the pre-cut Clementz Boobar Blackbox handlebars, so I've had a chance to compile some thoughts.
The PadLoc grip system works like this: a wedge on the inside of the grip interfaces with a handlebar whose end is cut at a 30° angle. Together they oppose any circular movement of the grip. A single inboard clamp opposes lateral movement. In theory, the grip won't move at all, and as I found out, it works in practice.
Some people have rebutted this as just another way of marketing product. Jason Moeschler breaking his back to promote the PadLoc system? Jerome Clementz losing time in an EWS race to market the idea? That sounds like nonsense to me. Grips have gone from hose clamps, glue, single clamps and double clamps. All of those prevented horizontal movement, but the PadLoc is the first of its kind – it prevents circular or rotational movement. This is the start of something new, and whether or not you think you need it, super fast guys like Moeschler and Clementz felt it was needed. That's a pretty good start.
WTB sent me home from Interbike with the pre-cut Truvativ Jerome Clementz Boobar Carbon handlebar and a set of grips with a massive diameter – the 33mm ergonomic monster. I put them on, bolted the inner clamp tight, and went out for a ride. I didn't like the ergonomic grips. /End of review.
Kidding. The 33mm grips were way too big for my tiny Japanese hands. Ever compared the size of a hand-rolled nigiri with a hand-tossed pizza? Yeah, one is way bigger. I also wasn't a fan of the ergonomic shape – it dictated where my hands should be on the bars, otherwise it was uncomfortable. Not a problem if you don't let go of your bars often on the trail, but when you're doing super rad sick-as-balls one-handers like me it becomes a problem.
WTB was kind enough to send me a smaller 28mm diameter version, which was perfect. I usually run 30mm grips, but the 28mm felt fine – I had zero complaints from my hands about being sore. They were also shaped like a conventional grip, with the whole grip being of the same diameter. And the extra material on the ends of the grip, where the extra rubber is? Oh, don't even get me started. The cushion for the pushin' (myself up the hill) was great, and on the descents that small bit of softness helped keep my palm from feeling like there was no blood circulation. However, I don't like using up the whole length of the bar – I usually keep my hands about a centimeter or 2 inboard of the edge, effectively using only about half of the cushioned bit. I had a friend who uses the whole bar try a lap on my bike, and his concern was that the outside edge was so soft that it felt like his hands were hanging off the edge.
Installing the grips couldn't have been simpler. They slide on, and rotate themselves to fit in the wedge. Nice. Tighten the inner lock ring with a 2.5mm allen, and voilà – ready to go. In a span of 60 seconds I went from opening the packaging for the grips to being ready to ride; 30 of those 60 seconds were spent looking for my allen key set.
I'm somewhat OCD, and I want everything on my cockpit to be absolutely perfect – I can feel things like my brake levers being a few degrees askew and it pisses me off. The directional Easton Lock-On grips I reviewed took me forever to install, with most of the time taken by me trying to rotate the grips so that they were in an identical position so the the shark fins of the grips were in the same position on both sides. If there were non-wedged grips that had the cushion ends like the WTB grips, they would have taken me much longer than half a minute to install, with much of my time probably taken by rotating the grips to the perfect position.
I really enjoyed the design of the grip; it was like it was wickered, but much softer. I rode gloveless for the duration of the test, to really get a feel for the grip and softness of the grip, especially on the outside wedge. My hands had no problem with grip, even while riding in the rain, which North Shore locals are experiencing in great quantity right about now.
The pre-cut Clementz Boobar carbon bars felt "right" – the right amount of up-sweep and back-sweep. However the Clementz bars only come in 750mm which is 20mm shorter than my preferred length. Truvativ does offer a pre-cut 780mm Boobar 7000-series alloy bar for those looking for a longer bar – at the cost of gaining 100 grams – but it's also about $100 less expensive. The carbon bars weigh 225 grams while the alloy bars weigh 335 grams. The Clementz Boobars come with 7˚ back-sweep and 5˚ up-sweep, pretty common numbers for a handlebar. I personally ride bars with 8˚ or 9˚ of up-sweep, but I had no problem dropping down to 7. However, riding on a double-ended spear covered in rubber did make me a little anxious about the possibility of taking a core sample of myself.
A comment I saw about the grips that actually intrigued me was something along the lines of "So, if I want to change the angle of my lovely soft grips without changing my bar roll, do I have to cut new bars?" But after seeing the grips in person, and the size of the wedge, I answered that question with another question: how far are you rolling your bars that your palm won't contact this inch long cushion? I run my bars quite a bit rolled back – enough that people comment on it every time they get on my bike – and my hands still managed to sit on the padded bit. Case closed.
WTB offers the PadLoc system in 3 main sizes: the 28mm Thinline, 30mm Commander and 33mm Clydesdale, as well as the ergonomic and thick Ace grips, and Jerome Clementz's personal 30mm grip shift grip. All grips are the same price, at $34.95 US. However, each size grip has a different design – it would have been nice to see each design available in all 3 sizes.
Truvativ will also offer pre-cut bars, with the 750mm Clementz Blackbox Boobar carbon bars, and the 780mm alloy bars. Both pre-cut bars will come packaged with the WTB PadLoc 30mm Commander grips. The 750mm carbon bar with PadLoc grips combo will be $226, and the alloy bar package at $111.
Park Tool will offer a jig guide insert for their existing SG-7.2 adjustable saw guide, called the SGI-7 for an extra $20. Extra meaning you need to buy the adjustable saw guide to be able to use the insert.
So let's recap. The PadLoc system solves the very real problem of slipping grips. The bars are tried and true, and the grips worked well: they kept my hands comfortable and glued to the bars. However, switching to the PadLoc system requires that you only run WTB grips – at least until more options hit the market – so you'd better hope to like what WTB offers like I did. If you cut your existing bars, you better polish up your measuring skills, or have your friend do it so you at least have someone to blame.
---
Are slipping grips a problem for you?