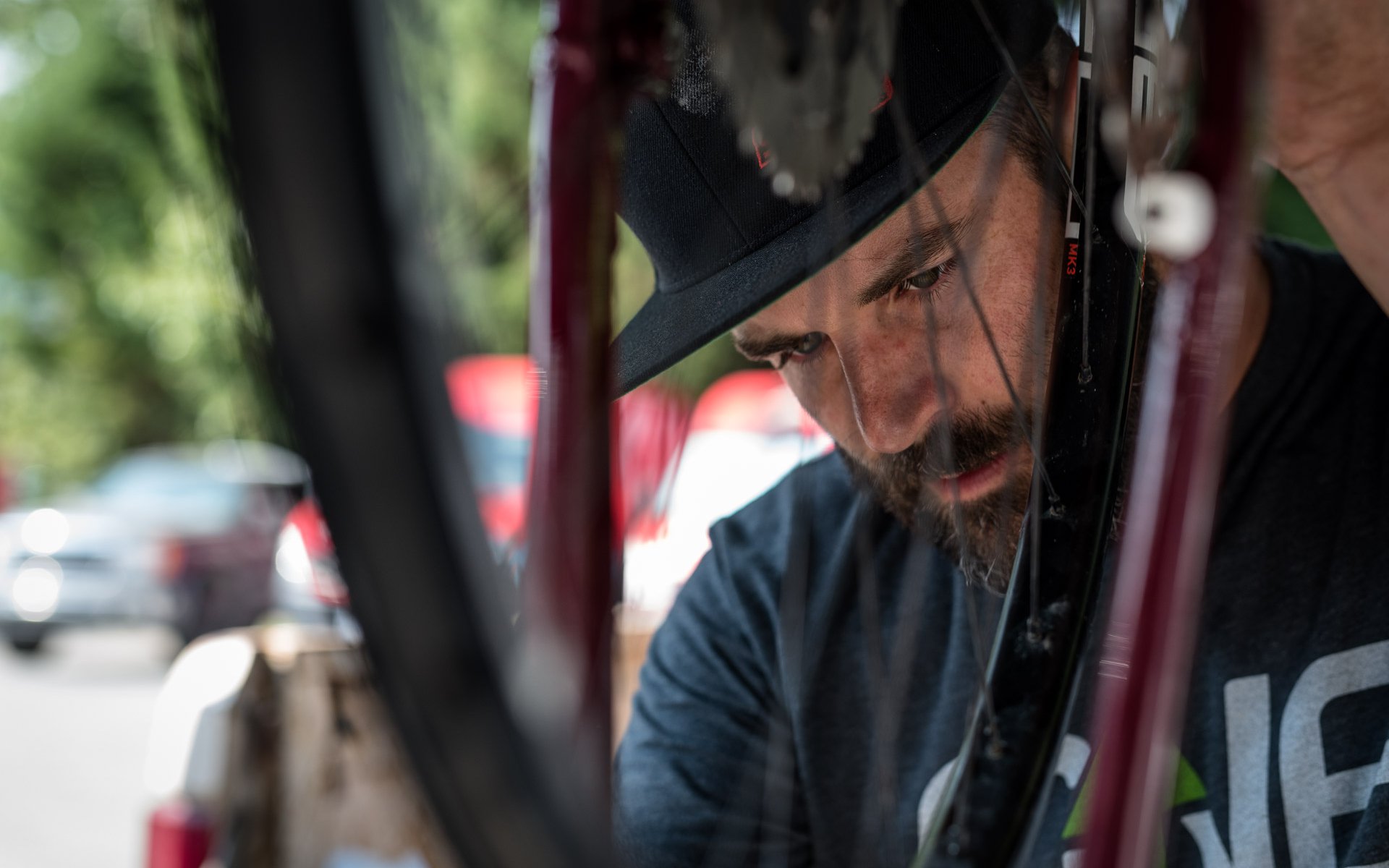 Shadowing Melamed's Mechanic
Wrenching Out a Win
Jeff Bryson is alone in the pits with his truck and his bikes. Jeff's pit is the space between the lines marking a parking stall in Whistler's Lot 2. The big teams have quarter million dollar rigs with canopies, flooring and all the mod cons. Jeff has his 1978 Ford F150, a 10 x 10 tent from Rocky Mountain, and his tools. He appears to be randomly checking bolts and fussing over last minute details but closer attention reveals a precise and methodical evaluation. 
Jeff just began wrenching for EWS this season, working with Jesse Melamed and Remi Gauvin, but it's not too early to call him a success. He's been diligent, hard working and humble about his approach and eager to learn from the veteran mechanics and riders, and they have accepted him into the tribe. Anything he learns folds into his personal ethos which could be summed up as; preparation is everything. 

"When Jesse brought some carbon wheels to use before the race, I said no. When he asked me why I said because I know I can get you through the race on these and I can't guarantee it on those. And he looked me in the eye and said, 'you'll guarantee I'll make it through the race on these?' and I said yep."
Jesse and Remi rode all of last season on carbon rims without issue. On one set mind you. And then Jesse exploded his rim with a 24 second lead in Madeira. Jeff talked to the other mechanics and they almost universally* told him to go with aluminum. Carbon isn't generally as tough or as true but aluminum doesn't keep any secrets. If it's going to fail, an inspection should let you know. And for a team that doesn't get a lot of product, and Jeff's riders meet that description, it's much easier to get fresh aluminum rims for every race. 
I asked Jeff how he had the confidence to bend the riders to his will, and it was all about mapping it out. "If I had come to the race a little unprepared I may have waffled but I came with my game plan and I followed through with it. And when you look at things from afar you have better perspective but in the moment you might not make the best decision. You might deviate from your plan and everything you have worked toward."

Many of the top riders have their own mechanic; 1:1 attention. Jeff is responsible for two riders who happen to be close together in the standings. This makes the liaison stages challenging because Jesse arrives before Remi has left..
Jeff was a racer himself for many years. He organized a race team and threw down every weekend for a decade and he approaches wrenching from a similar perspective.
Taking chances isn't part of the plan. If a wheel isn't absolutely perfect Jeff will build a new one the night before. Bearings get inspected, cleaned and filled with light oil before every race. Brakes are bled even if they feel perfect. Wheels are set up with Stan's tape and then Gorilla tape and then Cushcore. A puncture is the difference between winning and losing so there is no leaving that to chance. 
Many parts that can't be replaced in accordance to EWS rules are marked with the rider's number. If any of those parts are done, the rider is done. 
Jesse and Remi have very different setups despite having identical sponsors. In general, Remi chooses tech and light weight while Jesse, who weighs less, goes the other direction. 
Jeff is much more than a mechanic. One of the things the riders told me is that they appreciate the racing experience he brings and the wisdom that comes along with that. In Jesse's words;  "the bike is dialled by any pro mechanic and Jeff goes above and beyond but his race day mentality is really good. I can ask him advice about bike setup and trust his opinion."
The better-financed teams had elaborate setups for the support zone after stage three which required some time to set up. Instead, Jeff had a bare bones shop which gave him time to meet the riders at the end of stage one, where he learned what help they needed. Remi came down first and a hard hit had de-tensioned his wheel. Jeff was there to give advice and keep Remi calm but the rules precluded any hands-on assistance. Luckily Remi is a skilled mechanic and Jeff, with his mitts jammed between his knees to avoid temptation, talked him through the tensioning process. Jesse had slammed his Di2 derailleur but it was still functioning well enough for Jesse to make it to the support stage so he solidiered on. 

"Sitting down at the bottom of stage 1 was probably the hardest 20 mins to half an hour of my life. Remi came down hard and his spokes were all loose. And he said "Jeff's what's going on? What's happening?"  He was frustrated and not having a good time.
I just had to be calm and he snugged his spokes down and he's a pretty good mechanic and I told him to snug them down and check them before the next stage and I told him "I"ll get you at the tech zone after stage 3."
After he left riding away from stage 1 I knew he wasn't happy and then Jesse coming down was wondering if his wheel was going to be the same. He had a smile on his face and he told me he hit the derailleur on the same rock and said 'Jeff did you make this cable too short?' And he said 'will there be a derailleur at the tech zone?'"
Laying out all his tools and any parts needed well before the riders arrive, Jeff's mantra was on full display; preparation is everything.
Jeff kept things light while he methodically went through the necessary repairs and did a quick check and service of everything else. Jesse left with a perfectly functional derailleur and Remi's wheel was tensioned and true. 

Sometimes I look at the guys and I think 'why don't you just change that fender' but they put in so much time in the gym and making sure they are recovering properly... They work so hard that it makes a big difference to take that stuff off their plate. For them not to have to think about that stuff at all... I don't want them to have any thoughts like that. They should always just be thinking about 'okay Sam Hill is this much ahead.'
"Being getting asked to be the mechanic for Jesse and Remi I thought, 'Oh my god, I can put all this energy and time into this' and I guess I can feel useful. I can have that same outlet but in a different way. And my energy can be transferred into their racing careers."
When Jeff was 14 years old he discovered bikes. And he knew. He remembers the distinct moment when he said to himself, "bikes are my life now." And they have been. From bike mechanic to racer to an educator of mechanics and service managers, Jeff's work has always been an expression of his love for bikes and his drive for excellence. And this is the culmination. 
For now at least. 
*Team Specialized is an exception. They use carbon rims but they get fresh ones every race. Despite that Curtis Keene cracked a rim on the first half of the first stage and was out of contention.