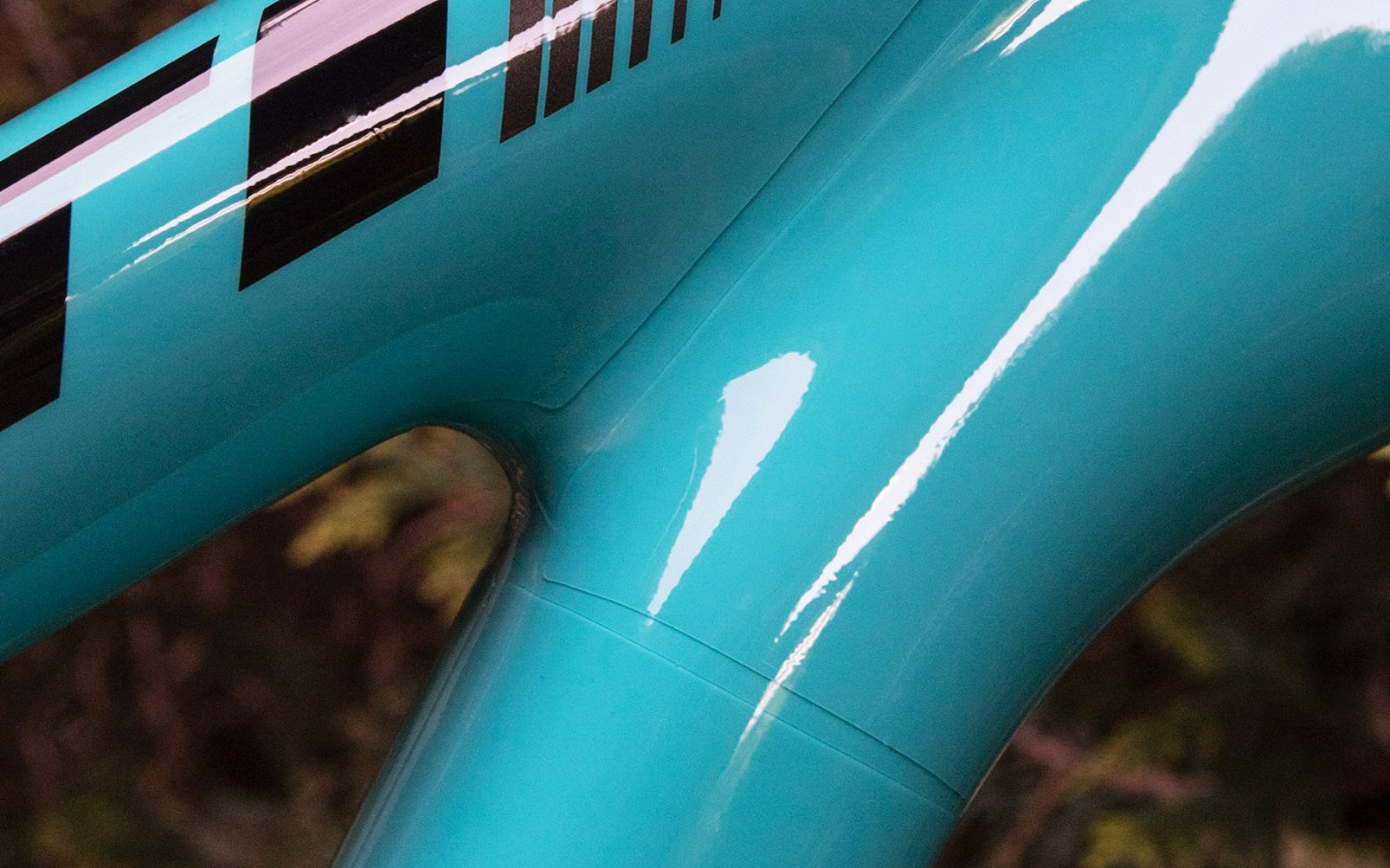 Should you wrap your new frame?
Wrapping your Ride for Posterity (and resale!)
Was it always like this? I seem to notice riders passionately declaring their feelings about their bikes, online and in person, more than ever. Dudes seem to refer to their bike as 'my baby' alarmingly frequently and both men and women give their bikes names; Clyde, Gringo, Bob, Sexy Susan, Ron Jeremy... I'm not here to judge, only to point out that the affection is real. The experiences our bikes bring, provoke feelings we should never have for inanimate objects. And I'm as guilty as anyone. Except for the names part. Boringly my bikes go by their make or model names.
Feelings of this magnitude, accompanied by large expenditures, make it easy to justify a little insurance, even if it's mostly cosmetic. I loved the idea of Ride Wrap and similar products when I first heard about them. Having your frame protected has many advantages; it's shielded from rub wear that can cut through paint and into aluminum or carbon, kept safe from shuttle wounds caused by your buddy's bike or rough roads, and of course a plastic film can stave off paint injury from flying rocks and crashes. This should mean, barring calamity, your bike will continue to look fresh and new for years.
You may not care how your bike looks, but you may care about resale value, and this is a huge benefit. A bike with dull scuffed and chipped paint may not run any worse than one that remains shiny and blemish free, but it will certainly be harder to sell for a good price. Dentists don't like paint chips.
I bought some 3M Scotchguard automotive film for my last new frame and cut it up myself. It worked okay, and the film is thick and strong, but a close look reveals some nasty folds and uneven cuts. And yet even my hack job gives me a warm glow. Knowing I'm not dulling my paint when I wipe off my bike after a ride, and that it's relatively safe in the back of my truck with four other bikes and from heel rub, is unreasonably satisfying. I actually appreciate my bike more when it's wrapped.

This is the secret sauce, no divulging! - Callum Rostron of Ride Wrap
When a new test platform arrived, a Yeti SB150 frame, it only made sense to wrap it up with some help from Wheelthing, an authorized Ride Wrap dealer. When I rolled in Andy, Wheelthing's certified Ride Wrap installer, was working on another frame. Or rather he was working on a complete bike, having removed wheels and a few other bits so he could get at all the paint.
Job one was to clean my frame thoroughly, because even a fresh frame may have been groped by greasy hands. After that the huge template with all the numbered pieces of clear gloss film was laid out on Andy's workbench. I talked to Callum Rostrum of Ride Wrap and asked him how the templates are measured for each frame: "This is the secret sauce, no divulging! I can tell you we have a design team working incredibly hard to add new models and sizes daily. They use a technology system developed in-house that allows us to design kits fast, accurately, and with the highest coverage. This means that we have the fastest growing bike frame template database worldwide and its only accelerating. If we do not currently have a design for your frame drop us a request and we will likely have it in the works in the coming weeks."
I asked Callum how Ride Wrap got started; "I'm a stickler for keeping anything I own in great shape so I started installing protection film to my own bikes in the high wear areas, each time I got a new bike I would spend the time to make a better template then the previous bike, I was asked more and more to install protection on friends' bikes, I started to do a couple and the demand for this product/service became apparent. RideWrap was born."
Once everything was clean and dry, Andy applied a few stickers I wanted to have underneath the wrap. It can make getting bubbles out a little trickier, but having stickers below the film makes them look factory applied - and I wanted that. After that Andy prepared the secret solution; a 750ml squirt bottle of water with a single drop (one!) of Johnson's baby shampoo added. The solution is then sprayed generously on the frame and on the first panel to be installed. The liquid allows the panel to either be removed and reapplied or shifted slightly for the perfect fit. This is repeated for each panel. After that Andy was off to the races. To a marathon that is.
Each Ride Wrap kit includes two different squeegees, to smooth the film and remove bubbles, a printed out key to help you navigate the install, and a microfibre cloth for cleaning before and after. A big part of the process involves pushing out liquid and air bubbles with the squeegees so the film is virtually invisible and Andy was relentless in his pursuit.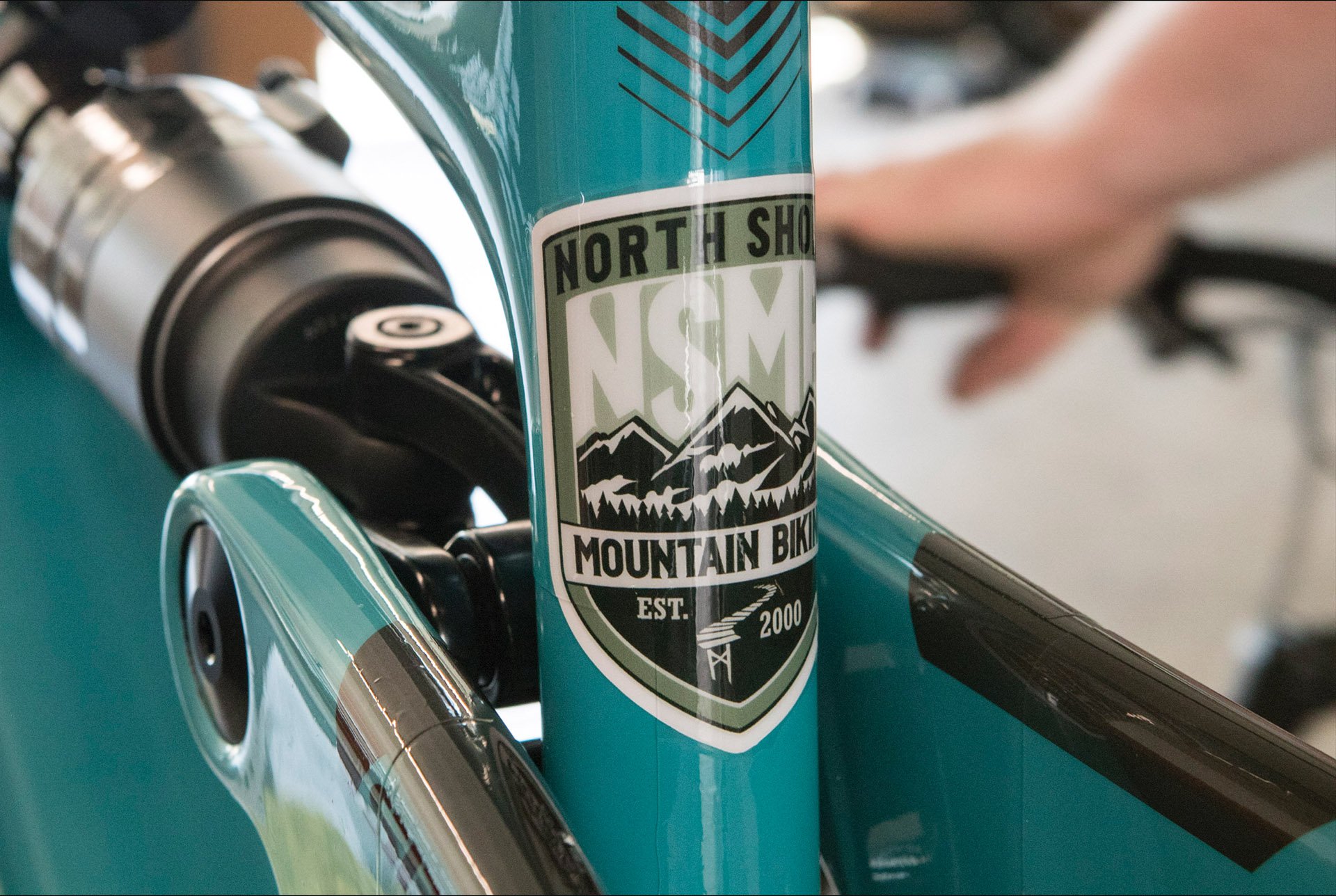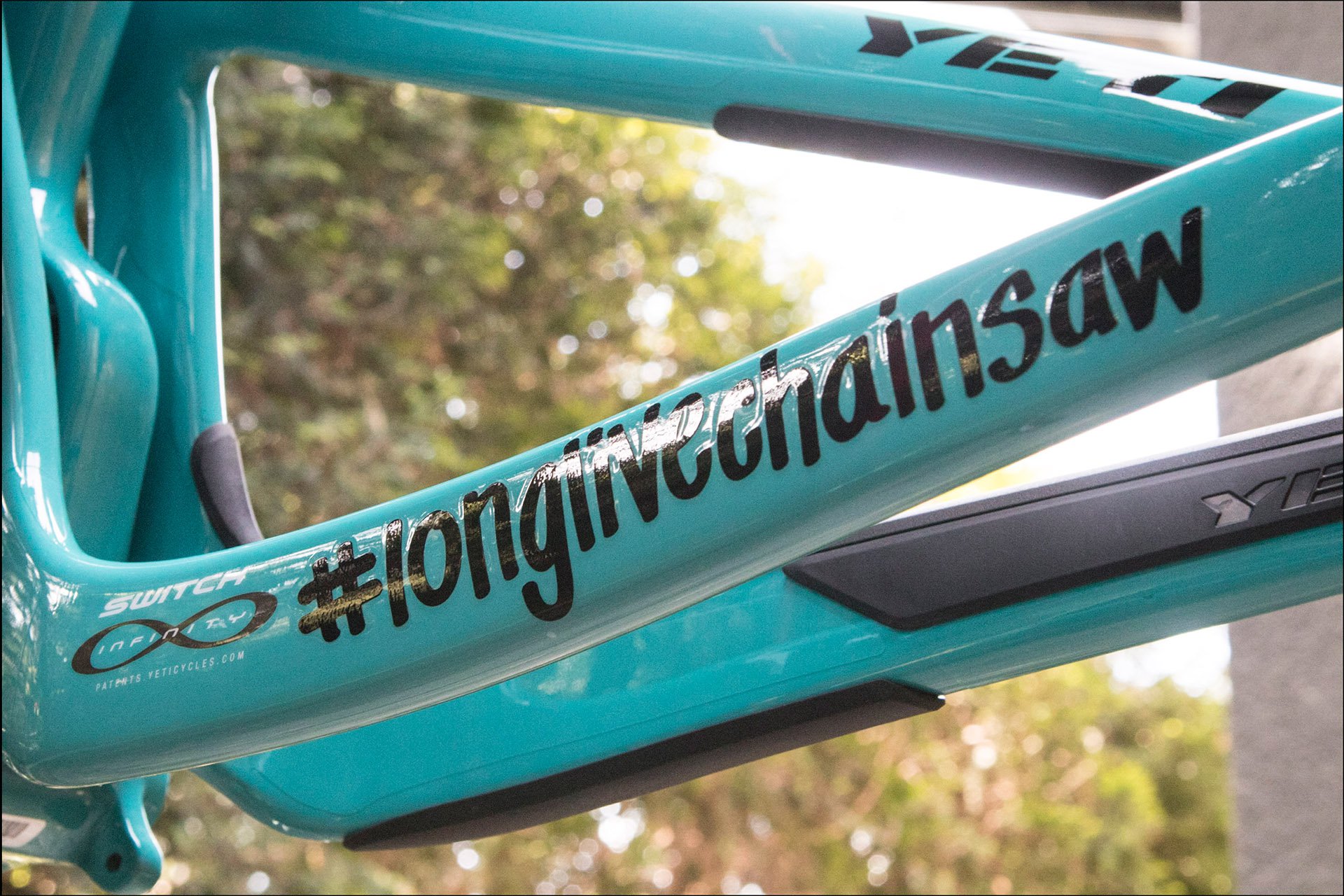 If you have any OCD tendencies at all, which you do if you have any interest in Ride Wrap by the way, you better leave yourself a good half a day to DIY Ride Wrap. Apparently Callum can do a bike in as little as half an hour. Meticulous Andy takes a couple of hours, but I'd say his finished product is well worth it.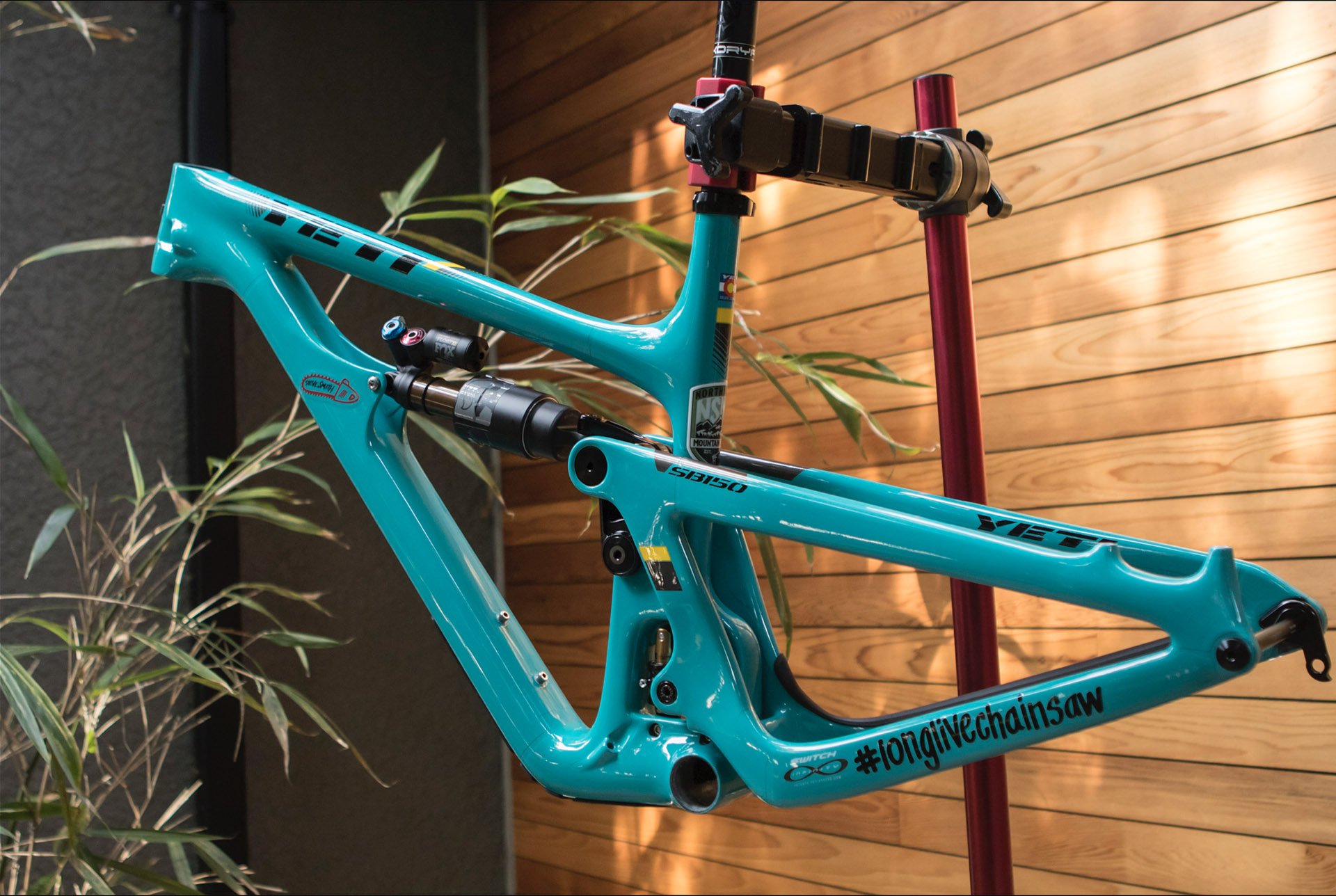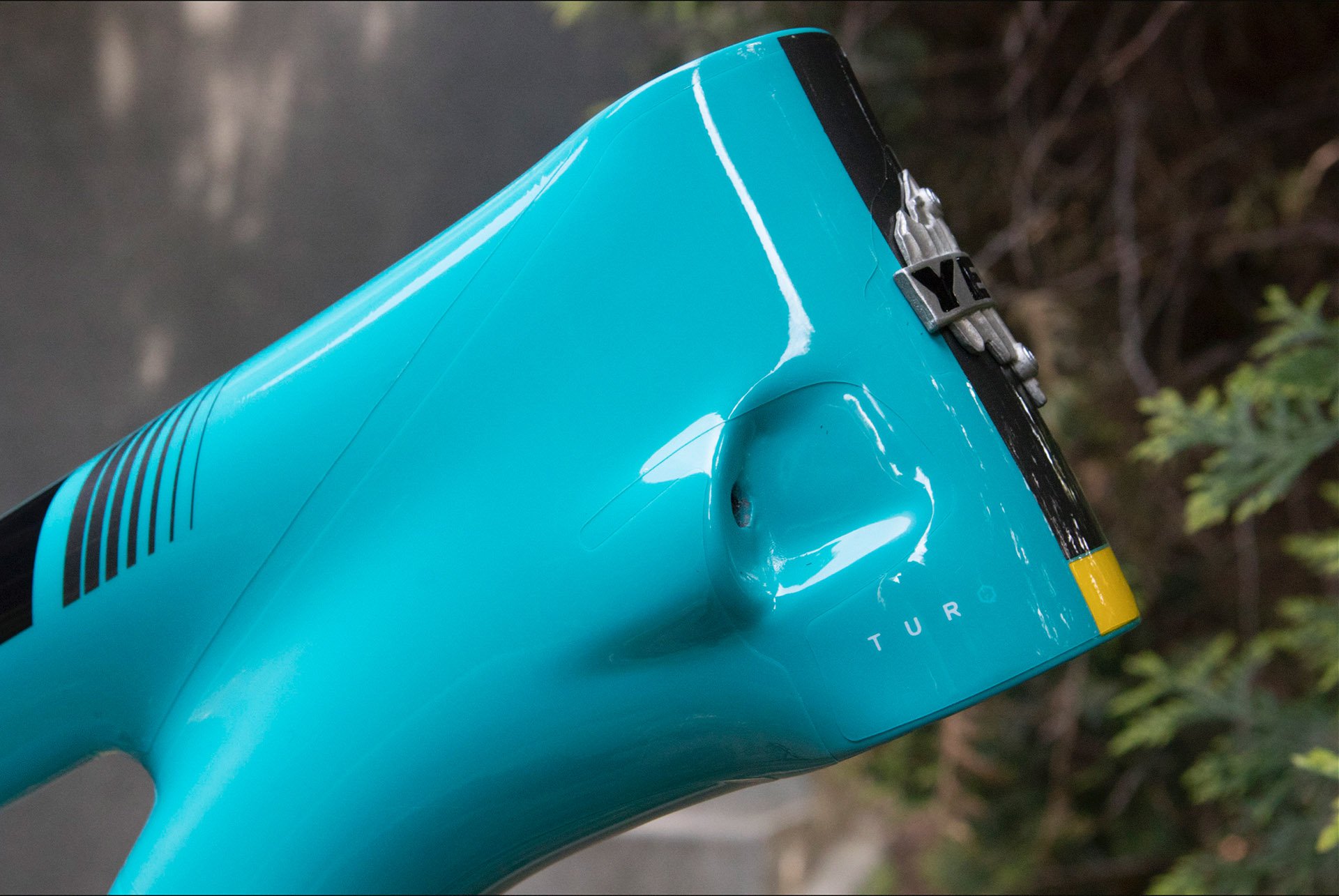 If you are good with finicky projects and have a handle on attention to detail, I think you can give it a go. Callum agrees; "The kits are absolutely DIY friendly. We have approached the product two-fold for our customers, a rider can easily grab a couple beers and install the kit over a couple hours, or they can visit one of our fantastic Certified Installers to have the full service experience."
RideWrap full kits cost 115 CAD while fork kits will set you back 50 CAD. There are also kits that protect high wear areas for 80 and 40 CAD. Shuttle armor, made of thicker black foam, will add 25 bucks (I will add a photo shortly). If you are local and would like Andy to install your wrap, it will cost you a little more, but if you can get your frame to Whistler the cost is 90 CAD.
For more check out ridewrap.ca and wheelthing.ca