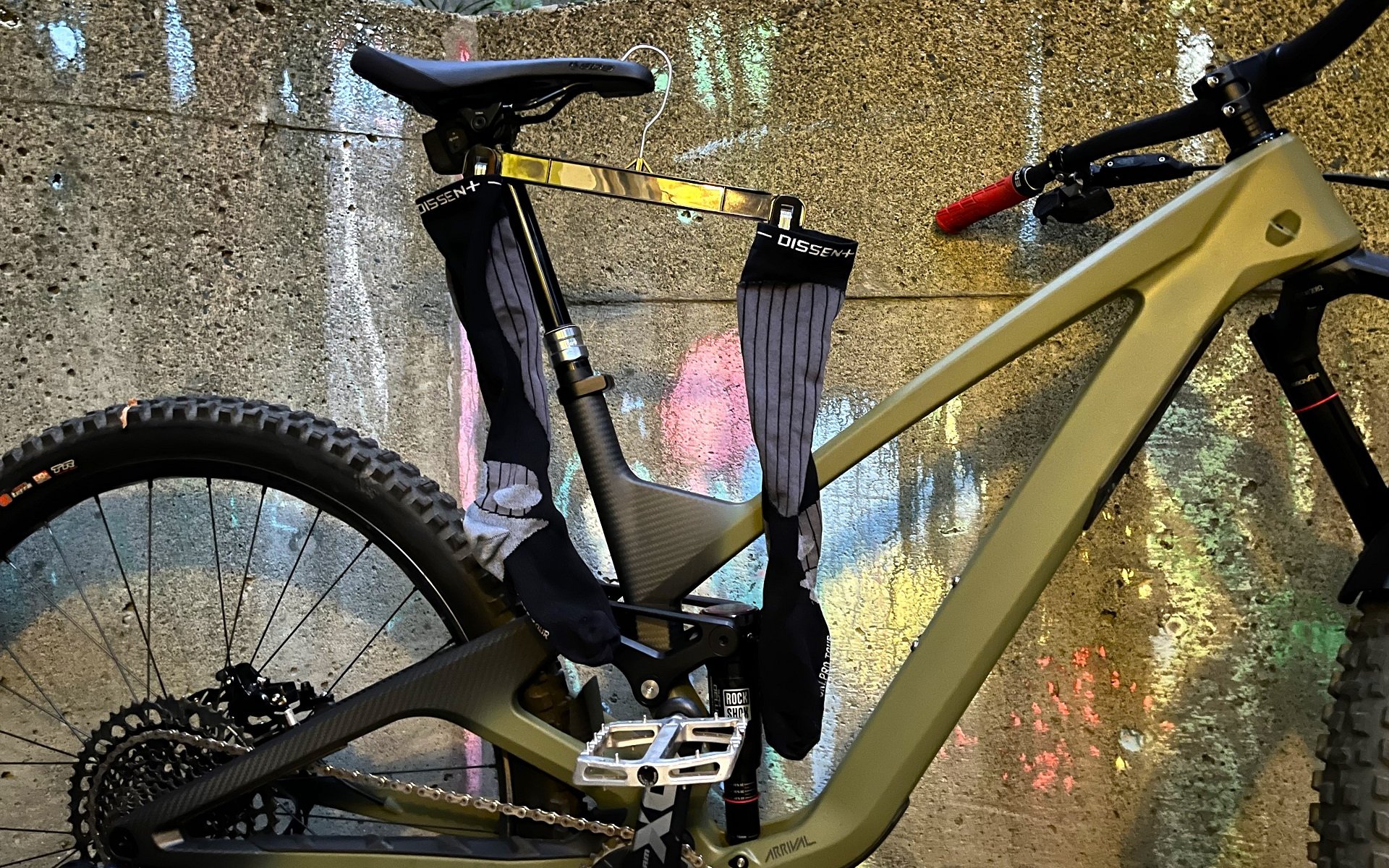 WORTH EVERY PENNY
Worth Every Penny: September 2022
Legends Of The Falls
September used to be one of my favourite months. It often has some of the best trail conditions of the year, things have cooled down and the forest smells great. It's bittersweet now that my daughter is in school. September means daily routines and multiple hockey practices. Big days on bikes morph into quick rides sandwiched between the last bell of the day and dinner.
This September has seemed particularly rancorous. The transmission in my car crapped out for the third time, while moving at speed with my kid in the vehicle, and Ford says it will be over a year for the warranty replacement to arrive. The recovery from my Achilles injury in January has gone from the epic progress I enjoyed all summer to gains akin to trench warfare. But, as I say to my kid, "give me your solutions, not your problems." So here's some stuff I use regularly that makes me smile.
Dissent Labs Nano Pro 'Ski' Socks
I'm not a fan of proper 'Pro' fitted compression socks and I don't like knee high socks. So what could be better than combining the two? And yet I've bought four pairs of Dissent Labs Nano Pro Ski socks since June. Two pairs are fairly shredded - they will lose if you snag them on a pedal pin - and I'll be replacing those despite the cost of entry. Despite the 'ski' moniker these are super thin as they're intended for high-output back country use. Your local bike shop probably doesn't have them in stock, which is silly because if you're wearing compression socks to enhance circulation the knee-high setup works way better than calf-height.
They look silly with shorts but mountain bikers all wear pants now anyway. I still had to get over myself though. After all, I'm an adult riding bikes in the forest so there's an innate level of silliness going on already.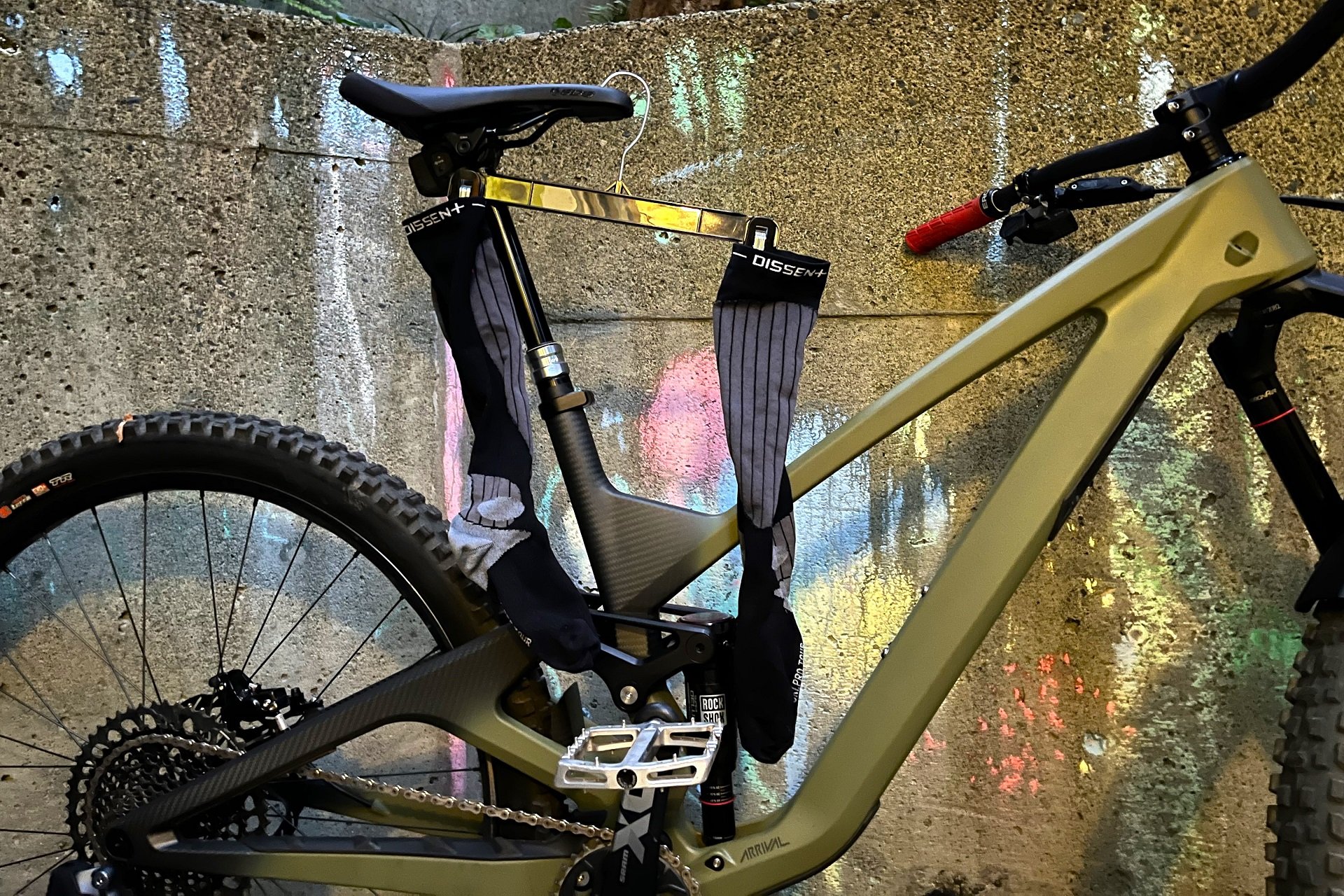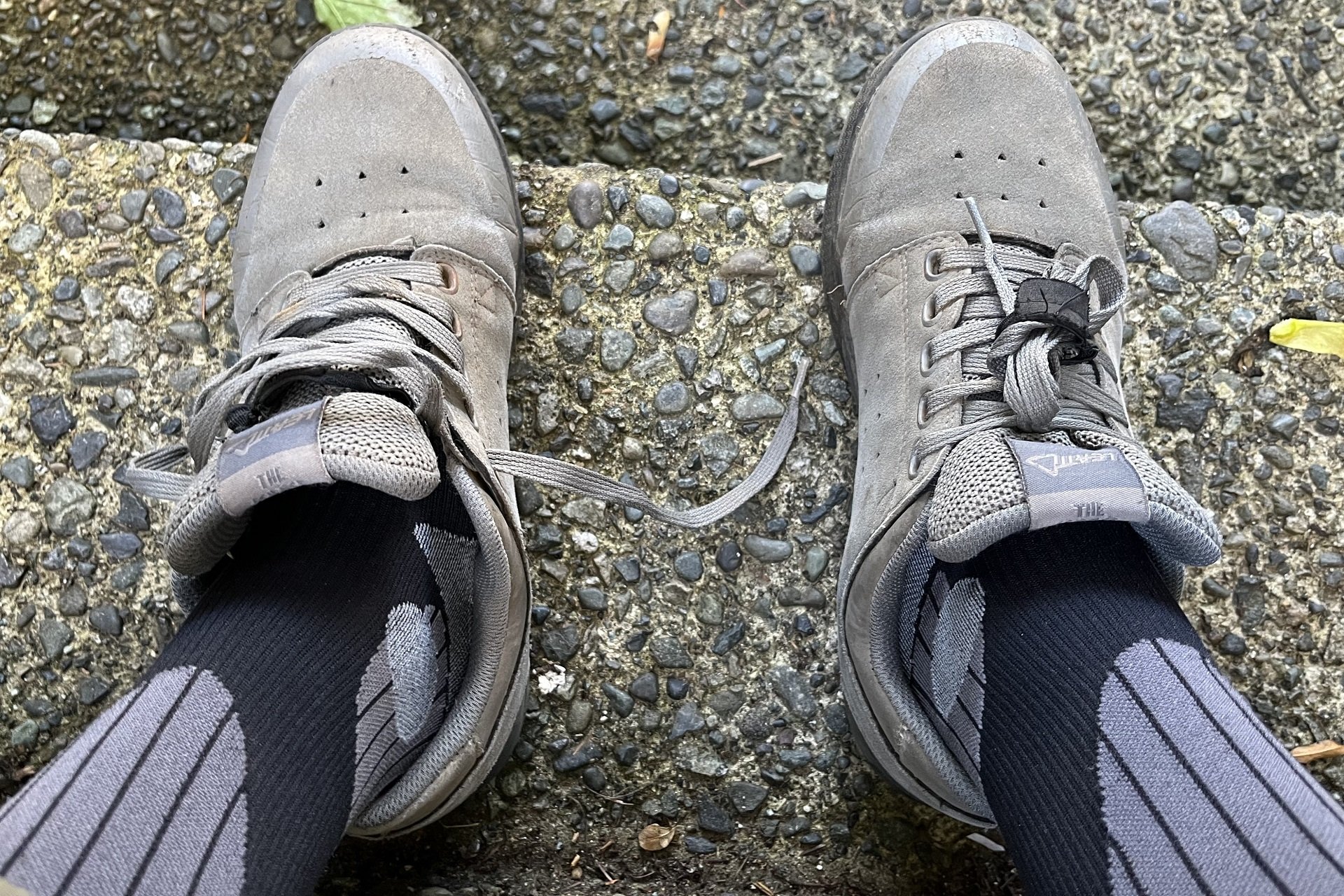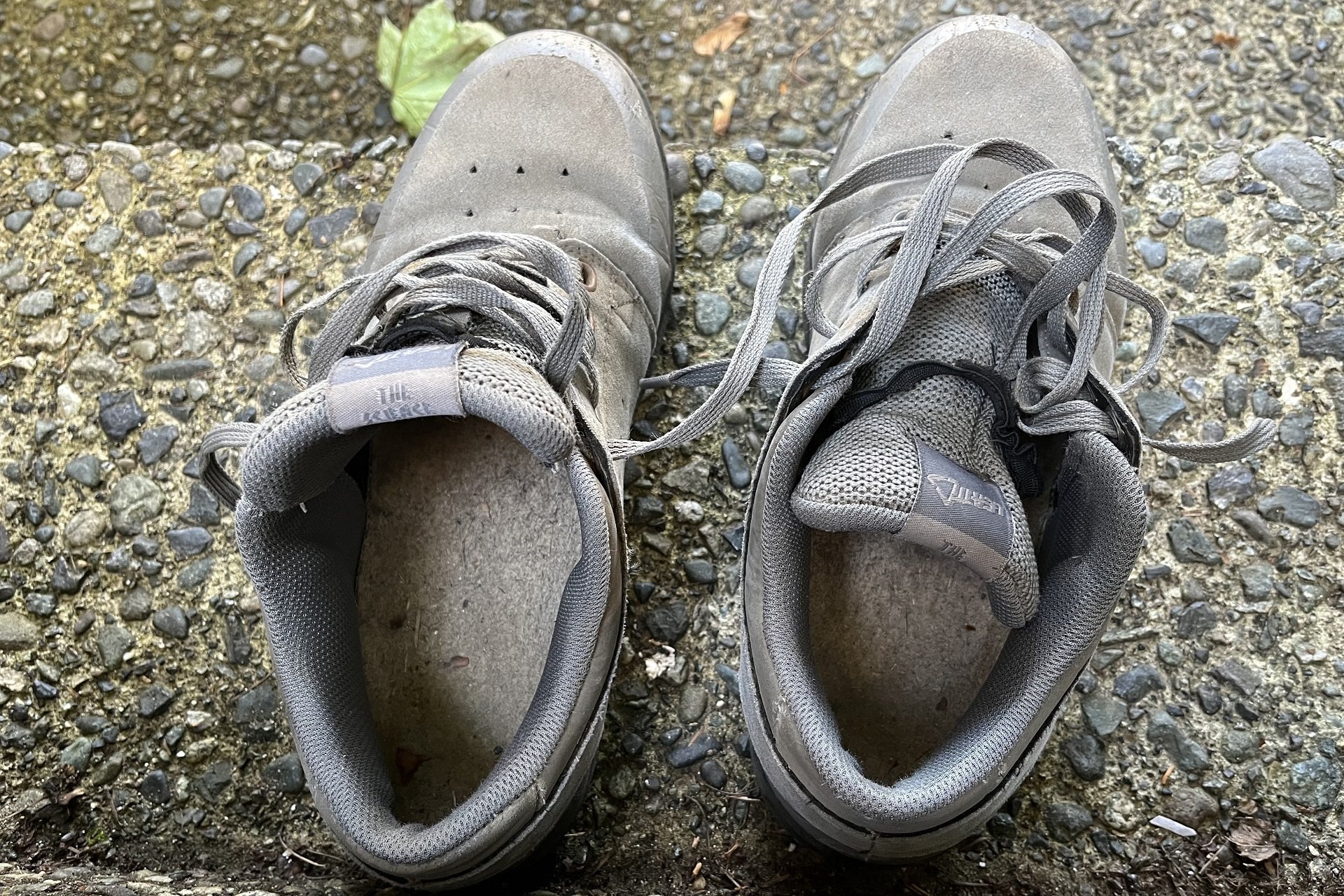 I started off wearing these all day every day to help manage the extensive swelling I was getting in my bad leg, never mind trying to get back into riding. As daily swelling has decreased, I've transitioned to just wearing them for riding, long hikes, and days turning wrenches where I know I'm going to be on my feet for hours at a time.
I still don't like the feeling of compression socks, but I will say that even with my good leg I've noticed a reduction in fatigue from standing all day and the numb foot I used to get on longer rides is now gone. I'd love to make bold claims about reduced fatigue or lactic acid build up when pumping down trails on the hardtail but the truth is I haven't ridden without these socks on since June so have no frame of reference. I am wondering if I'll have fewer issues managing cold feet on the wettest rides this winter thanks to improved circulation, but that's probably wishful thinking.
I'd recommend these socks for a lower body injury recovery, or for folks who don't have the best circulation. Just be warned that if your friends are like my friends you will get made fun of if you combine them with shorts.
Mission Workshop Merino Hoodie
It's been heavily worn, washed, crashed, crumpled and the sleeves are ratty as all get out, but after a decade of hard use, I still reach for this thing regularly. It transitioned years back to being a mostly mountain bike piece now that it's in rough shape. Mission Workshop doesn't sell a Merino wool hoodie anymore so it's not replaceable. This one was USA Made and the quality of workmanship and materials is tops. It's not a light piece and I wouldn't call it 'stashable,' though I do strap it to the outside of my pack if the temperature goes from crisp to toasty.
I couldn't tell you what this piece cost, my wife bought it for me as a gift over a decade ago. It's nowhere near as soft as it was but it's still a great piece. Even in the rain I'll often wear it under my weatherproof vest as opposed to a full-sleeved hardshell jacket. It's warm enough, breathable enough, and proven durable enough over years of riding and crashing and there's a good chance if you bump into me on my commuter or mountain bike from September to June that I'll be wearing it. Every time I pull it out of the closet, where it shares a hook with my CoreRat vest and 7Mesh weatherproof vest, it makes me smile. That's about as good a gift as you can get.
Wolf Tooth 6-Bit Key Chain
I've written more extensively about the 6-Bit Key Chain as part of Everyday Bicycle Tools as well as the various generations of Wolf Tooth's 8-Bit Pack Pliers. They're my favourite shop quality packable tools and they continue to evolve. I always have my Leatherman Skeletool with me as well, but where my knife and pliers count as every day carry (EDC) tools, my 6-Bit is an every day use (EDU) item.
The black coating on the bits I use most has worn away on all the sharp contact edges and I constantly find myself fixing things I would otherwise have forgotten five minutes later. Often that's bike related stuff but it's crazy how many hex key and Torx-compatible interfaces you'll come across in your daily life when you have a tool with you all the time.
I use my 6-Bit Key Chain all the time, and I seem to lend it to others almost as often. It's really nice to be that guy at the coffee shop when you overhear someone say "this bolt on my shopping buggy is loose, I meant to tighten it at home." Most folks don't carry tools around with them, so it's a chance to be helpful and have a positive impact on other peoples' days.
North Shore Rack
This is the second time in my life I've paid full pop for a North Shore Rack, having sold my last one years ago when I switched to a tailgate pad for my truck. Things have changed a lot since the days of picking up from the house in Lynn Valley and yet the very friendly customer service remains and the locally made product has seen some small but obvious improvements to bicycle fitment and paint finish since the last time I purchased one.
This acquisition started out as nothing more than a doubly unnecessary expunging of hard earned cash. First, as noted above, my car died and along with it my capacity to transport bikes for work, mix-mode commuting, and mountain biking with my family. Then, despite Ford coming up with money for the local dealer to put us in a loaner vehicle, the folks at Cam Clark Ford flat out refused to consider any number of ways to provide a vehicle that could properly act as a replacement for said car. That would be by simply having the ability to transport bikes either by adding a roof rack or a hitch, with me offering to provide the actual racks. Ask me if I'm bitter.
Thankfully, we're in a position where we could buy a used vehicle as a replacement. I know exactly enough about cars that I'm an expert at what I don't know so I took my own advice, Buyer Beware, and leaned on friends who actually know what they're talking about to get sorted with something that works for my family, which in turn meant acquiring a hitch rack.
I ordered on their website for local pick up and then rolled quickly by their shop between work and grabbing my kid at school to bolt it in place. These things aren't cheap though I certainly think the price is justifiable.
I was in a funk as I stepped out of my new-to-me car and walked into North Shore Racks where I was greeted by the happiest, friendliest, most obviously kind hearted human being named Dylan. You're rad Dylan, thank you for your help and the nice chat.
I knew I wanted the simplicity of a vertical bike mounting solution and of those racks on the market the only choice I considered was NSR. Sure, they're really nice folks, and the product is made here in North Vancouver, and the after sale support is excellent if you ever need a fresh rope or an anti-rattle washer, but for me the deciding factor is how my bike is held. Namely the fact that it is captured by the fork crown not the front wheel.
I have a few buddies who'll be shaking their fists like an angry old man meme because their fork crown had some paint rubbed off but it's a f***ing mountain bike gentlemen, go RideWrap yourselves. I don't have any proof beyond my own two eyes, anecdotal interest, and basic reasoning, but it's remarkable how many folks who've never had issues with fork bushings getting sloppy are suddenly experiencing premature wear and also have a 'contactless' vertical bike rack. No suspension manufacturer seems to have anything to say about it at this time, but I'm not sure that's saying anything. Potential crown wear versus potential bushing wear may not affect anyone else's purchasing decisions but it was a deciding factor for me.
The rack is so solid and basic that it's doubtful anything will come up that I can't just take care of myself. My last one was faultless from the day I bought it to the day I sold it. My brother would say the same about his, and there was only one rack in mind when I bought this new beauty.
Worth Every Penny
I don't have a link to an equivalent to my Mission hoodie, though if this one went missing I'd be trying to replace it. Someone must have one in a closest somewhere that doesn't fit them anymore?
If your local ski shop supports back country touring or hitting the circuit on your misery sticks then they very likely stock Dissent Labs' Nano Pro 'Ski' socks. You can also order the Nano Pro direct for 55 USD.
I've been seeing Wolf Tooth products, including their 8-Bit lineup, more often at local shops and your preferred dealer can order whatever tool option you're looking to pick up. There's more information about the 6-Bit, as well as all the individual replacement parts, at Wolf Tooth.
You can get more information about North Shore Racks' products and order directly at NorthShoreRacks.com.