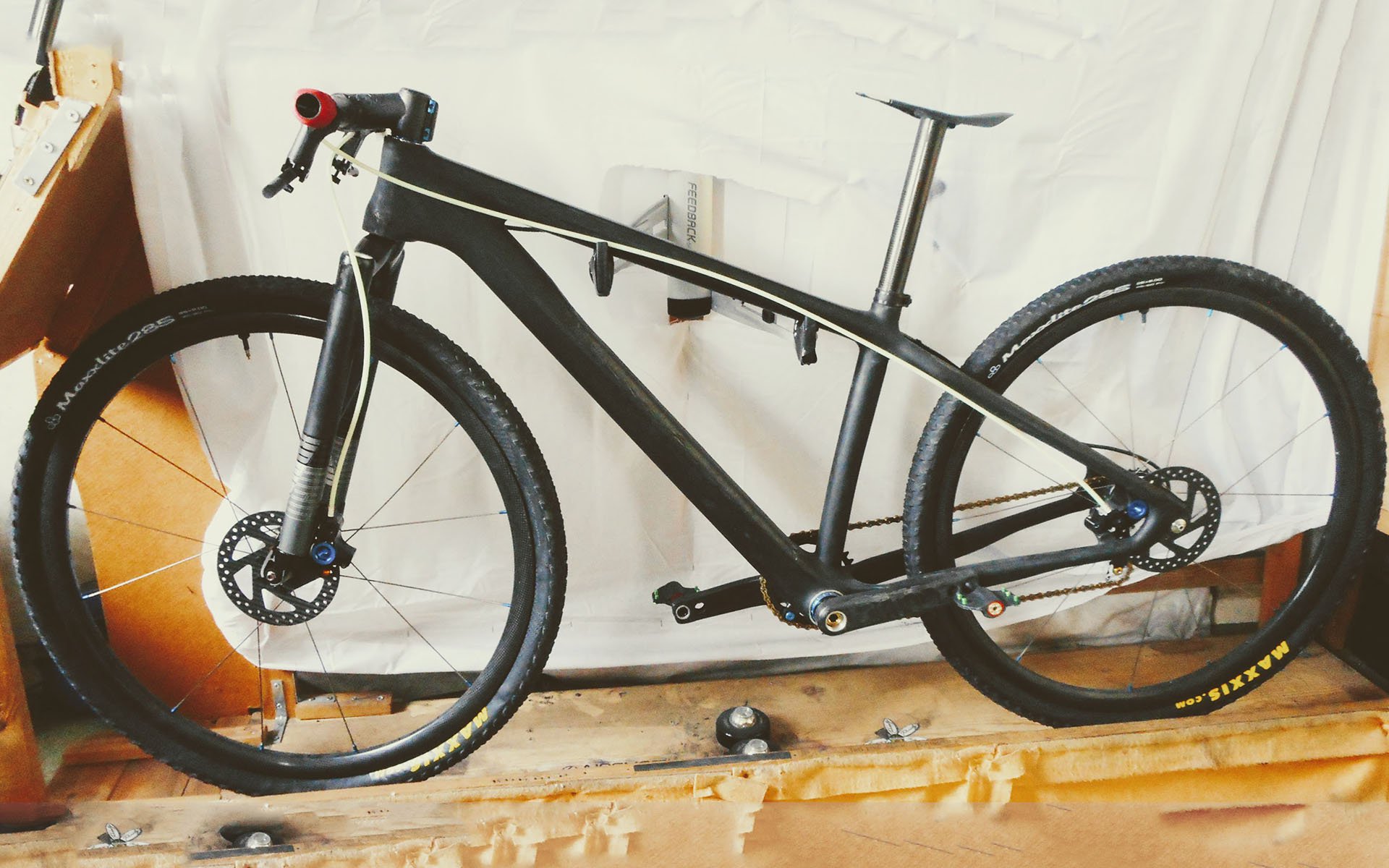 The Weird
World's Lightest Mountain Bike? (4.5kg/9.9lbs)
If you think your riding buddy is a weight weenie, you have no idea. Sebastian K puts other gram counters to shame with his world beating 4.5kg/9.9lb full rigid single speed 'mountain bike.' Clearly this isn't a mountain bike as many of us know it; there is no suspension and only one gear. Despite that it's fully functional. and has what the builder has determined is a 70kg weight limit. It even has disc  brakes and tubes in the tires - and air!
If we were talking about someone throwing down cash and slapping the lightest parts on a stock frame this would be less interesting. Sebastian however has fabricated much of the bike himself and virtually everything else has been modified to trim the fat. Even the aforementioned tubes. The London native is not trained in engineering or fabrication; all his skills are self-taught. 
There are costs to this obsession of course. Seb was met with strange looks when he blew his nose in public. When he pulled the tissue back from his face it was black with carbon dust.  I tracked down Seb to find out what feeds this obsession with the scale.
Cam McRae - Can you tell me how you got obsessed with building the world's lightest MTB?

Seb K - I started out by modifying small things (like bolts, skewers, pedals) and got into making them as light and functional as possible . I then discovered the Weight Weenie site and got hooked . I have always been a mountain biker and thought that no one had really done much for mountain bikes . Weight weenie has always been based on the road scene .
You are obviously skilled in fabrication and machining. Do you work in a field that requires these skills?

I don't but I plan to in the near future .
How much of the bike was built by you entirely?
Around 30% built by me (things like the chainring, sprocket, some of the titanium bolts, the brake levers, brake pad plates) . The other 70% is all modifications (bar/stem combo, seatpost, saddle combo, cranks, pedals,  seatclamp, grips, stem cap, hub end caps, rear skewer, calipers, lever clamps, discs, frame heavily modified etc) . 
Obviously you are a bike rider. What sort of riding do you do?
Actually I don't really mountain bike as much as I used to. As I get older I focus more on light trails at my local park . Most of my riding is on my little folding bike for  commuting . The only time I hit the heavy stuff is when I am testing parts . 
I imagine you have other bikes. Are you weight obsessed with them? Would you tell me a little about them please?

I have another full suspension carbon bike that has had a heck of a lot of work put into it including the Lauf fork which I shortened the legs, a fully sanded Scott Scale frame with machined down gear hanger, most of the paint sanded off, steel shock link bolts replaced with black titanium bolts, swingarm axles all hollowed out further and threads removed, intermal carbon headtube ring machined away to fit the blue ChrisKing tapered cup, DT Swiss carbon shock with lever removed and hex hole stamped into lever pin (so you can use an allen key), cutsom titanium sprocket, Scrub rotors, carbon 15mm axle modified, DT Swiss and Easton carbon rims, handmade Alcantara grips from Germany, handmade Alctanara Tune saddle from Germany, Magura MT8 carbon brakes with custom made gold aluminium connector and bleed nipples bolts and blue aluminium screw thread bolts made in Switzlerand, Tubolito tubes, Extralite custom coated chainring, YBN titanium chain (also ti nitride coated),  a set of heavily modified Reset Racing pedals (which cost me over 700 euros new) . I got the weight down to 6.5kg single speed (with 10spd drivetrain 6.8kg) . 
I also have just finished a fully rigid electric mountain bike . Completely stripped down, all pedal sensors and other accessories removed, excess wires trimmed, throttle and motor wires shortened,  frame cable guides machined off then primed and painted, custom titanium ti nitride coated freewheel (screw on electric motor hub),  titanium axle nuts, aluminium axle  washers, ECU  box titanium bolts, carbon Easton Haven bar, Easton rims, Middleburn cranks with carbon bb, MCFK carbon seatpost, Magura MT8 carbon brake with after market gold fixings, MCFK seatclamp Tune Alcantara saddle, magnesium pedals that I have machined down and replaced the steel axle with a custom ti nitride titanium axle further machined in the lathe finished with ti nitride custom titanium bolts and blue aluminium pins, Extralite chainring, Tubolito tubes . The weight is around 10.5kg with  an aluminium frame and fork .

I have an electric fat bike that has had a ton of work done to it but it isn't a weigh weenie build . 

My friends think I'm mad and I totally agree with them .
I can see from your blog that you have been refining this project for some time. Is there an end point or do you plan to continue?
No I think for now I can say it is pretty much finished . I can't really do anymore without compromising strength . The weight limit for the bike has been lowered to 70kg so I think that is enough . 
Is there any plan to ride the bike regularly?

No . After testing I weighed the bike, drained the brakes, gave the bike a thorough cleaning and it is now a show bike . 
What is the philosophy behind the project. Is the goal to have the lightest bike that is practically rideable or is it simply a showpiece?
It's to have a fully functional crazy light bike . To show the world what can be done if you  put your mind to it . 
Do you have any competition? I know there are roadies doing this. Do you communicate with others similarly obsessed?
Unfortunately I don't really communictate that much with others. I don't really have any competiton because to be truly honest I havent' really seen anyone else actually build anything from carbon or do any metal machining or lathe work for a mountain bike. There are a few out there that I have seen but like you say they are roadies . 
Is there any practical reason for doing this? Simply a challenge that puts your skills and mind to good use?
Purely to show off to myself what I can do . It's motivational and can help you develop further . 
What have you learned that could be transferred to high lever racers or even average riders?
Be patient (this kind of work takes a heck of a lot of patience), be prepared to fail at times, you won't have that much fun doing it and also be prepared to crash in the event of a failed prototype  .
It seems tubes and valves have been a struggle. Can you tell me about that? And why not tubeless?
The tubes are made by Tubolito in Germany and these are their lightest they make . Being a weight weenie I of course wanted them to be as light as they could be. So carbon was the answer (valve stems). Tubeless is an option  for sure but the tube and tyre combo is the lightest in the world . There is nothing out there lighter. To be tubeless you need denser rubber to hold in the air and therefore a heavier tyre which in turn adds far more weight . The tube and tyre combo comes in at 330grams . 
I see on your blog you mentioned that Tubolito is considering changing their valve stem based on your findings. Have you spoken to others about lightening or improving their products?

I always share my work on Facebook and G+   and once in a while I will get a PM from a company . Nothing so far though . 
Cyclists have always been obsessed with weight. Even overweight beer drinkers like most of us. How can you explain this seemingly fruitless effort to cheat gravity?
I always say it's about the rider . However a light bike will always climb better, accelerate better, easier to jump with and in the case of events like cyclocross it will be easier to lift  over your shoulder . 
What do the non-cyclists in your life think of your project?
They think I'm mad and I totally agree with them . 
If this finds an end point, what is your next project?
Next is to build a light fat bike . 
I'd love to see what could be done with a longer travel bike or even a DH bike using this approach. For more details on this project and Seb's other endeavours at lightening two-wheelers click here.