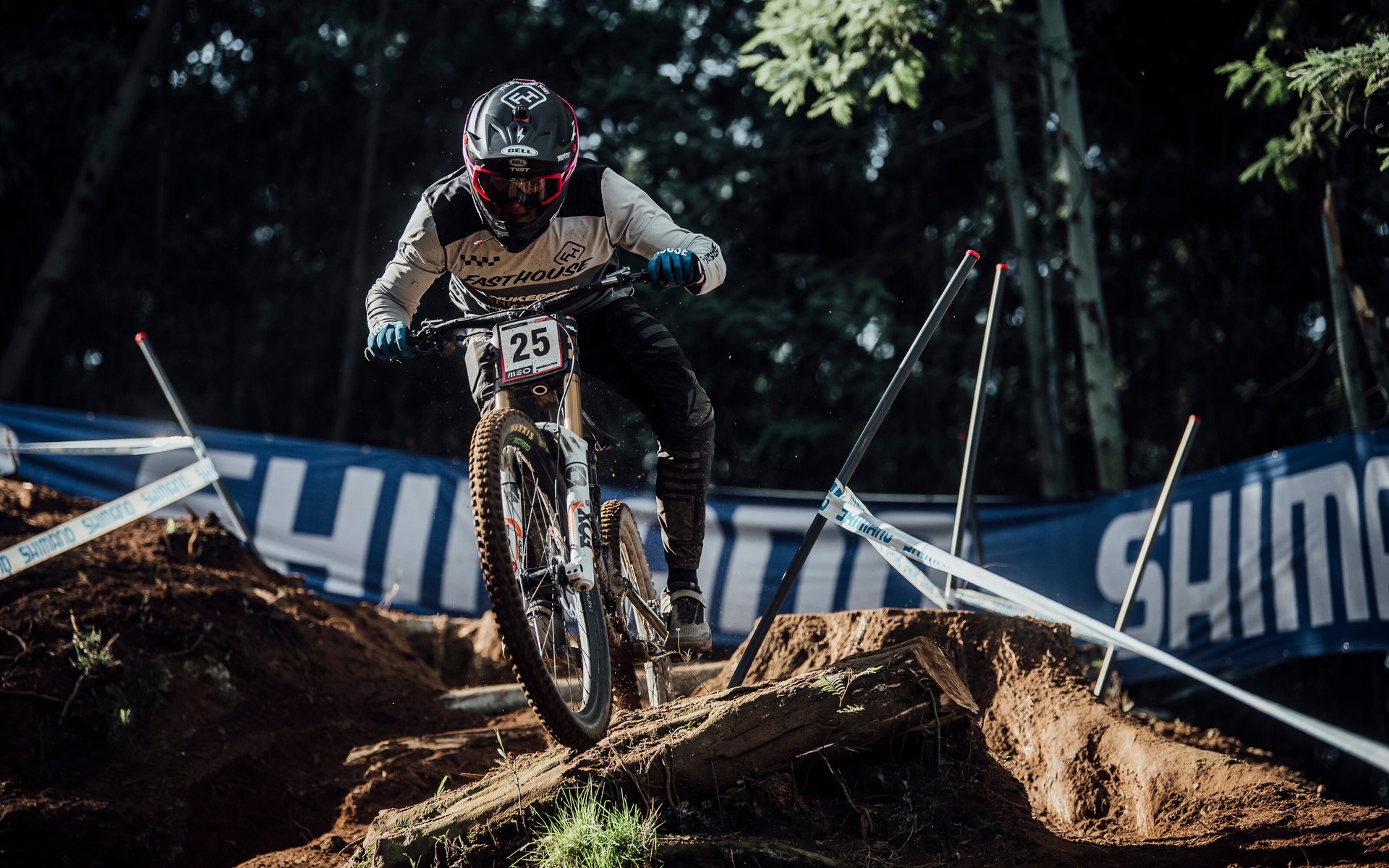 2020 UCI DH World Cup
World Cup Punctures and A New Face - 2020 Lousã DH World Cup
With the 2020 World Cup Downhill season coming to a close, some riders have been left thinking 'what if?' The racing in Lousã was incredible, with intense riding and epic battles on a great looking track. Conditions sounded tricky at times, with the loose dirt packing down and causing some problems, particularly in the upper portion of the track. Everyone seemed stoked regardless and the new track has instantly become a racer and fan favourite.
The big holes, sharp rocks and mix of slick and loose dirt, left riders puzzling with suspension setup. For some, including a few podium contenders, perfectly tuned suspension couldn't help them. Here we are in 2020, riding these magic machines down the sides of mountains and something as simple as a flat tire can still ruin everything. With the galactic leap in technology that bikes have seen over the last two decades, it's no wonder the limits of our tires remain a sore spot.
When I first started riding and racing 20 years ago, flat tires were the enemy. There were so many problems with the bikes and components; snapping forks and frames, cranks, bottom brackets, destroying wheels made from cheese, brakes that rarely delivered power during a full, short race run... The list goes on. But it was usually the dreaded "pssssss, ssss, sss, sss" that infuriated us most.
Michelin's Comp 16, 24 and 32 tires arriving between the tape improved reliability. They set the standard in the first years of the century until Maxxis began taking over. The popularity of Maxxis DH tires at the races only increased with the release of the DHF. Then, more recently, many of the teams sided with Schwalbe, particularly the Magic Mary. But the flats have continued throughout. Tubeless was another standard that helped but we all know that's not a solution either.
Now we're getting numb to riders stuffing their tires with foam to fend off flats. Many insert manufacturers claim all sorts of other benefits but we're still seeing the same old thing happen; racers on a stormer succumbing to a flat tire. For Loris Vergier, a flat in the first race at Lousã marked the beginning of the end to what was shaping up as his first championship. And with so much of the sport riding on confidence, his flat could have played a role in his on track issues come race four, Sunday. It certainly played a role in losing the points needed to take the championship.
Young American rider Dakotah Norton has shown some brilliance on the race track in the last couple of seasons. At the final race in Lousã, Dak was looking strong, with a top 20 finish in his sights. That was until he blew his front tire in a berm. Once he got back on track, heading onto the flat pedal section, his right tire bead completely came off the wheel. Making it more spectacular was what appeared to be a Cushcore insert bundled away in his open front tire! Nevertheless, another potential result was ruined by tire problems. With Dak looking for a ride for 2021, the flat couldn't have happened at a worse time.
That's just two of the riders during the live broadcasts that had tire issues. A few others include: Charlie Hatton of Continental/Atherton with a rear flat '20 seconds into his final run,' Brendog (Scott) and Mike Jones (MS Mondraker) with rear flats during the final, and French junior pinner Thibaut Daprela who flatted in his final qualifying race of the year. Luckily he was a protected rider because the 63rd place qualifying result would have put him out of Sunday's race.
It's not clear exactly who was running tire inserts but watching the racers come down, it looked like at least some of them were. Loris, as talented as he is, seemed to have something to help hold his tire on the rim despite recent bike checks stating he doesn't run inserts. One went as far as saying; "he's not running any inserts, due to the fact that they haven't had any problems with the Maxxis tire / Reserve rim combo that would lead them down that route." Things didn't work out so well in Lousã but the Syndicate, and other teams, have been sporting some "Test Pilot" Maxxis treads for a while now. There's also the "Breaker" labelled treads that were first spotted back in 2018. Are these 'prototype' tires the reason Loris was able to ride reasonably well with a flat?
Inserts seem to help many of us but at the top of the sport, do they? It would be awesome to see no flat tires at all, but that's probably a pipe dream.
The Positive – A New Name
Before this season, not many race fans outside of the U.K. will have heard of Jamie Edmondson. Despite being a junior on the Transition Bikes/Muc-Off team with Tahnée and Kaos Seagrave, the 19-year old flew mostly under the radar. It's not uncommon to skim over all but the flashiest of juniors, focusing more on the names that are taking the limelight; the Finn Isles or Thibaut Daprelas of the junior ranks. But in his first season as an elite, 19-year old Edmondson has chalked up impressive results.
Jamie is a privateer who says he receives a little support from Nukeproof, Hunt wheels, Fasthouse, Maxxis, Fox and Chromag but still had to pay for much of his bike and certainly travel to the races this season after a less than stellar end to his junior racing.
For 2020, he mixed things up and decided to race some enduro, which he feels helped his fitness during the challenging doubleheader World Cups. But it's one thing to race a few enduros – we hear many riders mention it – it's another to perform. Jamie went and secured podiums at all three EWS races this year, finishing in the bronze medal position of the highly competitive U21 category.
It's great to see young privateers do so well and with his results at all four World Cups, Jamie secured 11th place in the overall, the top-ranked Brit behind new series champion Matt Walker. Some may say conditions played in Edmondson's favour on Sunday but he'd already secured a 10th in the race on Friday, besting his 29th and 34th place finishes at Maribor.
Those are some amazing results no matter how you slice it. When chatting with representatives from Hunt wheels prior to Lousã, I learned they were already confident Jamie would be picked up in 2021. Now it's almost certain we'll be hearing Jamie's name as part of a team in the new year.