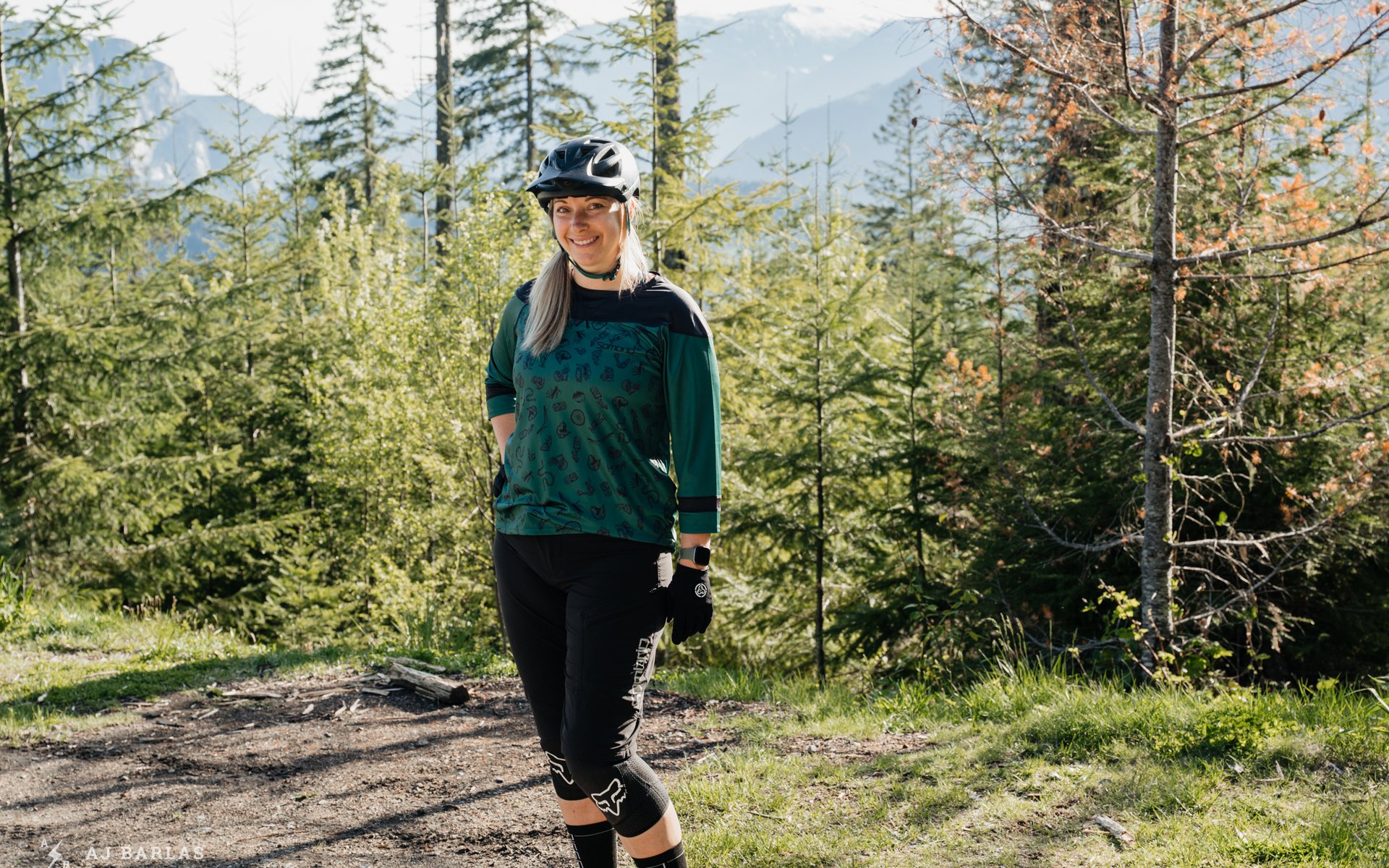 REVIEW
Women's Apparel from Sombrio
Since the 90s, Sombrio has been giving us quality and style backed by excellent warranty and customer service. My first pair of mountain bike shorts were Sombrio back in the day and although I don't have them any more, based more on style than technical failure, I have supplemented my bike wardrobe with Sombrio clothing consistently since then. They have had a women's line for as long as I can remember and have always been involved and supportive in female cycling events.
Year after year, they come out with a great selection of women's clothing, with plenty of color options and sizes that make sense. Simple.
Rebel Shorts
Features
4-way stretch with DWR finish
81% Nylon 19% Spandex Quattro Flex Mild fabric
Seamless crotch panel
2 zippered pockets with retention cord for lift pass
Longer inseam length in the front of the leg
Waistband retention system
Sturdy seam construction with extra attention to stress zones
Available in 3 colors
Check out all the details here
The Rebel shorts are first and foremost comfortable; light and airy yet durable and water repellent. They have stretch for days thanks to the nylon spandex blend and won't limit any of your movements on the bike. The fabric is considered mid-weight and these are the lightest shorts I own, but I've worn them on cooler days as well as hot ones and have no complaints.
They are loaded with tons of little features that let you know that this isn't Sombrio's first rodeo. My number one favourite feature is the longer panel on the front of the leg. This eliminates any chance of that awkward knee pad gap and just shows that this company has put thought into how the shorts perform while actually riding a bike. The pocket on the front comfortably fits a phone if that's how you roll, as well as park pass. The seamless crotch panel is also a nice touch for added comfort while pedaling and the waist band retention system ensures a custom fit as these shorts do fit a bit larger than expected.
I have put a few months of riding into these shorts and they are holding up really well with no zipper issues, and not a thread out of place on the seams. I suppose if I had to get picky, I would mention that the material is so light weight that the shorts always have a bit of a wrinkled, tissue paper look to them but I'll take function over fashion any day. There's a good reason that Sombrio has been making the Rebel shorts for years and that they are a rider favourite!
Noble Jersey
Features:
Cool Wik 100% polyester
Moisture wicking, antibacterial finish
Drop back hem
Graphics by local tattoo artist Jessy Hoffman
Available in 3 colors
Find all the infohere.
Once again, I will begin with how comfortable this piece of clothing is. The Sombrio Noble jersey is silky and soft, loose and airy and you will never want to take it off. Honestly I would wear this jersey as pajamas if I could....and I suppose I can, but that would be weird, right?
The 3/4 sleeve, multi-panel design provides a nice amount of coverage for bike park days or colder weather rides yet has the ability to keep you cool on hot days. The drop hem in the back again means that you can be in riding position and your jersey keeps you covered. I also really like the relaxed neck line and it is one of the main reasons why I buy more Sombrio jerseys each year.
The graphics on this particular print are super fun and really tell a story of a biking lifestyle with little derailleurs, bottles of lube, pizza, cans of beer and lots more. I love that Sombrio collaborated with a local Vancouver tattoo artist for this as it adds a really unique touch.
The Noble jersey is true to size with a nice tailored yet relaxed fit. I am a huge fan of this jersey and would easily choose to buy one in each color.
Lily Gloves
Features:
Kevlar thread construction
Ax Suede stretch
Silicone braking fingers
Pull-on, no slip design
Available in 3 colors
More details here
Simple and stylish, these gloves have a strong and sturdy design. They feature Kevlar thread and reinforced thumb panels for longevity and toughness, yet the Ax Suede on the palm creates a second skin feel and a super thin layer between you and your bars.
The silicone mustache graphic puts the 'fun' into functional with both grip on your brake levers and the ability to take some fun photos. They're easy to pull on and I appreciate the lack of velcro closure straps. It's a detail not listed anywhere on the product's page on Sombrio's website, so I feel like I discovered an awesome little secret when I noticed the mesh ventilation between all the fingers.
I've been rocking these gloves for a few months non-stop now and they aren't showing any signs of wear and tear so far.
V's Verdict
There is a reason that Sombrio has been around for as long as they have; they make quality, thoughtful, well-priced mountain bike apparel. They have also, in the last few years, added a Lifetime Guarantee on all their garments. Over the months that I have worn these clothes, the durability is apparent and I have no doubt this kit will last for years to come.
Now more than ever, I am trying to support local businesses and Sombrio is definitely on my list. The quality and fit of their clothing is consistent and with fun design changes with each new season, I will never get bored with my bike clothing.