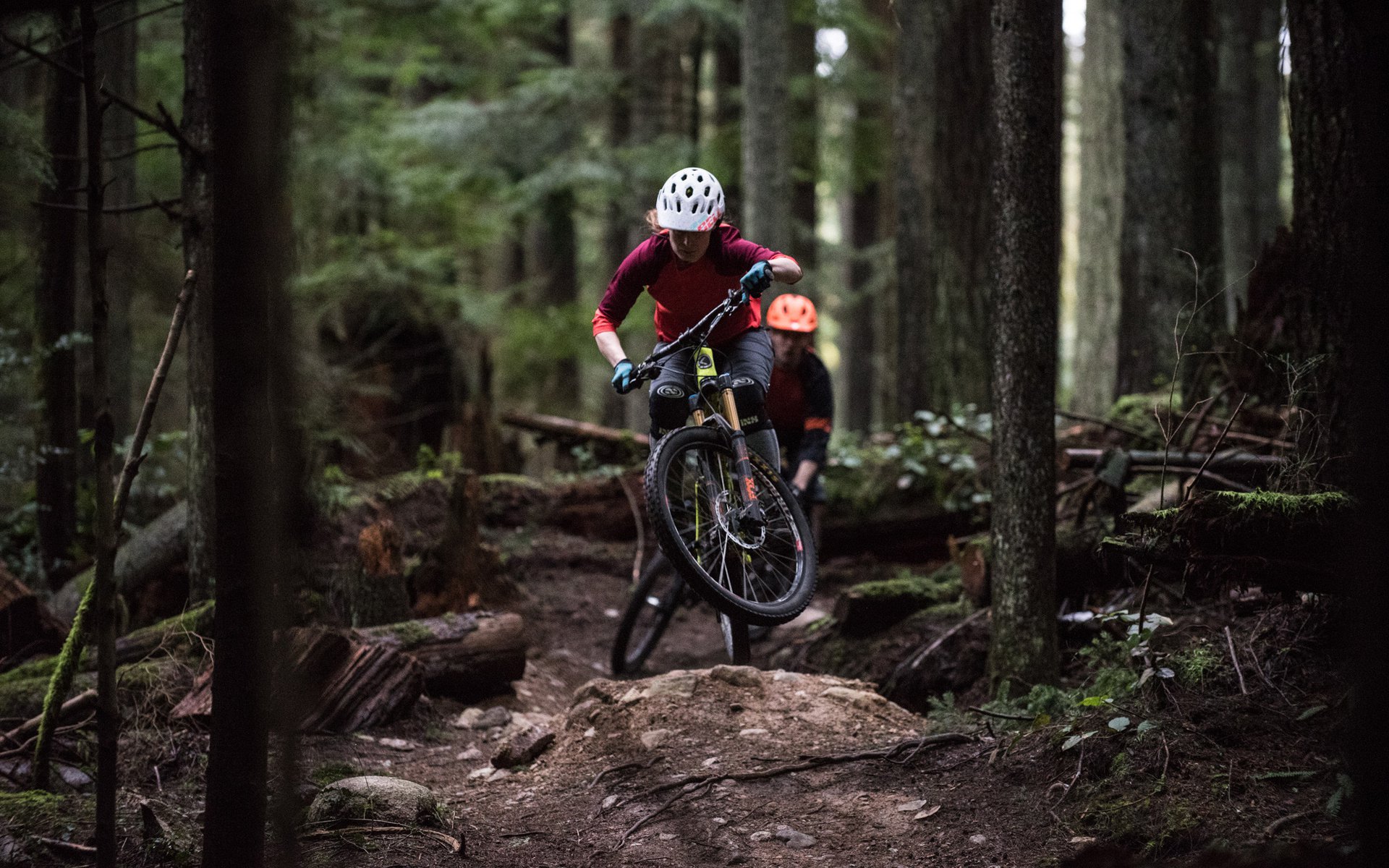 Who, What, Where
The Women Of The Shore
A quick glimpse on social media will bring up images of local riders tackling infamous features, ripping historic trails, possibly even a snippet on a rogue trail or two. All in all, it seems the Shore's culture of send is very much alive and well.
Largely unnoticed when seeking out who, what and where in the local riding community, are the ladies. Videos, photos, and successes of the riding created by and/or featuring females seems to be harder to locate. So, to make sure all eyes know where to look and who to watch out for, here are a few of the ladies of the North Shore - trail blazers, shredders, and builders - influenced and shaped by Fromme, Cypress, and Seymour Mountains.
Who are you: I grew up in Lynn Valley and the North Shore mountains were my playground. Seymour was where we spent all of our days. I started filming on my little camcorder. Steve would go out with friends to the trick jumps and I would sit there with my camcorder, snacking on pizza bagels and copenhagens from Westlynn Bakery, and making edits. Even back when edits would have to be put on a CD. If you wanted to see the CD, you'd have to go over to a friend's house and watch it. It wasn't until these last couple years that I really dove into filming in the biking world. I'm very grateful for Steve, we make a good team pushing each other to grow our skills while having fun together.
How has the Shore shaped you as a filmmaker: Growing up here, I always snowboarded and skied. Going into the trails was a totally different experience and it was just a hobby here and there. Once I got my bike, I got more involved. The Shore is my only version of mountain biking. It's the only thing that I know. Hard, technical steep trails. Filming in the forest, I had to learn a lot and quickly. Being a filmmaker on the Shore has taught me to never trust the weather and always pack garbage bags and umbrellas. It's also forced me to learn how to film in very low light.
Looking Forward: Lots more videos coming soon. My bucket list is to explore more biking areas and different terrain. Really to just advance my skill set when it comes to certain shots, certain angles, and getting to know my equipment more.
Check out Kelsey's most recent work, Off Season below.
Who are you: I am a physiotherapist by day and a mountain biker by night and weekend. I grew up in Port Moody and first learned to mountain bike in our backyard trails on Burnaby Mountain. I have to thank my older brother for getting me into the sport and teaching me the foundations. Growing up my brother didn't want to babysit me so I tagged along on his mountain bike rides with him and his friends. To this day I am still a tag along on the boys rides but with a heck of a lot more skill, passion and love of the outdoors. For the last two and a half years I have been a neurophysiotherapist in North Vancouver. I work with patients with neurological injuries including strokes, concussions, spinal cord injuries, Parkinson's, Multiple Sclerosis and many more. It is an incredibly rewarding job. I really enjoy helping others get back to doing the things they love in life.
How has the Shore shaped your riding? The Shore has definitely influenced my trail preferences: rock rolls, loam shoots, and a good ol' skinny. More than anything though, is the community and people I have met on the Shore that have shaped me the most. After high school and during my undergrad I worked for Escape Adventures coaching summer mountain bike camps for kids. At the time, Escape was tightly linked with John Henry Bikes so I got to know a lot of the guys there and even met my Husband. It was a ton of fun and I spent most of my after work evenings and weekends on Seymour and Fromme on group and shop rides. We were riding things well above my pay grade but I kept coming back for the good company, laughs, and cute boys. I can't talk about the Shore community without mentioning the NSMBA Fivers. The racing is fun but the food, beer, and amazing friends are what make them so memorable. Many crashes and university degrees later I am still loving the North Shore riding community. Whether it is riding with "Sight Club", painting trail signs or enjoying post ride beers at the dumpsters, I love it all.
Looking Forward: This past year I had the opportunity to shoot my first edit with my friend Devin McPherson. With COVID keeping us on home soil, it was fun to do something different and check off some features on my hit list. It was a great way to progress towards some of my goals. I would love to do another edit and maybe even feature some other rad local riders (ladies or otherwise). Last summer, I was supposed to do the Trans BC enduro with 3 of my girlfriends. Unfortunately, COVID put a stop to that. I'm looking forward re-visiting that in the future and going on some sweet bike road trips with friends when COVID restrictions are lifted. Last but definitely not least, my husband Andrew and I have a 6 month old puppy that we are looking forward to teaching to become a trail dog this summer.
Check out Laura's most recent edit below.
Penny Deck - Rider & Trail Builder
Who are you: I've been riding for close to 20 years. I learned how to ride on the North Shore. Cypress was my first experience mountain biking and what hooked me on riding. I helped organize women's rides in the early 2000's and started coaching with Dirt Series around the same time. Did a little bit of racing. I got into trail building which I've been doing for around 8 years now. I'm lucky enough now that trail building is my full time job as the Operations Manager for the Fraser Valley Mountain Bike Association.
How has the Shore shaped your riding and trail building? If you go internationally, people usually think (of the Shore) of all the wooden stunts. When I first started riding it was steep, rooty, and technical. I really like that type of riding. In terms of building, I've had the opportunity to work with Digger, and a lot of the North Shore builders. Karen was always someone I've really looked up to as a builder. I've never had the honour of building with Karen, but have always admired her work on Boundary and she's been an inspiration for my own building.
Looking forward: It's less about the trails and more about the community. The recent articles that NSMB has written about Alex and Sanesh and increasing visibility, the invitation to help make people welcome on mountain, creating a space where one feels safe about mountain biking, whether beginner or advanced. Regardless of everything, I would like to see a general increase in the available network to accommodate a variety of users.
Who are you: I'm a semi-retired bike polo player turned mountain biker; Chernobyl baby (I glow in the dark!); activist; clinical counsellor in the field of mental health & additions; ex-sponsored downhill skateboarder (2009 world champ); and volunteer trail builder (thanks to the mentorship of my friend, Penny Deck).

How has the Shore shaped you as a rider? The learning curve (for both the ups & the downs) on the Shore is very steep! Pun intended. The Shore has shaped me as a rider by shaping my legs into pistons, arms into guns, and butt into a coconut. I feel incredibly lucky to live in an area known for its world-class trails and caliber of riders.

Looking forward: Post-covid, I can't wait for the return of big trail days with all the gal pals and fiver races! Also excited to support beginner BIPOC riders through the Colour The Trails mentorship program. On a personal goals level, I'm looking forward to cleaning all of a certain trail named after Jello Biafra's favourite holiday destination.
---
If you know a female rider who you feels deserves recognition, for any reason at all, feel free to sing her praises below.