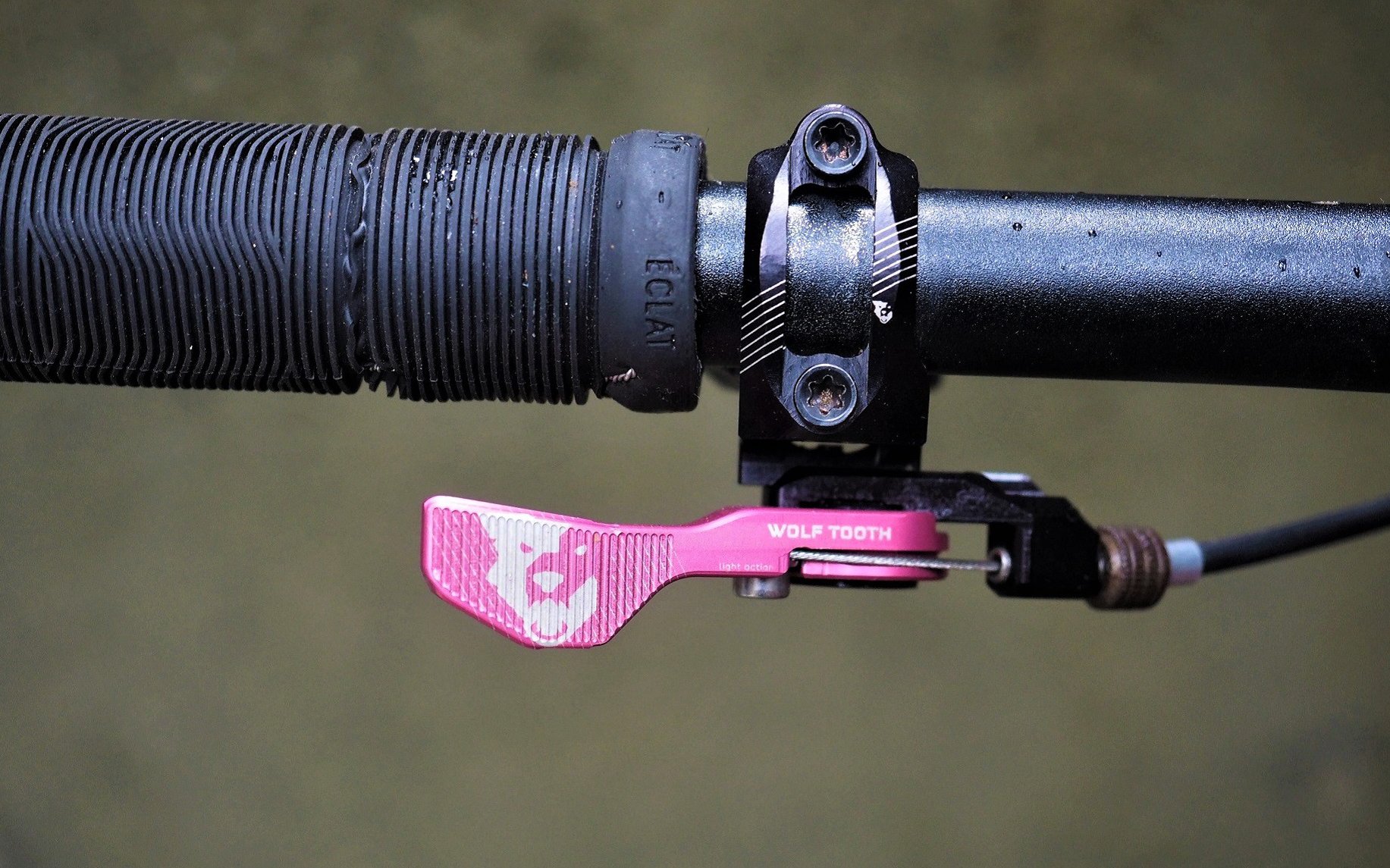 Two-Minute Reviews
Wolf Tooth Dropper Post ReMote
Wolf Tooth ReMote
The attention to detail on Wolf Tooth's ReMote dropper post lever is excellent. From the machined contact face on the paddle to a bearing bigger than some companies put in their suspension pivots, to the excellent range of lateral adjustment, and that's not to mention the so-smooth action.
It's a beautiful thing. The ReMote makes me wish that Wolf Tooth would try their hands at a whole range of other products, especially since starting at 60.00 USD it actually comes in cheaper than some inferior alternate options.
I've ridden the ReMote with the stock hinged clamp and I've also used it on a Magura Trail Sport brake with their svelt Magura clamp. The Magura clamp is very nice, but I had zero issue achieving the perfect lever position using the stock clamp and Magura, SRAM, and TRP brakes.
I'm running the light-action version of the ReMote and it works very nicely with the Crankbrothers Highline, e13 TRS+, Ritchey Kite, Race Face Turbine, and Race Face Aeffect dropper posts. I like the light effortless action but anyone who prefers more feedback could also consider the regular-action ReMote for use with these posts.
Combined with the cam action on an X-Fusion Manic post the regular-action version would be my recommendation.
A quick twist of a 3mm hex key allows for a generous range of lateral adjustment and neither that bolt or the cable retention bolt came loose at all during usage. The ReMote is brainless to setup with any cable-actuated seat post. I'd know having tried it with every dropper post I can easily get my hands on. Attach the cable to the post, fire it through the housing, tighten, and go ride.
When it comes to performance the only product I'd stack against the Wolf Tooth is my beloved e13 TRS remote. But, it doesn't have a hinged clamp which makes it a true P.I.T.A. since I don't generally use lock-on grips.

ReMote pricing starts at 60.00 USD for either Shimano I-Spec version, 65.00 USD for an SRAM MatchMaker version, and 70.00 USD for either the hinged clamp or Magura brake-clamp option.
Whether buying a dropper post that doesn't come with a remote or looking for the best bang-for-buck upgrade for one that comes with a crappy one, the Wolf Tooth ReMote is an easy recommendation by any metric; looks, performance, and comparative value. I'm usually cautious about saying things like "you can't go wrong" but I simply don't see a downside to this product.
Wolf Tooth has a handy graphic to sort out whether the regular or light-action ReMote works best with a given post and they're happy to answer inquiries about any posts that aren't on the list.
The ReMote is 65% USA made and is available at your preferred local bike shop or directly from Wolf Tooth.