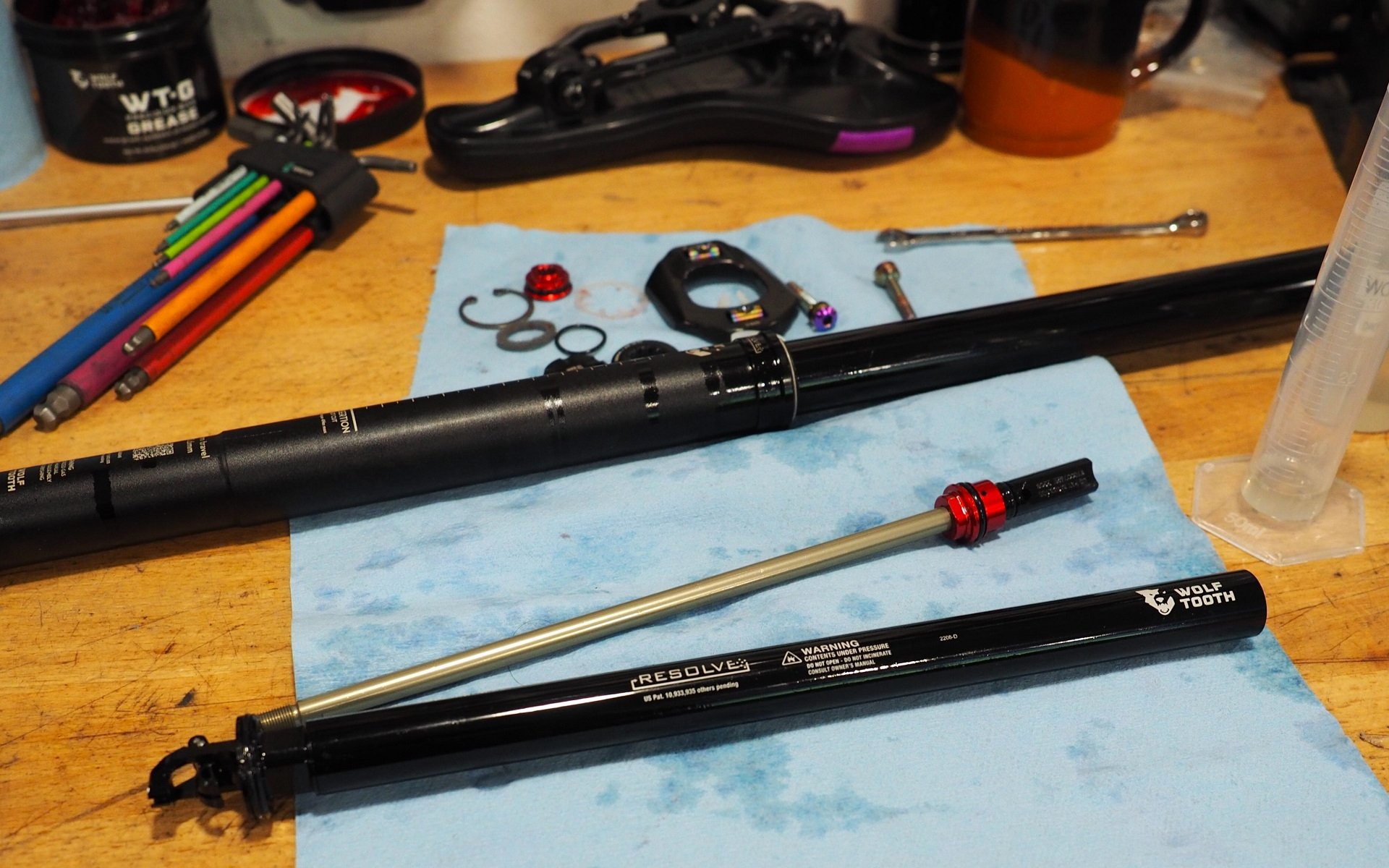 FIRST IMPRESSIONS | TEARDOWN
Wolf Tooth Resolve Dropper Post

This dropper post is 100% user-serviceable and can be done by any experienced home bike mechanic – similar to a suspension fork, but simpler. Like all Wolf Tooth products, every individual component is available as a replacement part." - Wolf Tooth
Premium With A Purpose
The Resolve dropper post is beautifully made and reflects Wolf Tooth's reputation for ingenuity inside and out. There's a unique take on saddle clamping to deliver the shortest possible stack height and a self-purging cartridge design that resets itself every time it's lowered. The post comes with the only rare tool needed to rebuild it, it's supported with service instructions and small parts, they're built in the USA, and are as smooth as anything on the market. And, as you've probably guessed by now, it costs a bit of money.
Remember that you can buy a good dropper post on a relative budget these days. The excellent X-Fusion Manic can still be had for 210 USD including a decent remote. Likewise, Boeshield makes exceptional chain lube, Blackburn's Grid 8 multi-tool is a nice way to make most trailside adjustments for twenty bucks, and the Spank Hex Drive rear hub could be a lifetime option for 250 USD. I bring all this up because I see the Resolve dropper in the same vein as an Industry Nine Hydra. The products are wonderful to use and own but they're the type of luxury that folks point to when they talk about how "mountain biking is getting too expensive" and that's bullshit because they're not necessary to have an excellent experience mountain biking.
The Wolf Tooth Resolve is a premium product, so your added budget is covering one or more of: form, function, and fabrication. From the perspective of the rider whose budget covers the 380 USD cost (without remote), it's a justifiable value. A Fox Transfer Factory post is not user serviceable and costs 360 USD. The Manitou Jack (BikeYoke Revive) post that I'm testing is smooth and fully user serviceable at 400 USD - including their remote - but it's requires more vertical space. Fair to say then that the Wolf Tooth Resolve is premium with a purpose.
Teardown Notes
Wolf Tooth builds the Resolve in three standard configurations: 125mm, 160mm, and 200mm. Buying directly from Wolf Tooth brings the option of adding up to ten travel spacers, reducing travel 5mm to 35mm, added at the time of assembly. These travel-reduced posts are built to order, so allow for additional shipping time. Their travel-reduction tech video is superb and the process was straightforward and deliberate. It is not a quick job.
I've been playing with the concept of 'optimum drop' a fair bit lately so running the post at 200mm for a few rides was a nice opportunity to reset my thinking. It's too much drop for my riding so I ended up setting the post at 185mm to match the drop on the Manitou Jack I've been testing. Then I lowered the Jack to 175mm. I suspect that my happy place is going to be 170mm drop with both posts but I quite enjoy taking them apart so I'm happy to get there 5mm at a time. With the Jack I've managed to get spacer changes down so I don't lose any oil, and I'm getting quick at it, but the Resolve has been a messier effort to date. I'll report back with how well I get it down as part of the review.
The first thing I noticed about the Resolve is the lack of a traditional lower saddle rail clamp. In its place are a pair of floating wings that capture the rails from the bottom while a traditional clamp is bolted on top. These wings are made possible by the fact that the seat post head is removable, which is the one part of the teardown that requires the Wolf Tooth tool.
When I realized that the dropper post head was removable I immediately had flashbacks to the Achilles heel of e13's TRS+ dropper post and had to go drink a beer in my safe space. But, on taking the system apart, I instead was truly sad that e13 used a round interface with a tiny brass key. The play that post developed at the head was atrocious but if it had a larger ovalesque interface like the Resolve uses I think it would still be in regular use today.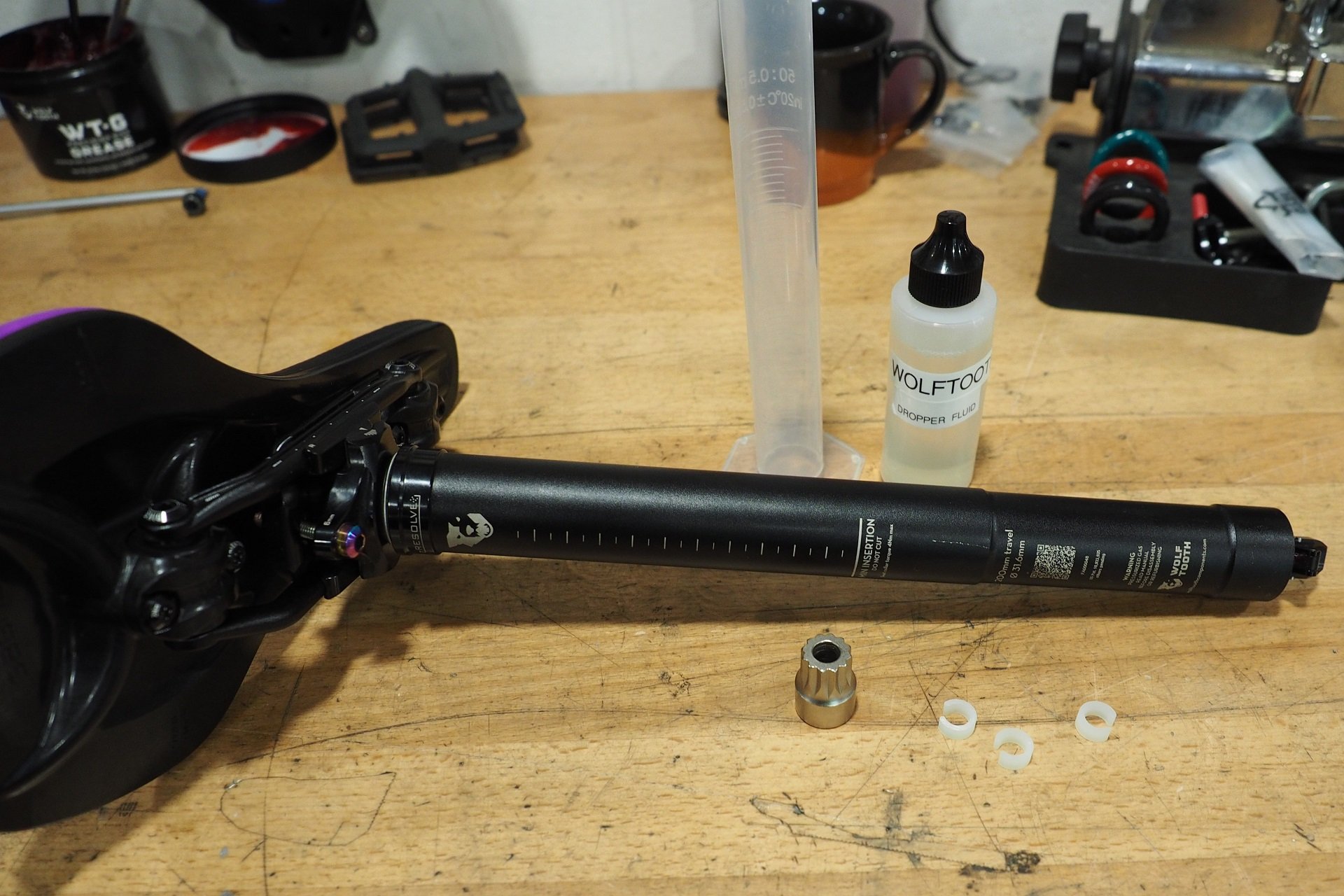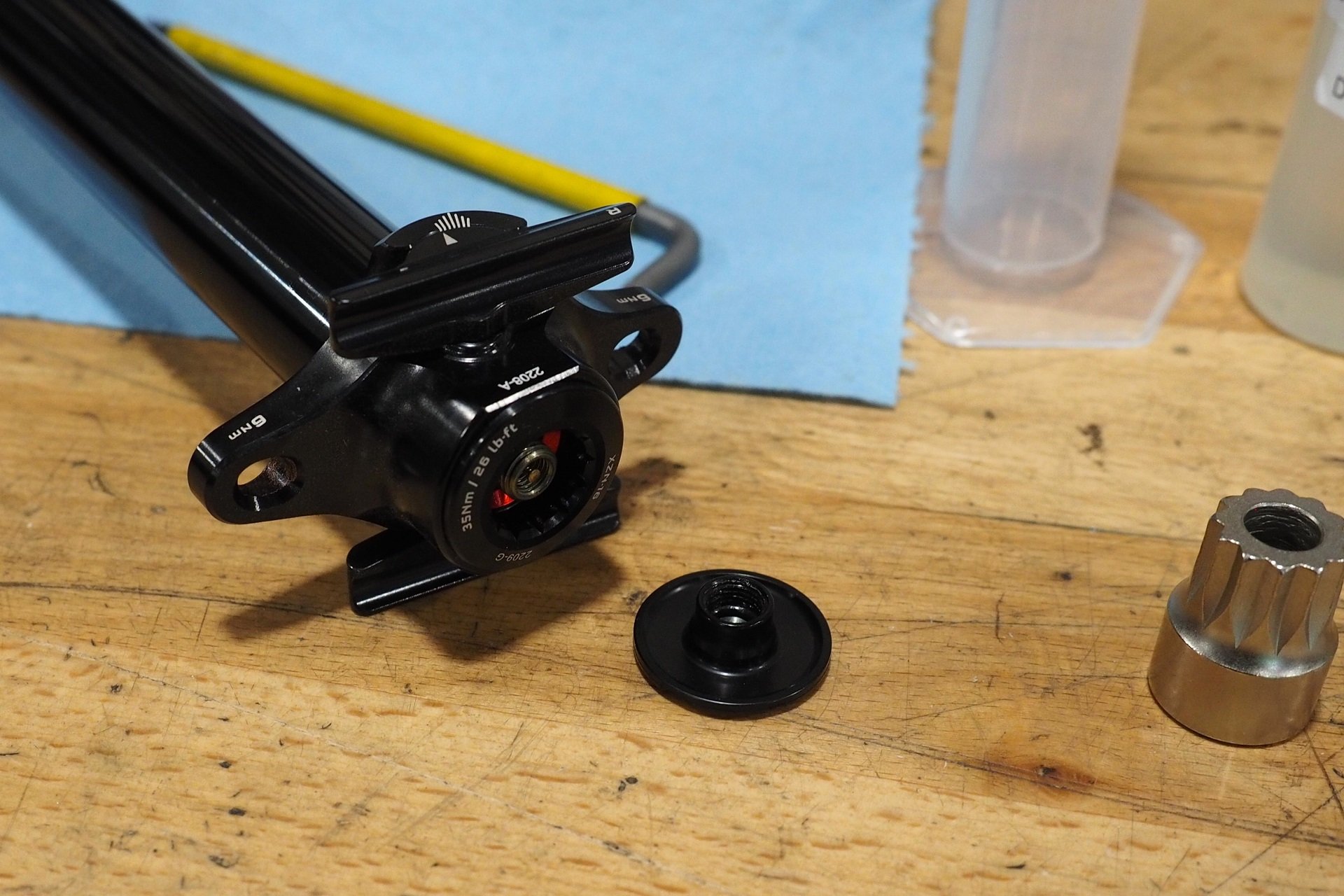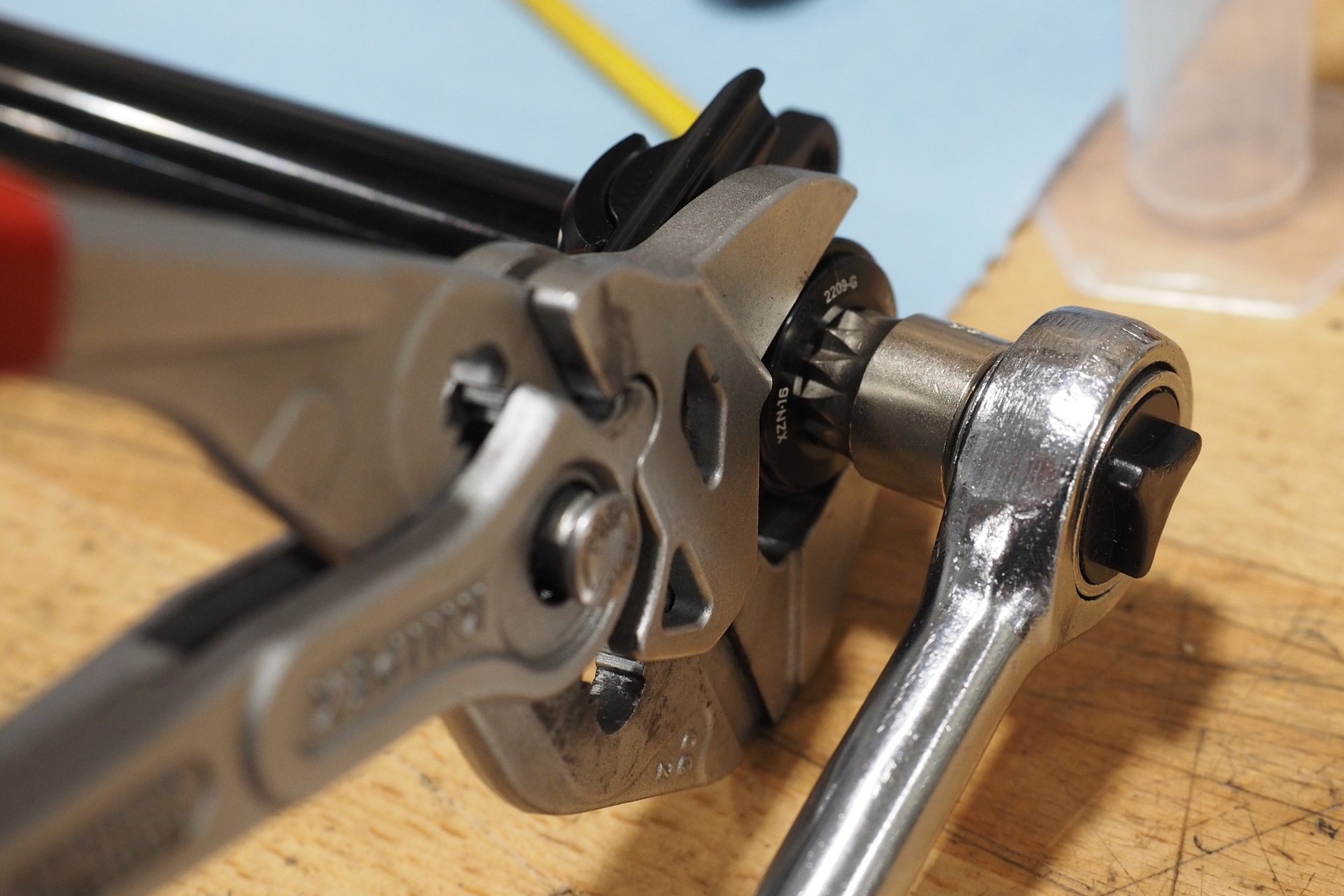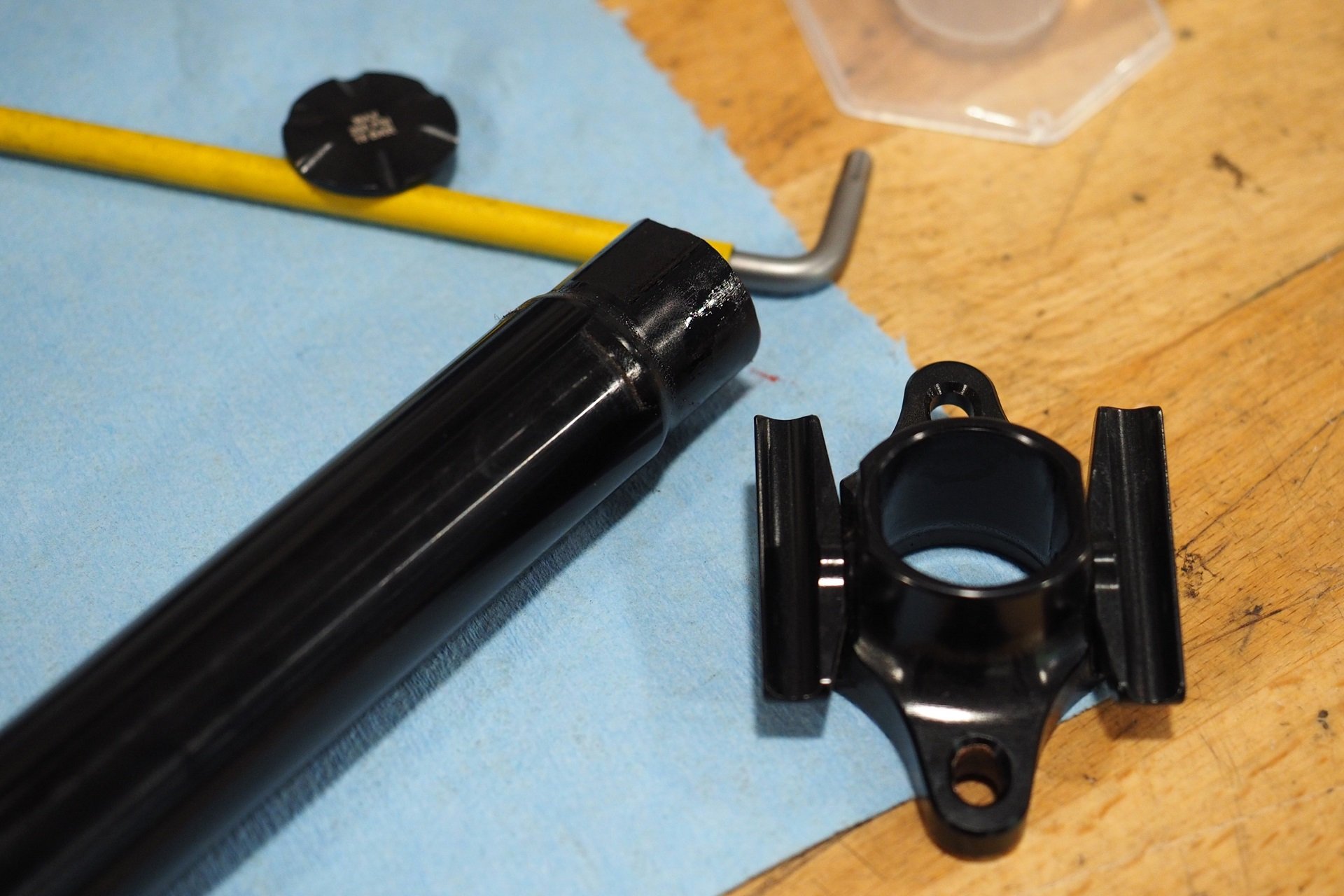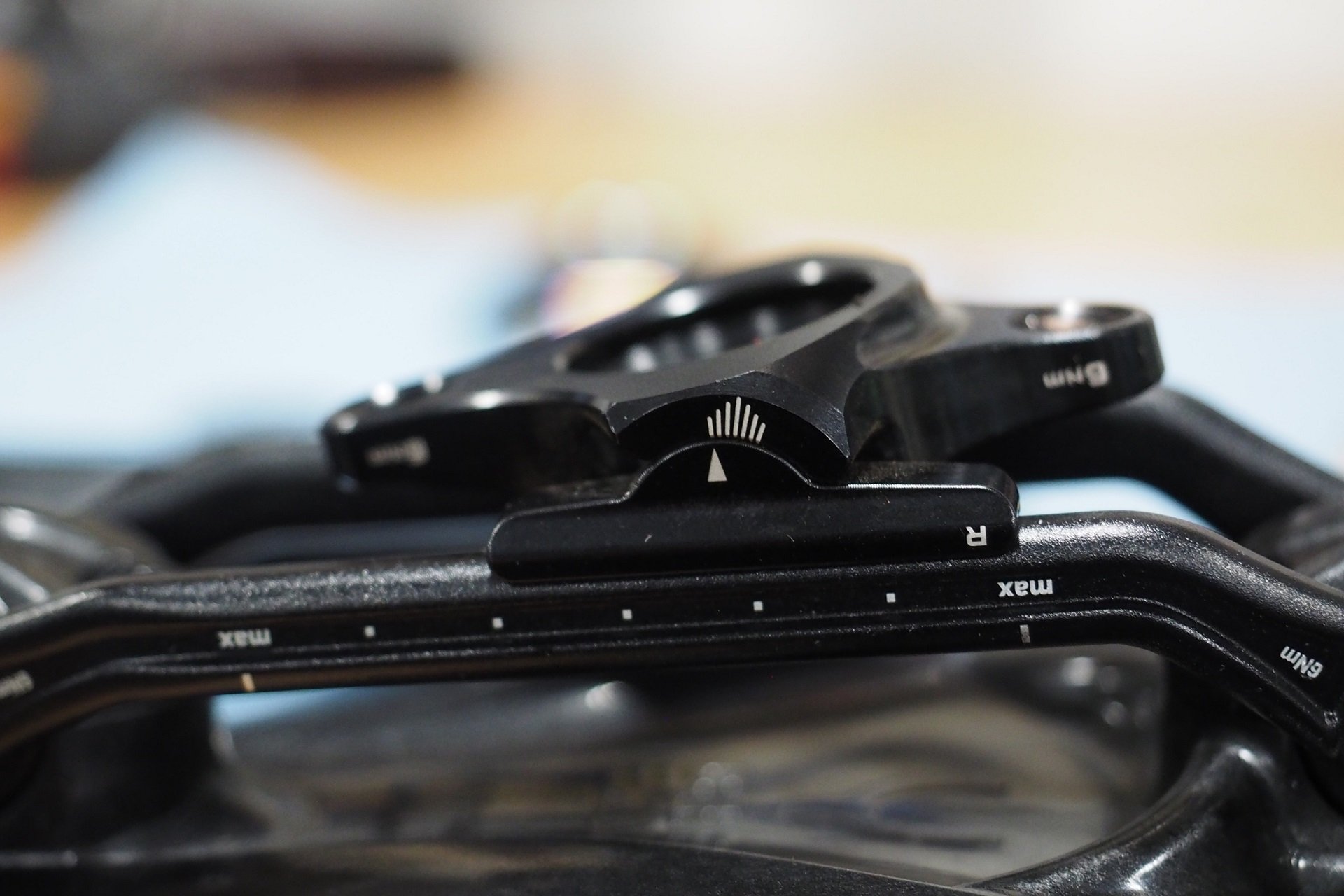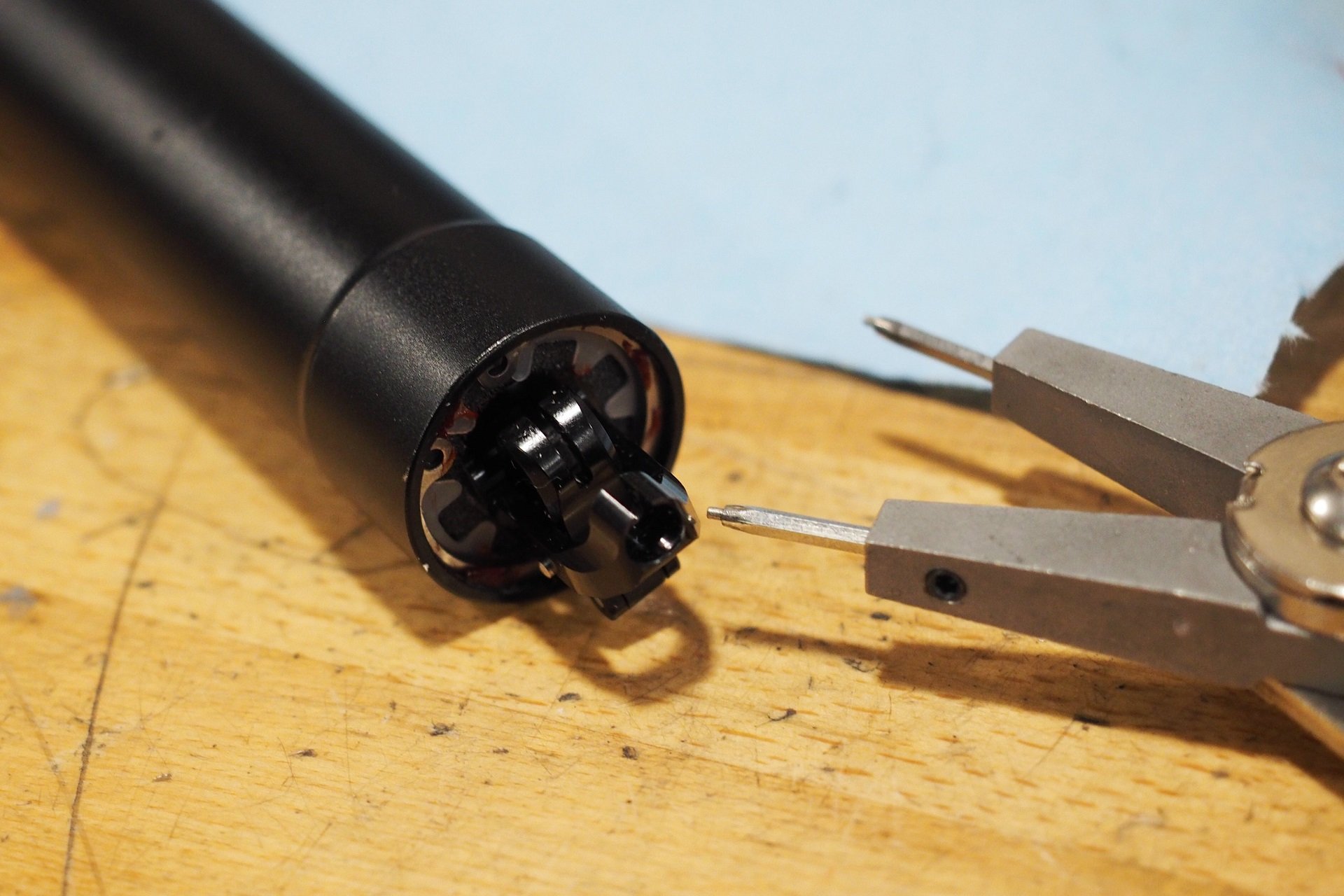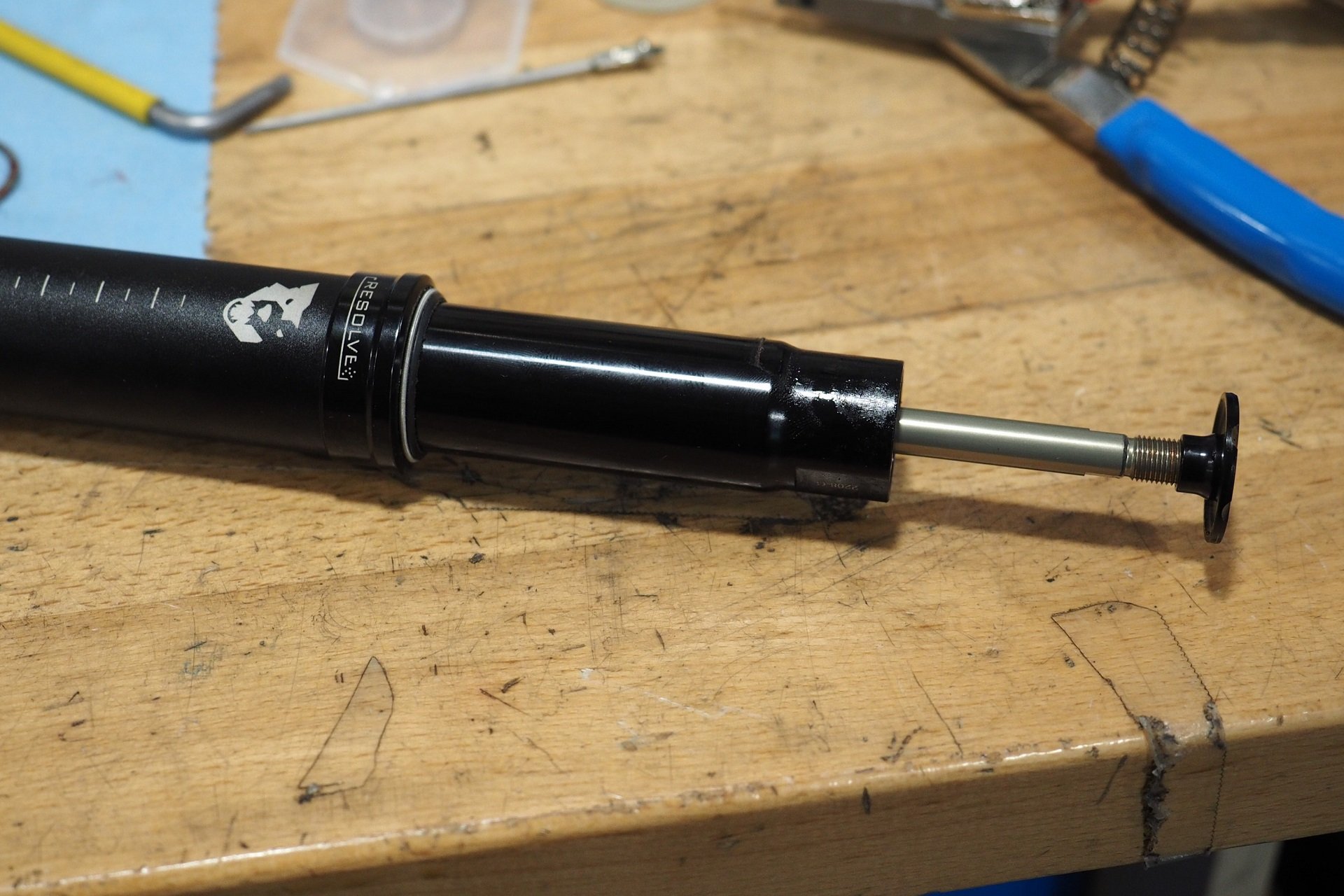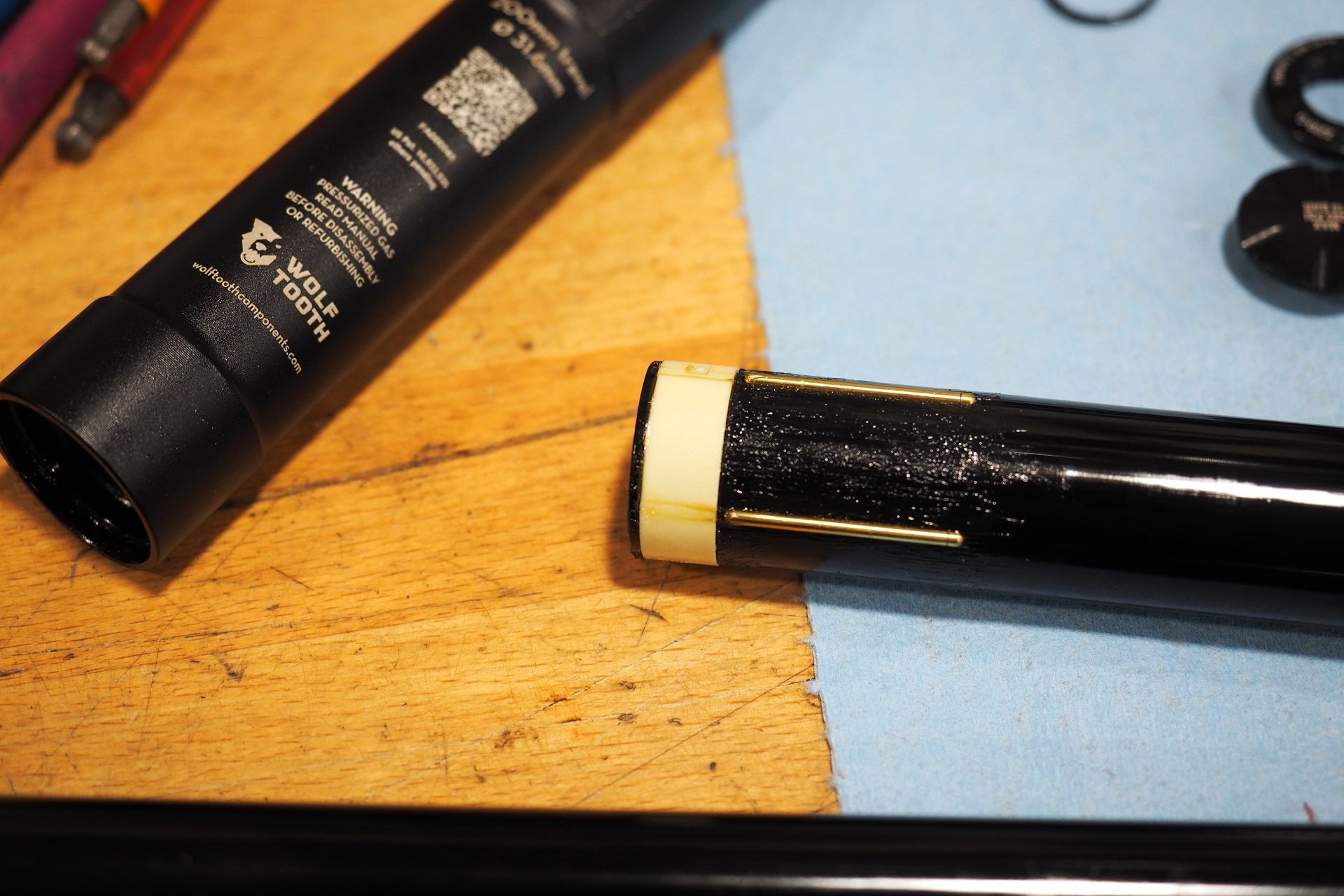 The anodizing, laser-etching, and tool interfaces are all in line with what I've come to expect from Wolf Tooth. The Resolve bleeding system is reminiscent of the concept of BikeYoke's Divine post except that it doesn't require a full drop to bleed the cartridge, but rather any drop in height is doing so. For folks who run their saddle up or down this is splitting hairs, but I have a number of friends who are very into "an inch or two for fun" when it comes to technical climbs - where I'd prefer to just drop my saddle and stand.
I'm getting out of the habit of telling folks what tools they 'need' to do anything, so please don't e-mail me about how you're going to travel-adjust your Resolve using two rocks, your teeth, and your life partner's super-human grip strength. I know the process would have been significantly less pleasant for me without my 52mm (2") Knipex parallel pliers, a vice, a 13mm cone wrench, circlip pliers, and a 3/8" socket driver. You'll also need the Wolf Tooth XZN16 Triple Square tool but that's included with the post. Finally, it is tricky to get all of the air out of the system before opening it so please use eye protection.
I will let the photos do most of the teardown talking from here. Due to my schedule I had to do this teardown myself whilst keeping my camera clean.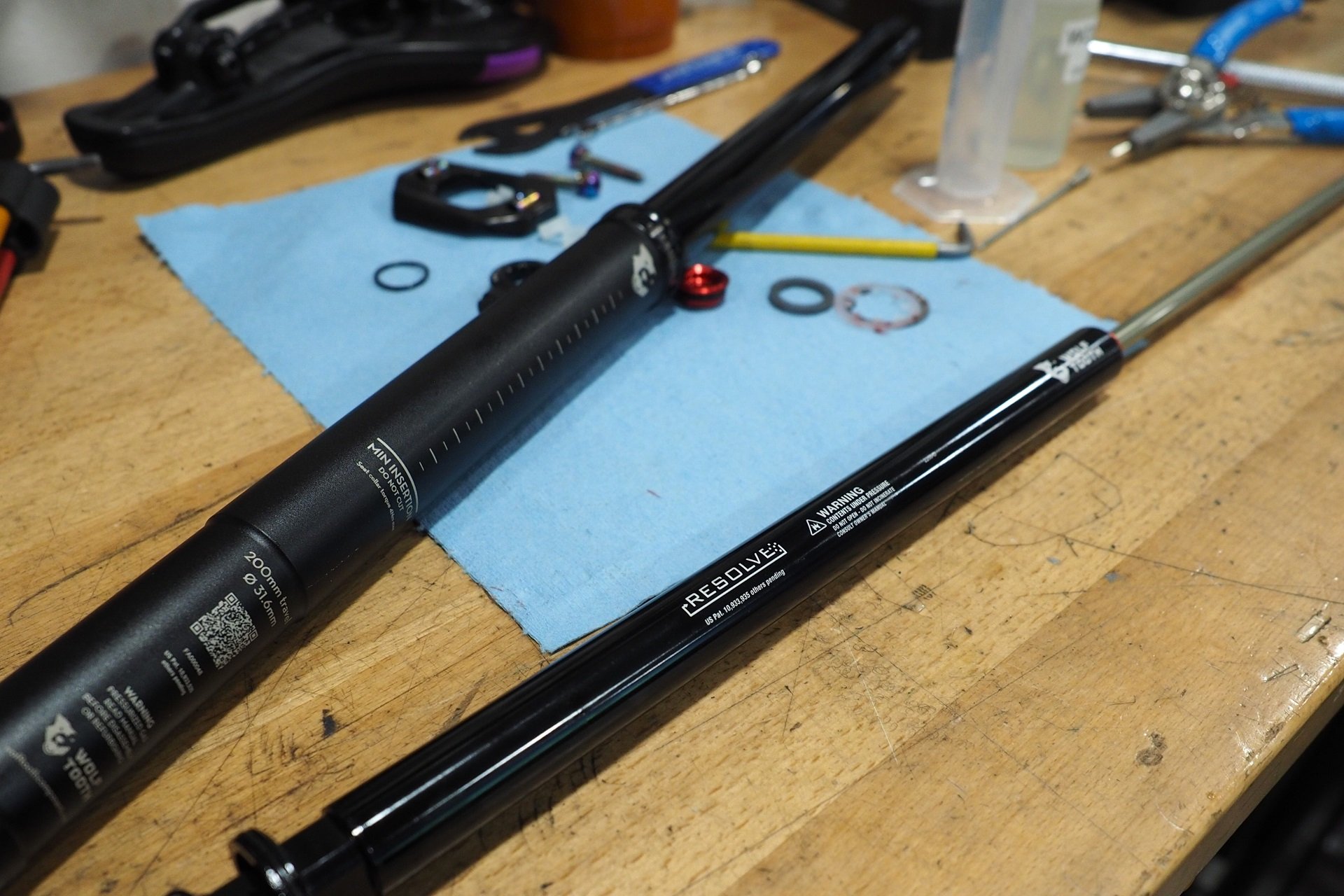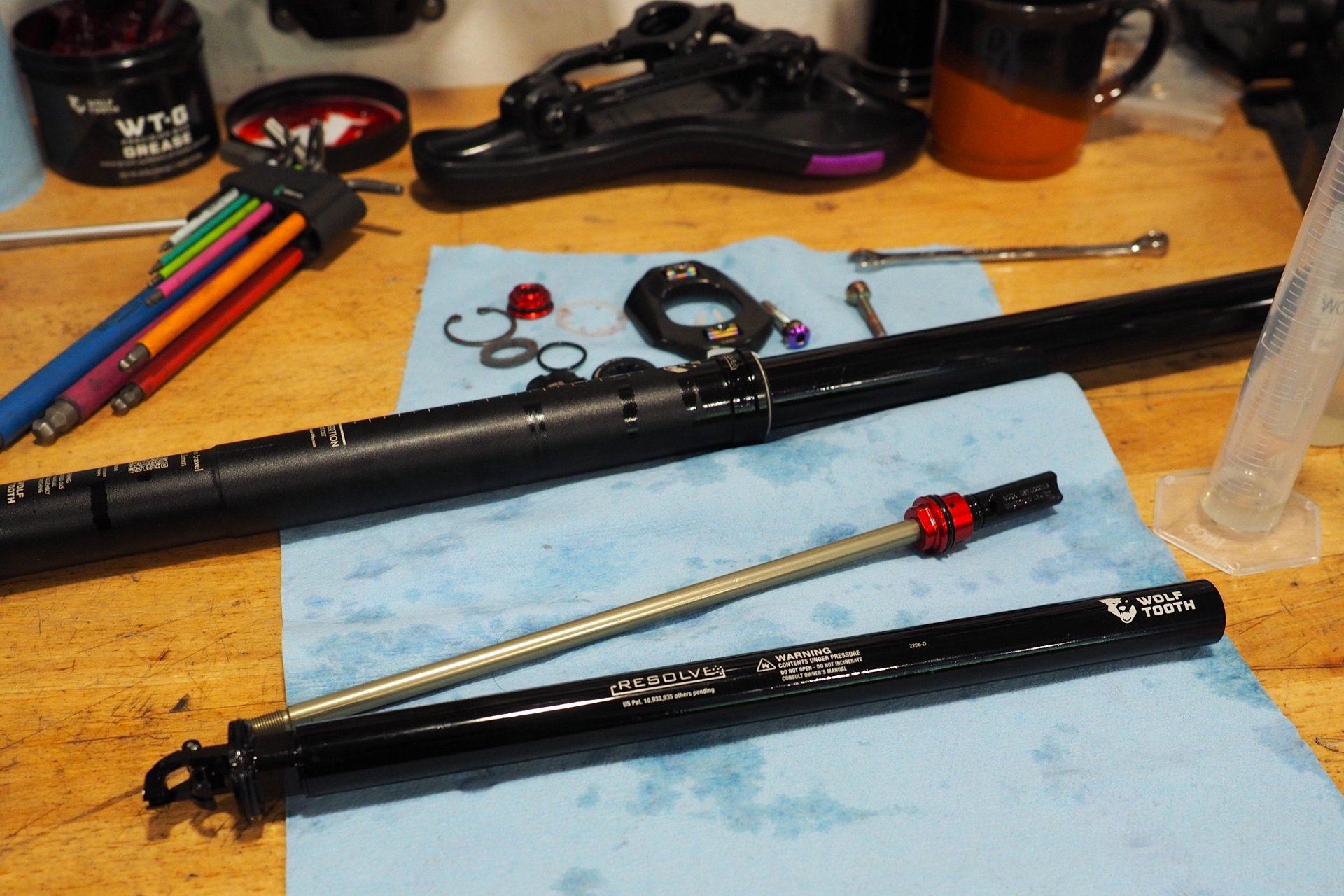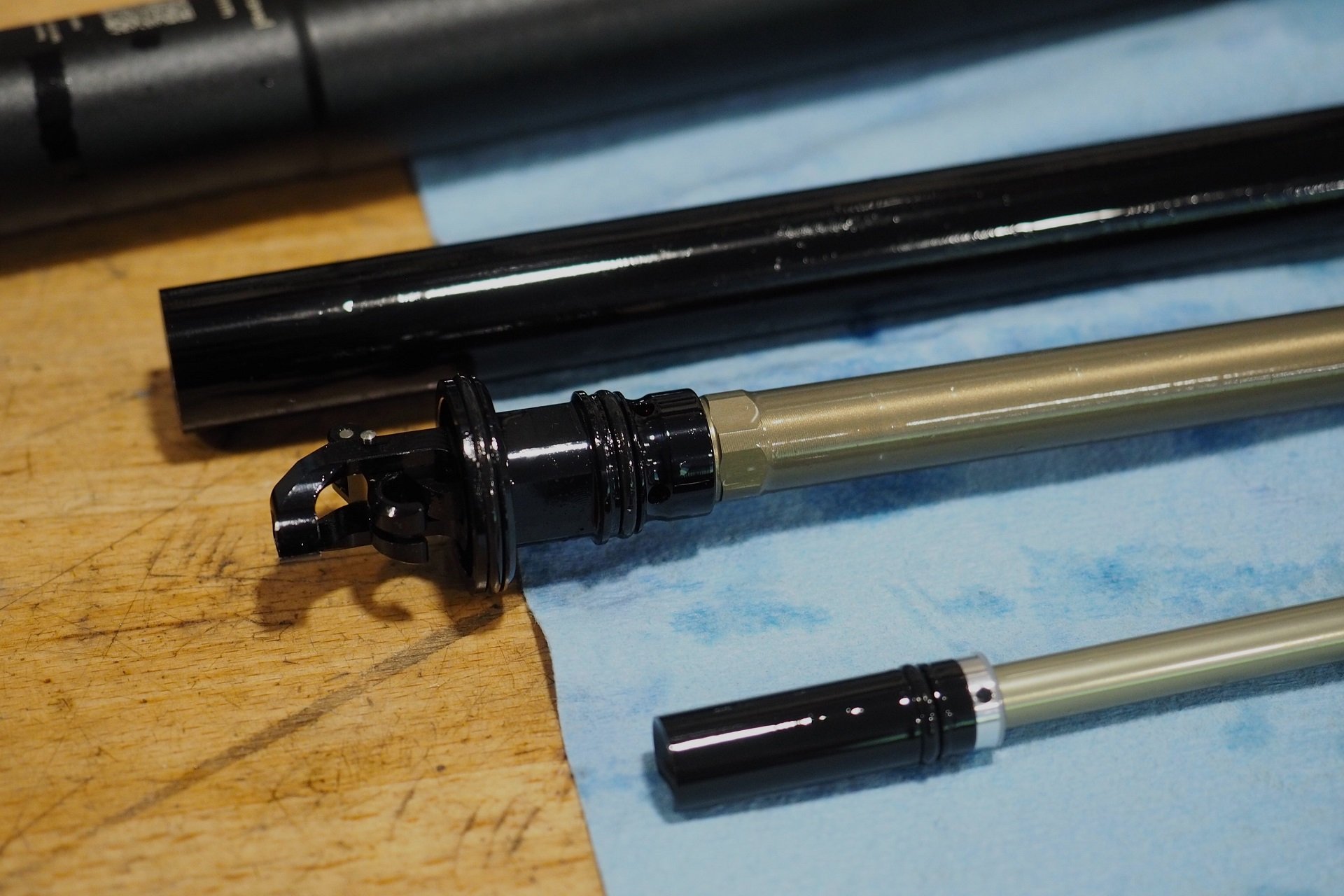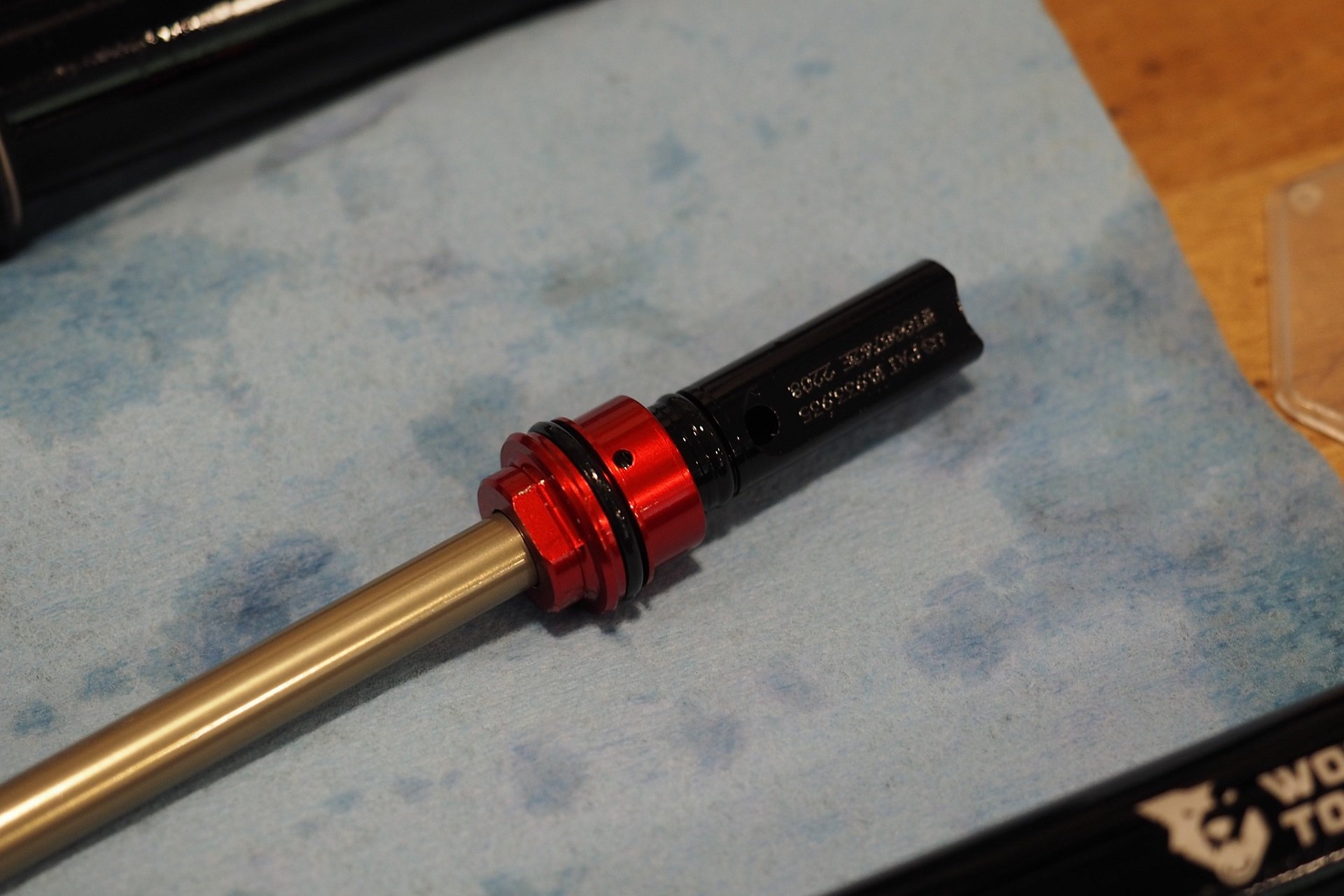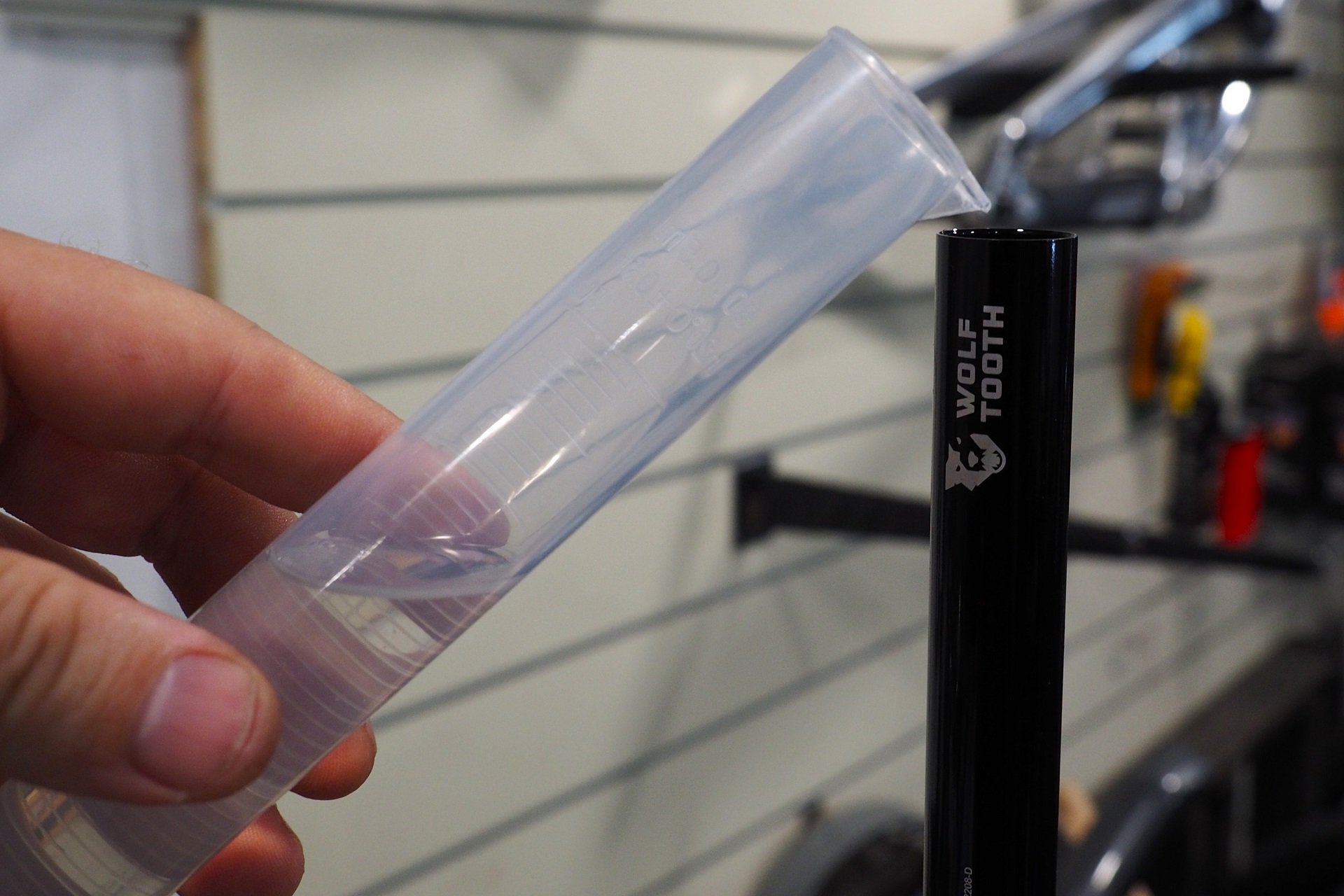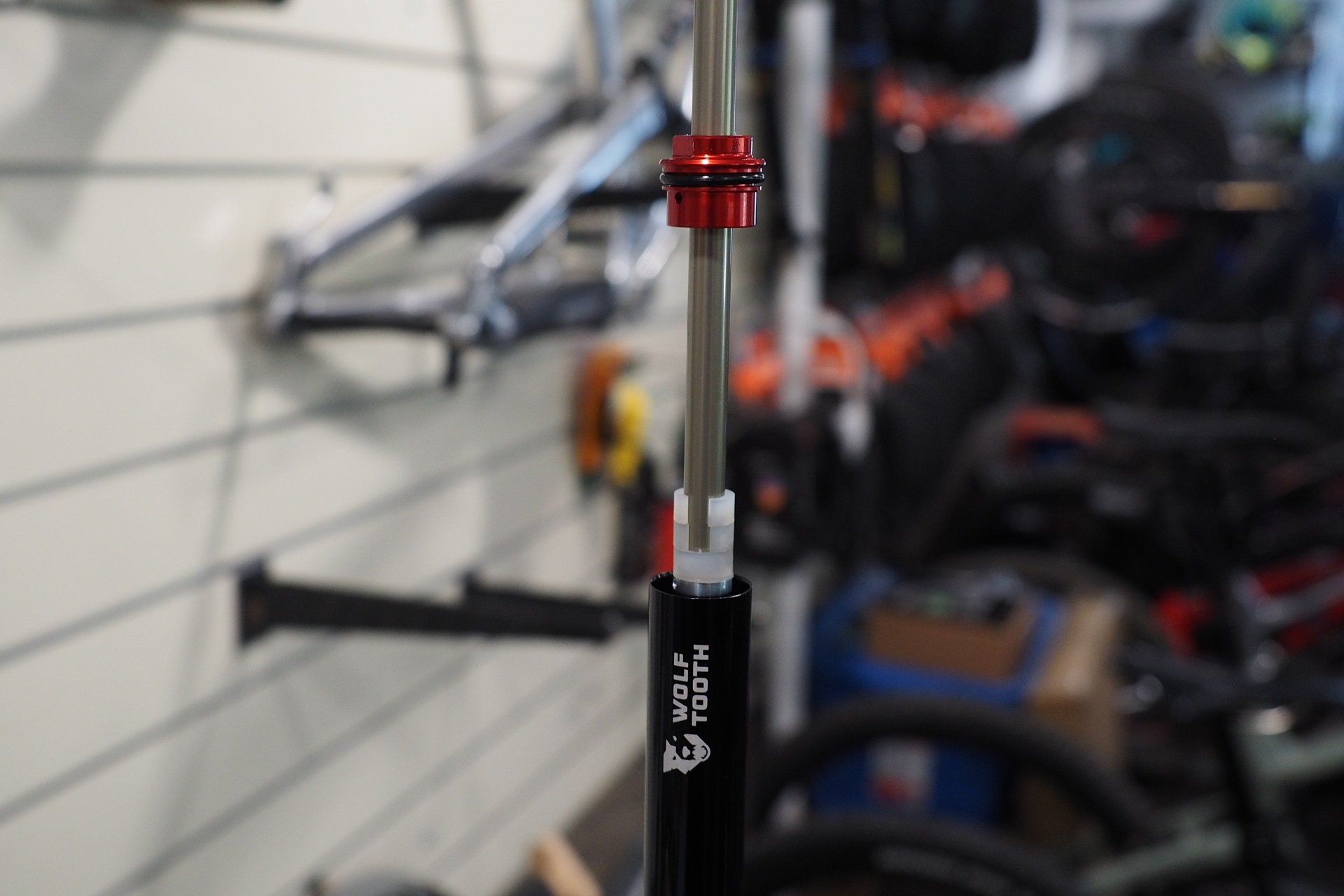 First Rides & More Rides
The Resolve is designed to be used with the Light Action edition of Wolf Tooth's ReMote dropper lever. Any dropper remote that can crimp the cable at the bar will work, but a higher leverage option will be preferable. I hooked this post up to the new OneUp V3 and my old DOSS remote and would have zero issues riding either option. I've been on a Light Action ReMote on the trails, which is a familiar interface for me.
The post is smooth. BikeYoke Revive level smooth. It's also towards the quicker end of the return scale without being too fast. This can be varied with air pressure but I'm quite happy with the turn, especially when it's trying to race through 200mm of travel. The first time I pulled it off my wall, the post did have a few centimeters of play but after a quick actuation, performance was back to normal.
I know 200mm or longer travel dropper posts are all the rage for folks that can fit them, and for most riders who can't it comes down to maximum drop, but I'm happiest with my post a few centimeters shorter travel than that. I played around with different heights in trying to decide how much to lower the post with my teardown but in terms of doing it on the trail, I much prefer slamming the saddle all the way down and having it sitting where I want it.

The Resolve Dropper Post has the shortest stack height of any dropper post at 32mm, one of the shortest insertion lengths of any dropper post, and is one of the lightest dropper posts on the market when looking at grams per millimeter of travel. It's lightweight, keeps a low profile, and will perform as expected every time it is needed." - Wolf Tooth
Saddle tilt adjustment is smooth and removing and installing the couple of saddles I've run on the post has been easy. I do wonder if the action of the floating 'wings' that act as a lower clamp will get a bit crunchy, the way any post clamps do, once it starts raining. North Vancouver has been desert-like this Fall, so I'm waiting on the dark, damp, and dank season to comment further.
Wolf Tooth ships the post with the same Jagwire setup as Manitou is rocking, with a 3mm housing and a minuscule-diameter 0.8mm cable. It's intended to make setup easier, and reduce friction, and it's said that the cable is plenty strong for dropper post duty. Every fiber of my being told me to just stick with my standard Shimano 4mm housing and a 1.2mm shifter cable, but what the heck, I'm trying the cable system out with both posts and have no complaints so far, just suspicions. In any event, setting up the post was a non-issue.
After the travel adjustment, I did have to cycle the post a few times and then add air pressure twice to hit the recommended pressure. After cycling the post a it was firm again and away I went pedaling at 185mm instead of 200mm. Much happier. I'm going to flip a coin and lower it either 10mm or 15mm more when I have time, but 185mm works just fine. It's also stayed incredibly smooth, as you'd expect after a few rides, without having added any lube to the sliding surfaces.
For a dropper post to be good, it needs to go up and down and stay in position. It should do that smoothly and reliably and if it does there's no need to spend more on an uppy-downy system for the kids' toys we pedal around in the forest. If you like to own nice things, want to be able to fully service your own post, buy individual widgets if something breaks or wears out, hate beer-can-shims and would rather swap a body from 30.9 to 31.6 or vice-versa when changing frames, want the smoothest possible action, are generally a fan of Wolf Tooth products, or like the idea that someone is building these in North America, then you may have a compelling reason to buy a Resolve.
I'll follow up once I have a proper amount of time riding the post in North Shore conditions. My first impression is that it's awesome on the trail and in the shop, which is what I'd anticipate for the 380 USD price. The 160mm version and 125mm version are less expensive at 365 USD and 350 USD respectively. All travel options are available in 30.9 and 31.6 diameters. In the meantime, I'm happy to answer any questions I can in the comments below, and there's more information at Wolf Tooth.